Last Updated on May 29, 2023
A new 2024 national GOP Primary poll shows President Trump with a commanding 38-point lead over his closest competitor, Florida Governor Ron DeSantis, and an even larger lead among the rest of the candidates in the field, all of whom failed to even get the support of 10% of likely GOP Primary voters.
President Trump registered at 54% in the large 18-candidate poll conducted by McLaughlin & Associates, which showed that the 45th President's lead has been increasing on a monthly basis, contrary to the polling numbers of Ron DeSantis, which have evaporated from 31% in January to just 16% in May.
Beneath DeSantis is the rest of the GOP field, led by an extremely distant 3rd place Mike Pence, who registered at just 7% support among likely GOP Primary voters. Nikki Haley is on the board with 3% support, newly-announced candidate Tim Scott brought in just 2%, and one-time GOP establishment darling Glenn Youngkin registered at 0%.
Check out the poll below: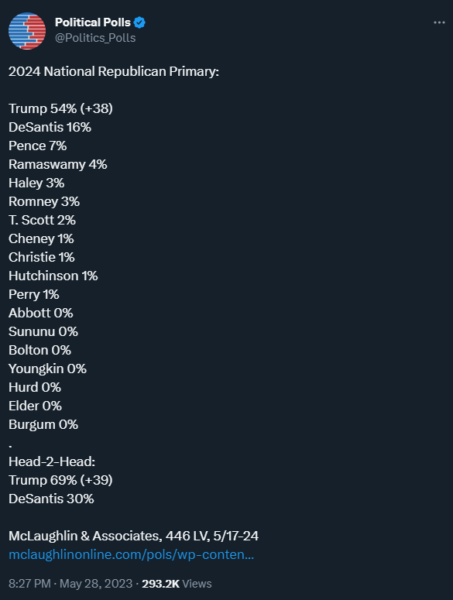 When Trump and DeSantis are pitted against each other head-to-head, Trump wins the battle by a whopping 39%, slightly outperforming his numbers in the 18-candidate poll and throwing cold water on claims from DeSantis supporters who say that when the race narrows to 2 candidates, DeSantis will absorb the former support of other candidates.
Like in the large group poll, President Trump's head-to-head lead against Ron DeSantis has grown exponentially since January. At the time, Trump led DeSantis by an 11% margin.
DeSantis did gain a small 2% chunk of support in May, though that number is within the margin of error and hardly the bump that it was claimed he'd receive after making his official 2024 campaign announcement.

The results from the McLaughlin poll resemble those seen in other polls in the run-up to 2024, which have been tracked for months by National File.
In a recent Morning Consult poll, Trump boasted a 43-point lead over DeSantis and a 7% lead over Biden in a hypothetical Presidential Election match-up.