45th President Trump slammed Virginia Lt. Governor Winsome Sears as "phony" in a post made to his Truth Social platform days after Sears, who was billed as the Youngkin ticket's MAGA candidate, joined the GOP establishment in publicly turning on Trump following the midterm elections.
"Never felt good about Winsome Sears," Trump wrote in a post to Truth Social. "Always thought she was a phony. Now I found out she is."
After the midterm elections, in which GOP establishment leadership pulled out of numerous competitive races, surrendering to Democrats, Winsome Sears joined the establishment in blaming Trump for the lackluster performance, despite the massive success rate of his endorsements around the country.
Sears, as with others in establishment circles, has been silent on the failures of Kevin McCarthy, who is the one responsible for pulling the plug on viable conservatives.
After Sears turned on the MAGA movement, National File exclusively revealed a series of text messages she exchanged with America First Virginia Congressional candidate Jarome Bell, in which Sears blasted him for his campaign calls to root communism out of the DC swamp.
President Trump didn't stop after roasting "phony" Winsome Sears in his post to Truth Social though, going on to again warn Virginia Governor Glenn Youngkin, who Sears was elected alongside, against staging a coup attempt within the GOP, to wrestle control away from the MAGA movement and return it to the establishment.
"When I helped Youngkin with his race, Endorsed him, and made a Statewide TeleRally with hundreds of thousands of people on the call, he wrote a very nice letter thanking me for the help, and then went on to say, 'How to win without Trump.' MAGA showed up big but wasn't appreciated. Sorry, Winsome, and Glenn, but we can't let that happen."
See President Trump's warning to Sears and Youngkin Below: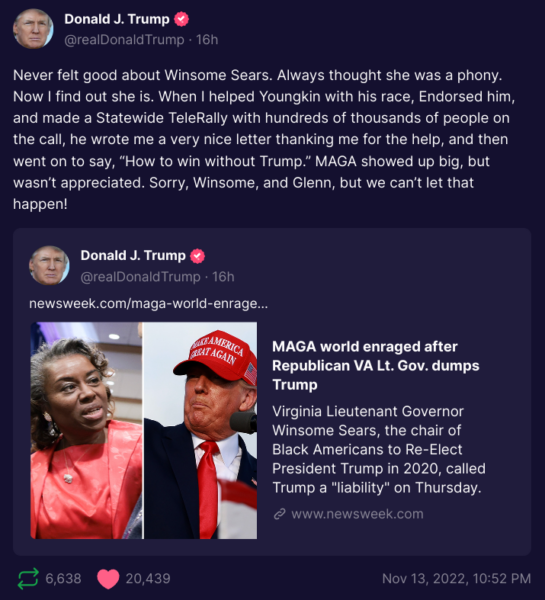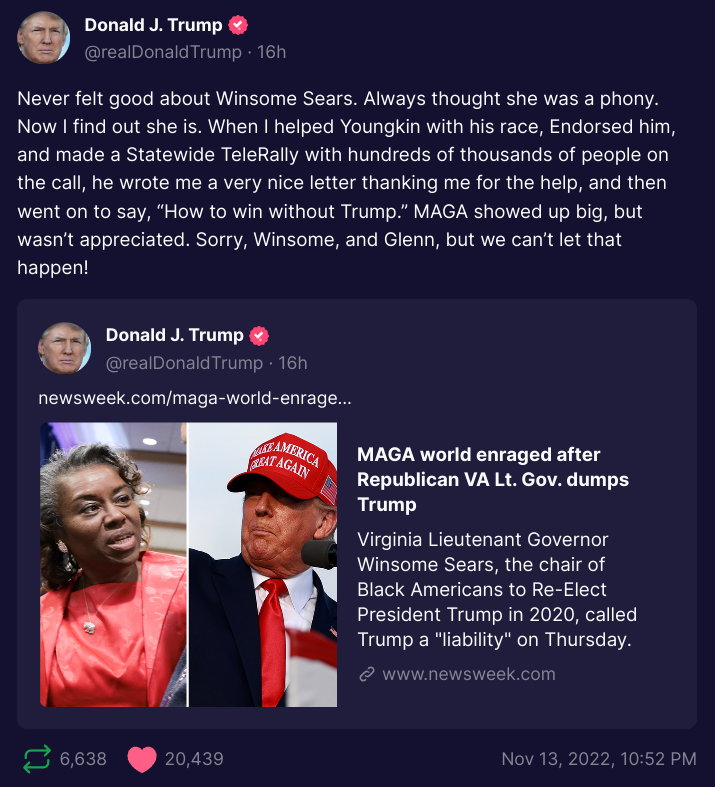 Along with Florida Governor Ron DeSantis, Glenn Youngkin's name has frequently been mentioned as a potential 2024 "alternative" to Trump on the GOP's presidential ticket.
President Trump's most recent Truth Social comments come after a Friday post in which he mocked Youngkin's last name, using comedy to link him to China. He also reminded readers of the post that Youngkin couldn't have won without him.
"Young Kin now that's an interesting take," Trump posted to Truth Social.
"Sounds Chinese, doesn't it?"