Last Updated on August 23, 2023
Fulton County district attorney Fani Willis is prosecuting President Donald Trump and others for allegedly interfering in the 2020 presidential election in Georgia that President Trump is believed by many to have rightfully won. Fani Willis' father is a radical black activist who was part of the Black Panthers and who was active in the South and Los Angeles before his career as a lawyer in Washington, D.C. Records obtained by NATIONAL FILE demonstrate that Willis' father John Clifford Floyd III should be questioned about his views and actions in the past. A U.S. Senate report from 1969 shows that black activist "John Clifford Floyd" got arrested in New Orleans in 1968 with a firearm and a copy of a booklet seeking the destruction of American capitalism while others in his group possessed a Che Guevara book and materials on how to make explosives and how to use dynamite to carry out bombings.
Fani Willis stated in an interview with South Atlanta magazine: "My father was a Black Panther. That was before he went to law school but kind of post college. And so, yes, it's something in our history I'm very proud of. He would come back here to the South and other places. In fact, his experiences of Georgia are that of the South. So, he's kind of amazed as what he sees today. My father will tell you that he's been arrested so many times that he couldn't even tell you … He could tell you the states but not how many times. He told me when he was taking the bar that was one of the questions they asked is that "have you ever been arrested before?" He said, "Yeah, but I don't, you know, want to lie on this application. So, I'll just tell you these are the states, you'll have to research them." But the thing about my father's experience that has touched me so much is he talks about being a very young man being arrested all of those times. That it was always white lawyers that would come to get them out of jail. That there were really no black lawyers that the movement would call to help them. He never talked about negativity in those people that arrested him wrongly but the goodness in those lawyers who would come to help them. I think that goes to that lesson of everyone has some dignity. Those Caucasian lawyers saw value in him and his peers. They believed in what they were doing. And it is what ultimately lead my father to stop being a college professor, you know, in the movement, and go to law school. Now my father was criminal defense lawyer. So, I tell people that criminal defendants bought me a very good education and a very privileged life. I had the ability to go to school to do things. But those core values that make you fight for people, they're present in me. You know, we all stand on someone shoulders and I stand on my father's shoulders."
"John Clifford Floyd" was arrested in New Orleans, Louisiana on May 17, 1968, according to the transcript of a 1969 U.S. Senate subcommittee hearing on "RIOTS, CIVIL AND CRIMINAL DISORDERS."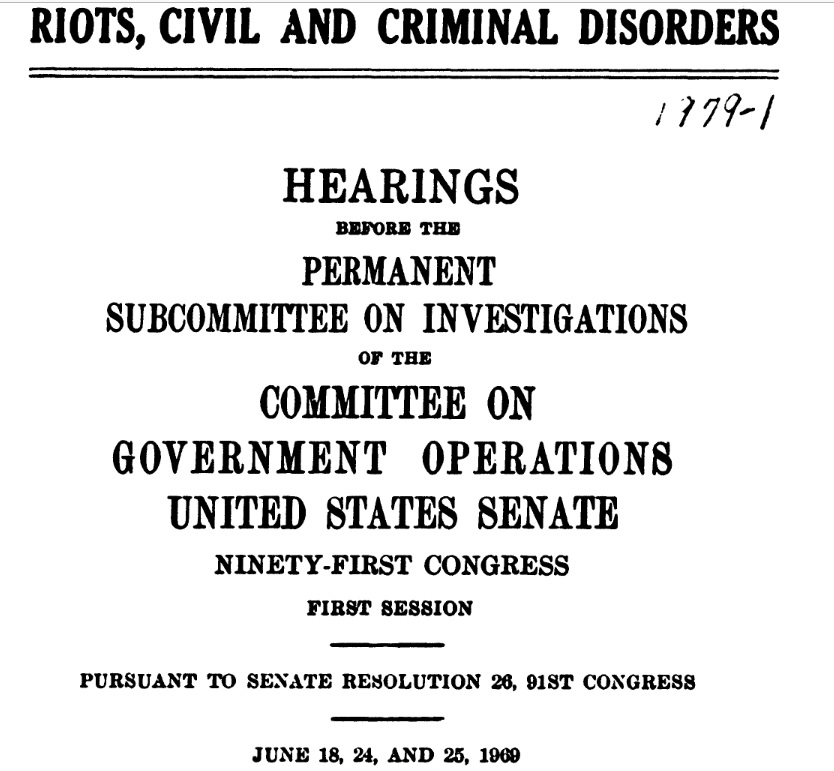 John Clifford Floyd was born on October 27, 1942, according to the Senate report. He was associated with the Los Angeles office of the radical Student Nonviolent Coordinating Committee (SNCC), which was linked to the Black Panthers.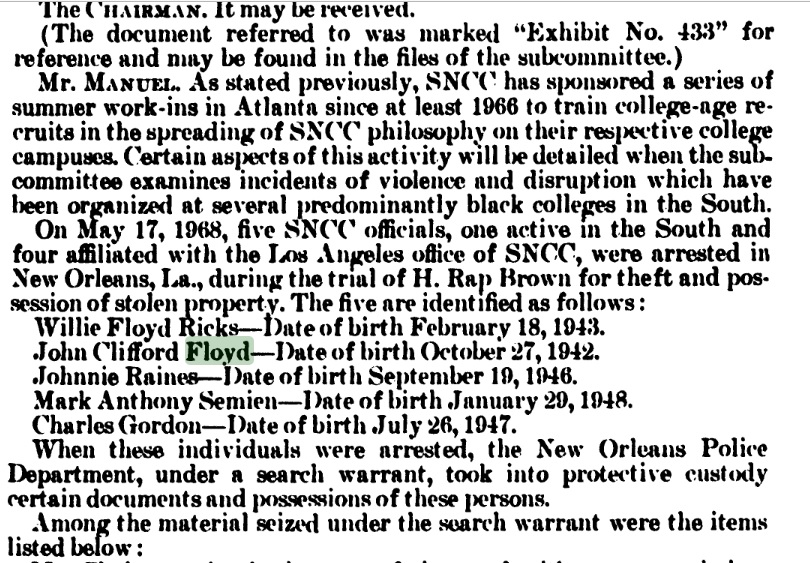 The Senate report noted that John C. Floyd possessed a "9 millimeter automatic" plus "Two Department of State passport applications" and "One metal automatic cartridge clip containing seven rounds of .38 caliber automatic ammunition" plus pro-black radical literature including "Black Power Manifesto" and "A 27-page booklet by James Forman titled "1967: High Tide of Black Resistance."
The booklet stated the following: "The Year 1967 marked an historic milestone in the struggle and the year that revolutionaries throughout the world began to understand more fully the impact of the black movement. Our liberation will only come when there is final destruction of this mad octopus — the capitalistic system of the United States with all its life-sucking tentacles of exploitation and racism that choke the people of Africa, Asia, and Latin America."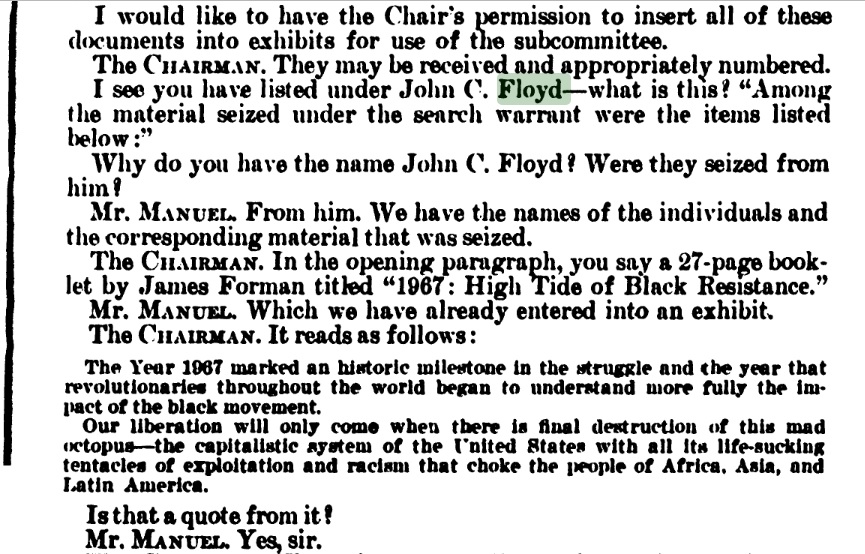 Another man in Floyd's group named Johnnie Raines possessed "A single sheet of paper with a formula for making explosives," according to the Senate report.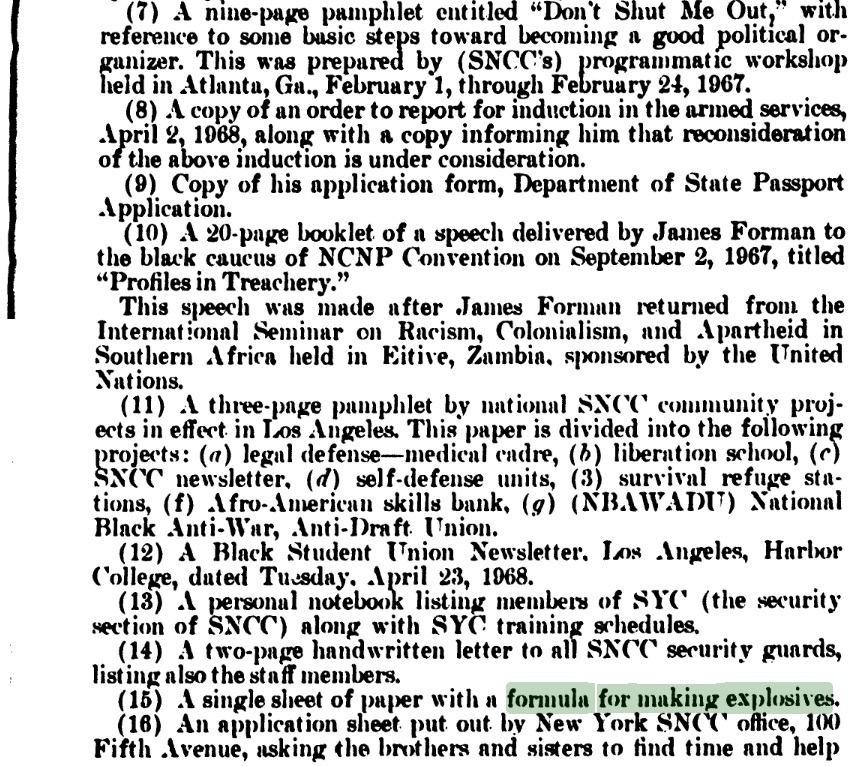 Charles Gordon, another man in Floyd's group of arrestees, possessed pages from a book that explained "various ways to use dynamite, incendiary bombs, and so forth, to blow up buildings, cars, steel beams."