Last Updated on August 10, 2022
The Trump-endorsed Republican gubernatorial candidate Tim Michels defeated Mike Pence's pick in the Wisconsin primary Tuesday.
Tim Michels, a construction businessman, easily defeated Rebecca Kleefisch, who was the lieutenant governor under former Republican Gov. Scott Walker for eight years.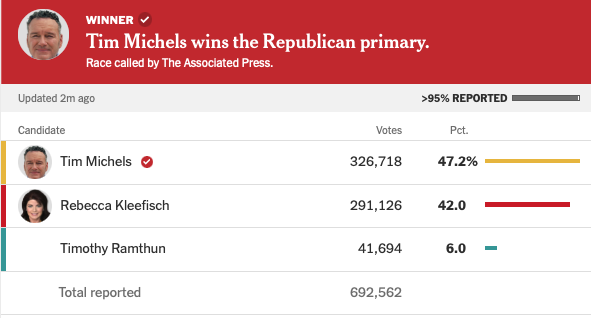 Despite Kleefisch having the backing of former Vice President Mike Pence, and establishment Republicans such as Nikki Haley, Sen. Ted Cruz (R-TX), and Sarah Huckabee Sanders, Michels coasted to victory with a margin over 5 points.
In his victory speech, Michels reaffirmed he would better the economy and bring about more job opportunities for Wisconsin voters. The Republican nominee said the November election is about "standing up for the hardworking people of Wisconsin. They have been left behind by the Democratic Party that just wants to focus on the social issues."
"We will work together—we are going to make so many improvements in this state and I pledge to do that. I give you my oath just like I took my oath when I went in the army. I swear to uphold and defend the people of Wisconsin."
Michels will square up against current Wisconsin Governor Tony Evers (D) in November. Following Michels' victory, Evers immediately attacked his Republican opponent, calling him "the most extreme and divisive nominee possible."
Evers came after Michels' policies in a statement: "From abortion and voting rights, to gun safety and public education — Tim Michels has staked out the most extreme positions possible, with the goal of dividing our state and pitting neighbors against one another."
Michels' victory reminds GOP supporters about just how influential former President Donald Trump's role is in the party. The Trump-endorsed candidates in Illinois, Maryland, Michigan, and Arizona all beat out weaker Republican opponents.
Stay tuned to National File for any updates.
RELATED: Arizona: Trump-Endorsed Wendy Rogers CRUSHES Establishment-Backed Opponent in GOP Primary Race