Last Updated on June 5, 2023
The "entire family" of a major donor to 45th President Trump's political cause was killed in a bizarre Sunday plane crash after the family's private plane was chased by F-16s that broke the sound barrier over Washington, DC, causing a sonic boom that was heard in the DC area – including by this reporter.
John Rumpel, a prominent donor to both President Donald Trump and the NRA, told The Washington Post that his "entire family" was on board the plane that crashed around the George Washington National Forest near Montebello, Virginia, killing everyone on board, including Rumpel's daughter, his two-year-old granddaughter, and the little girl's nanny.
The pilot, who was "unresponsive" to calls from aviation authorities during the flight was also killed and reports are suggesting that the pilot may have lost consciousness during the flight and that the plane may have been flying on auto-pilot.
Currently, details about the crash and the high-speed sky pursuit that preceded it are few and far between. While it's unclear if anyone else was onboard the crashed plane, authorities in Virginia say that there were no survivors.
"We know nothing about the crash," Rumpel reportedly told The Post.
According to multiple news sources, the Cessna plane took off from Tennessee en route to New York but "inexplicably" turned around over Long Island and went on to fly into restricted airspace above Washington, DC, prompting the scrambling of fighter jets.
"Flight tracking sites showed the jet suffered a rapid spiraling descent, dropping at one point at a rate of more than 30,000 feet per minute before crashing" in a sparsely populated region of Virginia, the Associated Press reported.
The military insists that the plane wasn't shot down, but does admit to firing flares in what they say was an effort to gain the pilot's attention.
An official investigation into the crash will be led by the federal government's National Transportation Safety Board (NTSB).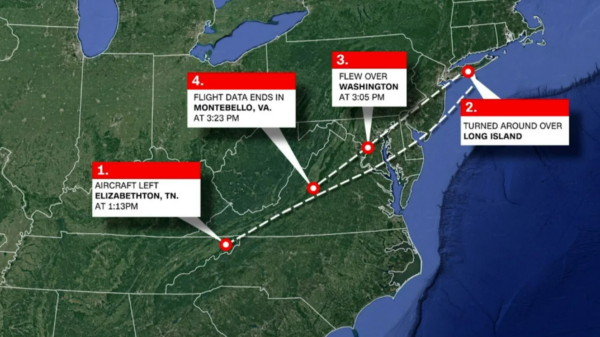 The Rumpel family has been active in conservative and pro-America politics for years, and in 2020 donated $250,000 to President Trump's Victory PAC.
Barbara Rumpel, the wife of John Rumpel, has served on the NRA's Women's Leadership Council since 2002 and as an NRA Executive Committee member since 2012.
In 2016, Mrs. Rumpel used her 2nd Amendment activism to promote the campaign of then-candidate Trump, helping to launch the Second Amendment Coalition for Trump-Pence.
This story is developing. Stick with National File for updates as they become available.