Last Updated on November 4, 2020
The Trump campaign is telling the media that they believe the president will secure a victory by 30,000 votes in Arizona, a state originally called for Joe Biden and fellow Democrat, Senate candidate Mark Kelly, and by 40,000 votes in Pennsylvania, resulting in electoral victory, even as President Donald Trump publicly questions the election results.
Stressing the importance of "legally cast ballots," the Trump campaign stressed that they see an obvious path to 270 electoral votes in Arizona and Pennsylvania, and suggested that more Republican districts are expected to come in in both Michigan and Wisconsin, with the media admitting that the campaign is projecting confidence the day after the election.
Summary. Trump campaign argues they will
– Win Pennsylvania by 40k-ish votes
– Win Arizona by 30k-ish votes

Note R districts still to be come in Michigan + Wisconsin
Are upbeat on Nevada with the race still tight.

Bottom line: They are saying loud Trump will win.

— Ben Riley-Smith (@benrileysmith) November 4, 2020
In Arizona specifically, Trump campaign predicts a 30,000-vote margin of victory

— Gabby Orr (@GabbyOrr_) November 4, 2020
Trump campaign strongly maintaining that Arizona and Nevada are in play. Good. They are!

— Patrick Howley (@HowleyReporter) November 4, 2020
Meanwhile, President Trump is calling foul on the election on social media, and is being censored heavily for his attempt in the process. In one censored tweet, Trump writes "WHAT'S THIS ALL ABOUT?" as he shares an image that shows Biden receiving a mathematically improbably 100% of the mail-in vote in a certain area in Michigan.
President Trump was specifically censored for his retweet of conservative commentator Matt Walsh, who said "This is reason enough to go to court. No honest person can look at this and say it's normal and unconcerning." Walsh was also censored.
https://twitter.com/MattMackowiak/status/1323992377380450309
In another censored tweet, that is now completely hidden with users unable to respond or like it, President Trump wrote, "Last night I was leading, often solidly, in many key States, in almost all instances Democrat run & controlled. Then, one by one, they started to magically disappear as surprise ballot dumps were counted. VERY STRANGE, and the "pollsters" got it completely & historically wrong!"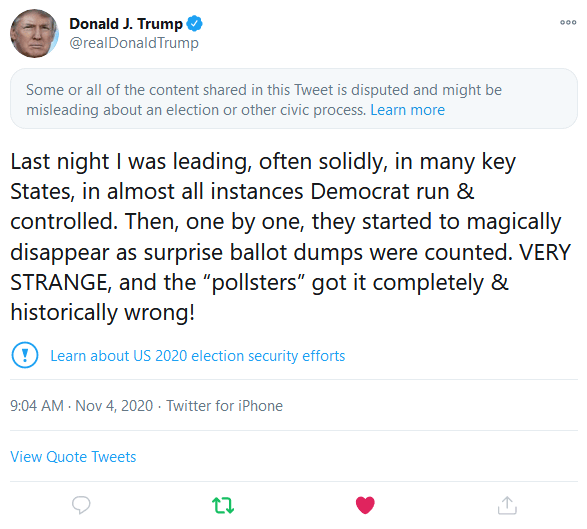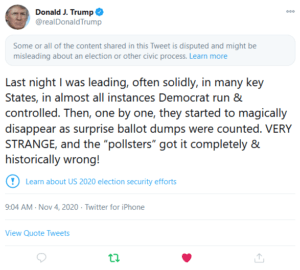 Twitter tagging tons of @realDonaldTrump tweets. pic.twitter.com/scowTgVjaE

— Brittany Sellner (@BrittPettibone) November 4, 2020
Before the revelation that mail-in ballot results are, in some cases, an unbelievable 100% in favor of Biden, the president questioned why they seemed to favor his opponent, asking why the "Mail-In ballot dumps" are "so devastating in their percentage and power of destruction?"
https://twitter.com/realDonaldTrump/status/1324007806694023169
President Trump declared victory in a speech held in the White House at around 3 a.m. last night, while Biden delivered a speech insisting that he would win when more votes were counted in the morning. In the intervening hours, Biden has received an overwhelming proportion of the remaining votes, many of which are mail in votes that may still take days more to be counted.
https://twitter.com/TeamTrump/status/1323888133390348288