Last Updated on April 3, 2021
Former President Donald Trump called for boycotts of Major League Baseball and other "woke companies" accused of interfering with free and fair elections in a statement released after MLB caved to left-wing pressure and opted to move the 2021 All-Star Game out of Atlanta, Georgia over the state's passing of an election integrity bill.
In calling for a boycott of MLB and other woke companies, President Trump joined a growing chorus of public servants and everyday citizens alike in pushing back against the corporatist actions of the Democrat Party and the radical left that appear to have politicized virtually every sector of American life, using fear of personal and professional destruction as a weapon.
"Baseball is already losing tremendous numbers of fans," Trump's statement read. "Now they leave Atlanta with their All-Star Game because they are afraid of the Radical Left Democrats who do not want voter I.D., which is desperately needed."
In addition to Major League Baseball, Trump called for the boycott of all "woke companies" interfering in America's election process, including Atlanta-based Coca-Cola and Delta Airlines, both of which have echoed the Biden Regime's assertion that requiring identification to vote is akin to lynching and racial segregation.
"Boycott baseball and all of the woke companies that are interfering with Free and Fair Elections," Trump's statement continued. "Are you listening Coke, Delta, and all!"
Read President Trump's full statement below: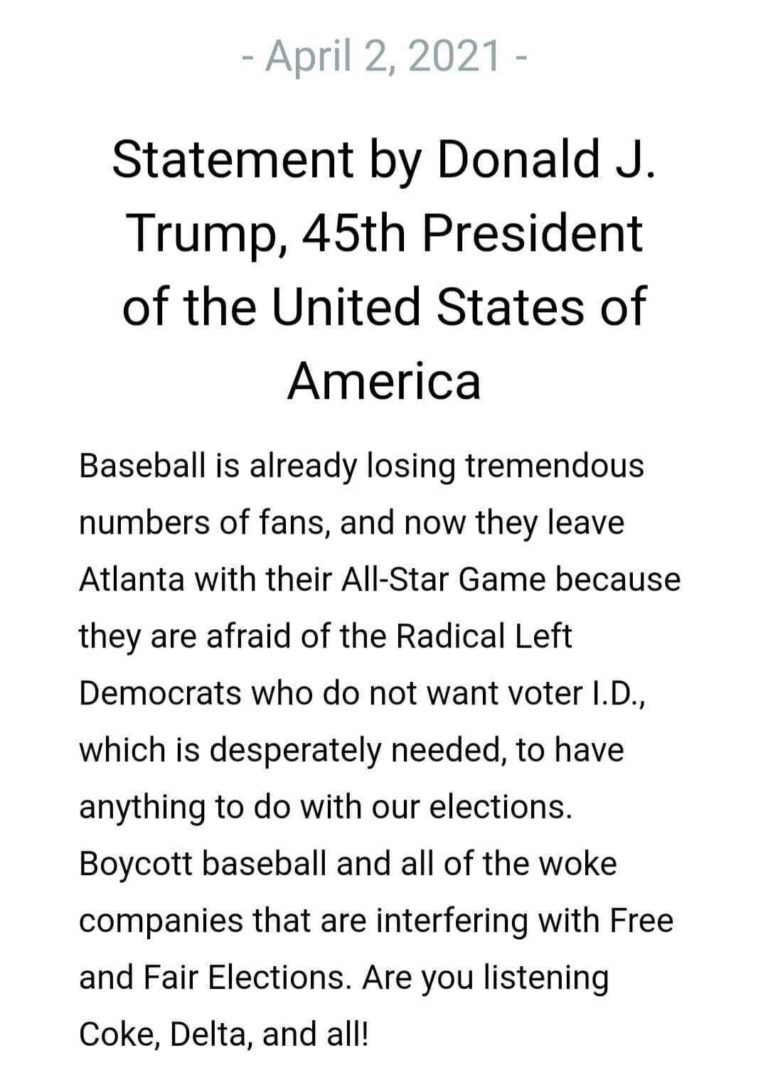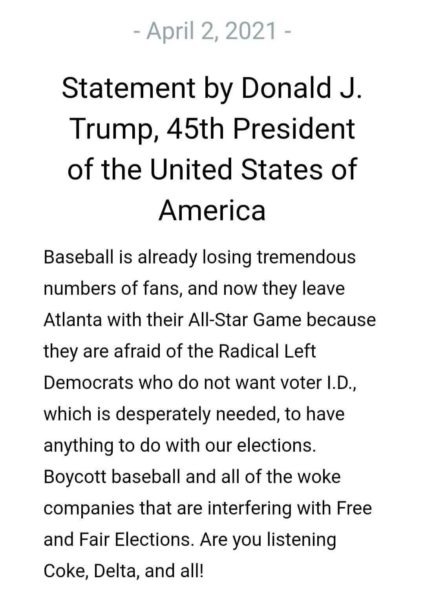 As previously reported by National File, sitting President Joe Biden involved himself in the issue, calling on Major League Baseball to move the game out of Atlanta, while also claiming that multi-millionaire professional athletes are among those "victimized the most" by voter I.D. laws. In joining the rest of his party in making the comparison of election integrity laws to Jim Crow-era racial segregation, Biden claimed that requiring identification to vote "makes Jim Crow look like 'Jim Eagle,'" and slammed provisions in the bill banning party operatives from giving voters gifts while standing in line at the polls.
According to recent polling data, a 72% super majority of Americans supports voter I.D. laws. As of 2021, 36 states require some form of identification to vote.