Last Updated on January 11, 2021
Rick Klein, news director for ABC News wants to "cleanse" the nation of everyone and anyone who supports the President's vision of America.
As the purge of the President across all platforms on the internet – from social media to hosting and commerce platforms – continues, ABC News Director, Rick Klein, tweeted out that getting rid of a sitting president was the "easy part." The hard part, he intimated, was "cleansing the movement he commands."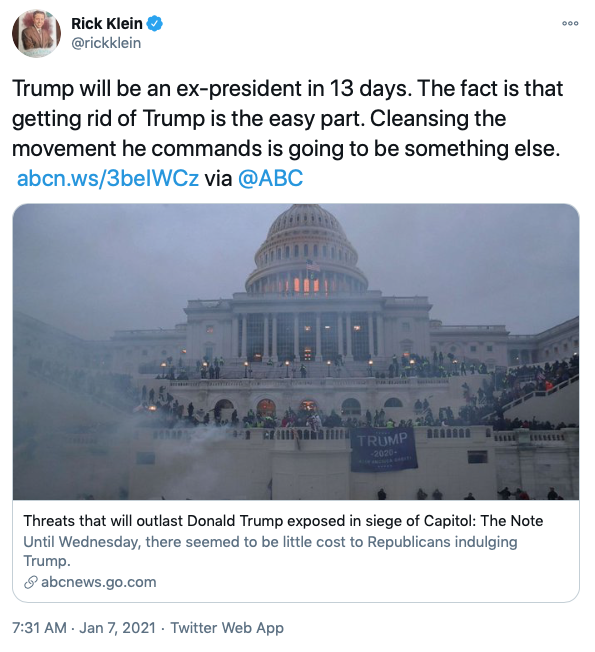 Klein's statement comes as the social media giants execute an ongoing purge of President Trump and his campaign's accounts across the internet. That purge has grown to include the removal of tens of thousands of Facebook and Twitter accounts of the President's most ardent supporters.
Prior to the election, several Marxist-Progressives – including Robert Reich, Jennifer Rubin, and US Rep. Alexandria Ocasio-Cortez (D-NY) – openly championed amassing a list of all those inside President Trump's inner circle, as well as all his most ardent supporters, so as to expunge them from society or "re-educate" them. The effort was allegedly abandoned.
When this nightmare is over, we need a Truth and Reconciliation Commission. It would erase Trump's lies, comfort those who have been harmed by his hatefulness, and name every official, politician, executive, and media mogul whose greed and cowardice enabled this catastrophe.

— Robert Reich (@RBReich) October 17, 2020
At 12 a.m. PT, Amazon attacked the free speech app Parler, removing its server access for what they contend is the lack of an adequate moderation policy. The term "moderation policy" is interchangeable with "censorship policy."
The social media purge – along with the denial of service to President Trump, has disrupted a sitting president's ability to directly communicate with a significant portion of the American people leading to question of constitutionality where that service denial is concerned.
Klein's statement extends the Marxist-Left's attack on the Trump administration to an overt attack on almost one-third of the American population.
On Monday, Parler filed suit against Amazon claiming anti-trust law violations and breach of contract.