Last Updated on February 17, 2022
A teacher is currently under investigation after an elementary school teacher said that a man dressed as President Donald Trump should have been shot on a Facebook Post.
Clarksville-Montgomery County School system is investigating a Byrns Darden Elementary School teacher's social media post after the teacher said that the teen should've shot–not punched–the man dressed as the United State's President.
Around Halloween, a man was punched in the face by a 14-year-old girl in an unprovoked attack in a line at a Naples haunted house.
The girl was removed from the premises by the police following the attack.
A social media user and original poster of an article containing the story criticized the girl, believing that she must be held fully accountable for her actions.
The post read: "I hope she gets slammed for it. These kids think they can do anything with no consequences for their actions.:
To which Byrns Darden Elementary School teacher, David Mosley, replied: "She should have shot em."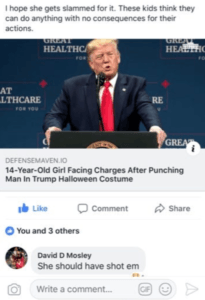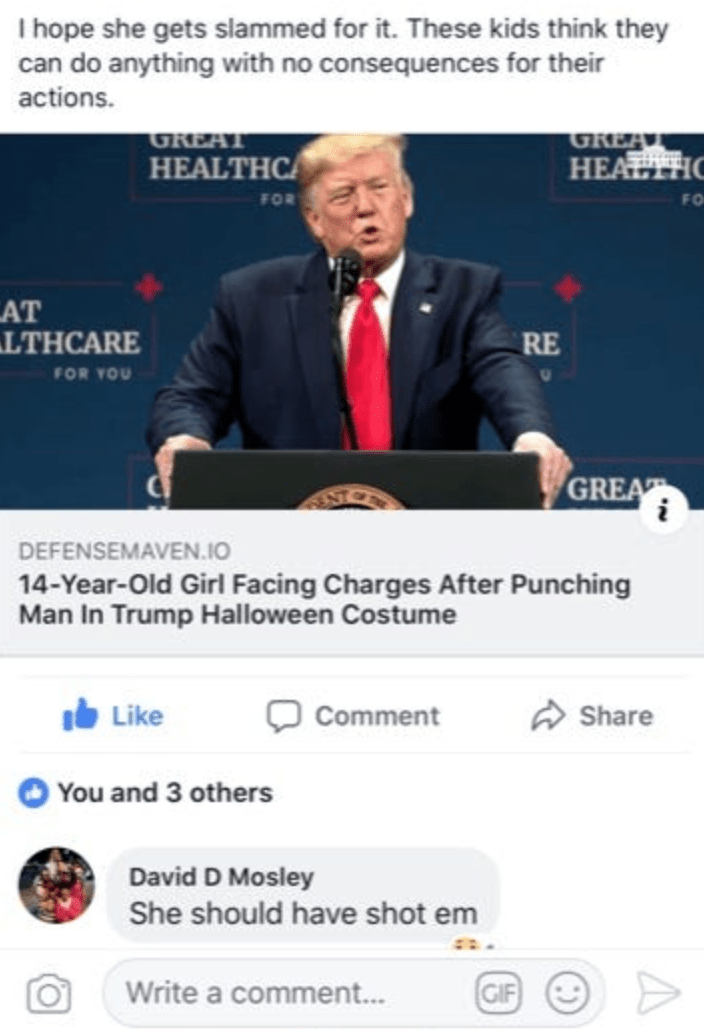 The exchange ignited a social media argument with a man who emailed screenshots of the conversation to the school board, citing a "disturbing encounter with one of your educators" according to thebl.com
The BL reports:
The comments were being reviewed Wednesday by the CMCSS human resources department.

CMCSS spokeswoman Elise Shelton said everyone has the right to freedom of speech, but their employees are responsible for content posted online.

While declining to comment on this specific situation, as it's still being reviewed, Shelton said, "We have a social media policy in place for a purpose not to infringe upon freedom of speech, but to be appropriate and respectful.

"If you identify yourself as a school system employee, then in fact you are somewhat speaking for the school district," Shelton said.
Since the exchange, Mosley appears to have deleted or hidden his Facebook account.