Last Updated on May 12, 2021
Conservative Texas Senator Ted Cruz campaigned with pro-ERA, LGBT lobby supporting Republican Congressional candidate Jen Kiggans at a campaign stop in Virginia Beach last week, as he traveled the state in support of Republican Glenn Youngkin's run for Governor – a campaign with serious conservative credibility issues of its own.
Despite a reputation as one of the most conservative members of the United States Senate, especially on issues concerning faith and family, Cruz was introduced by Jen Kiggans at the campaign event, a first-term Republican State Senator and candidate for U.S. Congress who, after running and winning as a conservative, took a sharp leftward turn upon assuming office in Richmond last year.
As previously reported by National File, just a week into her Senate term, Kiggans cast the deciding vote on Virginia's passing of the so-called Equal Rights Amendment (ERA), and later voted to scrap the opinion of a majority of the state's voters and rewrite Virginia's constitution at the behest of the LGBT lobby, a bridge that even some Democrats refused to cross.
Just a week after assuming office in 2020, Kiggans began her career in Richmond by joining with Senate Democrats in the midst of a historic gun grab to vote in favor of ratifying the so-called Equal Rights Amendment (ERA) to the United States Constitution. Giving a floor speech on the issue, Kiggans, who cast the deciding vote, said that while the ERA, often described by experts as redundant and unconstitutional, isn't needed for women to achieve great things, its ratification and apparently the potential constitutional issues that could ensue have symbolic value.

A year later, and as previously reported by National File, Kiggans voted to repeal the ban on same-sex marriage approved by a majority of Virginians in 2004. Despite the ban being rendered obsolete by a 2014 Supreme Court decision, Kiggans sided with Democrats once again as the party used gay marriage as a wedge issue ahead of November's 2021 Gubernatorial Election. Even a handful of Democrats voted against the measure, with Kiggans and a small group of establishment-friendly Republicans siding with the most left-leaning wing of the Democrat Party.
What's more, is Kiggans stood with the left during a blatant attack on the property rights of Virginians, particularly Virginians of faith, when she joined hands with Democrats yet again in the passing of the "Virginia Values Act." Under the bill, real estate owners – especially real estate owners of faith – find their rights heavily curtailed and could be forced to allow those in direct conflict with their faith practices and beliefs to live under their roof or face civil rights litigation.
In a social media post made after the campaign event, Kiggans appears alongside Cruz in a photograph, thanking the Senator for his appearance and his recognition of "our fight" in Virginia. Nowhere in the post is the Youngkin campaign mentioned, leading several in the comments section to assume Cruz was on the ground in Virginia to support Kiggans' run for Congress.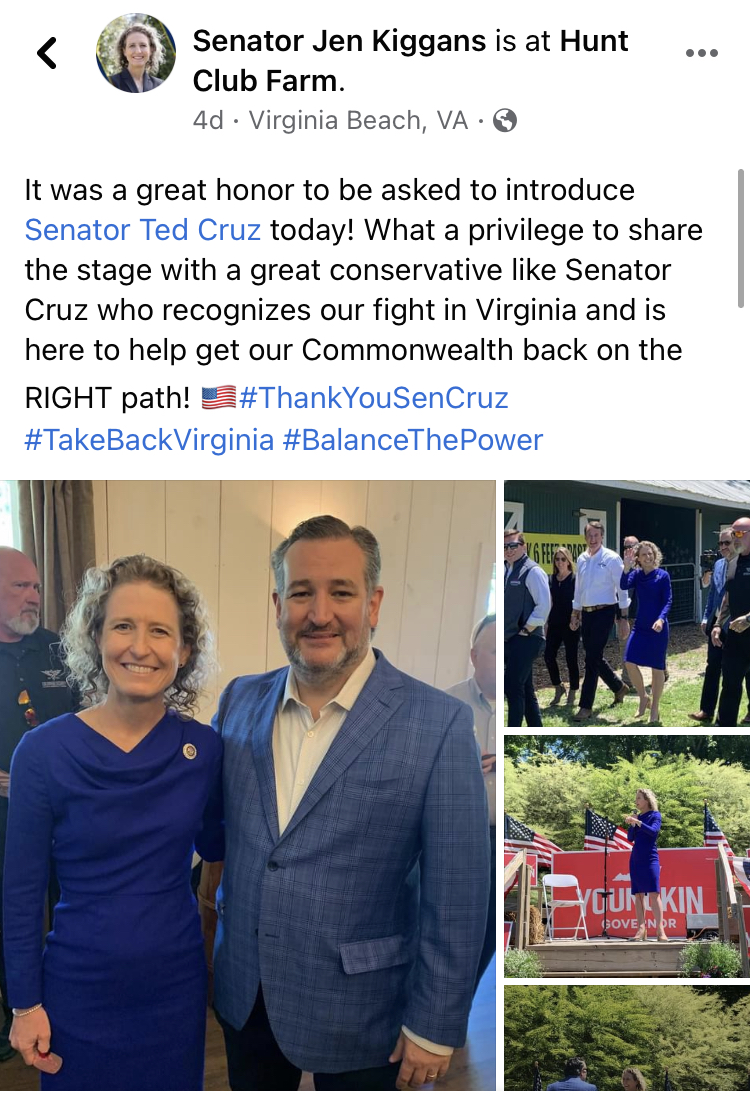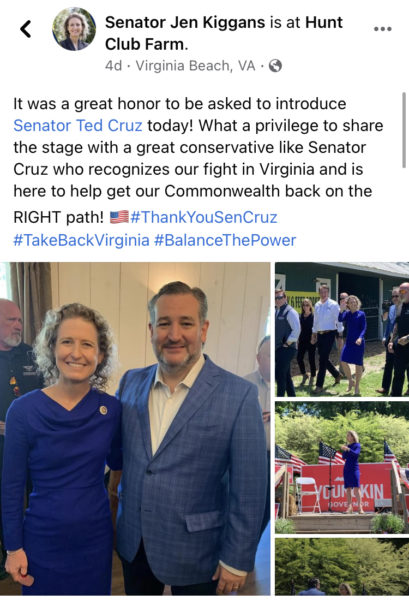 "Interesting that you don't mention anywhere on this post that Cruz was in town campaigning for Glenn Youngkin," wrote one commenter, who went on to call out Kiggans for cozying up to the Youngkin-Cruz team just days after she appeared at a campaign event held for one of Youngkin's primary race opponents, Kirk Cox. "What's more curious is why you have not mentioned that you were in Chesapeake on Tuesday showing support for Kirk Cox," the commenter went on to say. Days later, Youngkin went on to defeat Cox and the rest of the Republican field for Governor at the party's nominating convention.
Steve Bannon recently bashed Youngkin on his podcast, saying, "A guy named Youngkin, who is the furthest from MAGA you can possibly get, farthest from America First. He's running, he's trying to be MAGA. 'I'm gonna bring jobs back to Virginia,' start by taking hundred investments you made in Chinese Communist Party companies, bring those jobs back to the Commonwealth of Virginia." He added, "Complete phony. He puts a lot of money in a campaign, he hires a bunch of hack operatives, they get in there, and all the sudden he's MAGA, he's America First. If you vote for this guy, trust me, he's not going to win in a general election."
Bannon on Virginia Governor candidate Youngkin: "He puts a lot of money in a campaign, he hires a bunch of hack operatives, they get in there, and all the sudden he's MAGA, he's America First. If you vote for this guy, trust me, he's not going to win in a general election." pic.twitter.com/N227OTrUnG

— National File (@NationalFile) May 12, 2021