Nationally-syndicated TV news host Stew Peters forced the Dalai Lama to publicly apologize for bizarre, pedophilic comments he made to a young boy, who the eastern religious leader told to "suck" his "tongue."
Stew Peters, whose mega-viral Stew Peters Network is garnering worldwide web traffic on a regular basis, posted a troubling video clip of the Dalai Lama's interaction with a young boy on Twitter, questioning why the leader of Tibetan Buddhism who's been revered by globalist leaders for years was "fondling this young boy and asking him to 'suck his tongue'?"
In the video clip, which was recorded in late February before surfacing in recent days, a young boy is seen sitting on the Dalai Lama's lap and the two press their foreheads against each other before the Dalai Lama tells him to "suck my tongue," sticking his tongue out towards the boy's mouth.
The boy, at least on video, doesn't oblige the Dalai Lama's request.
After Stew Peters sent the video on a viral trip around the internet, the international press picked the story up and the Dalai Lama issued a public apology, trying to pass the pedophilic comment off as an "innocent and playful" joke.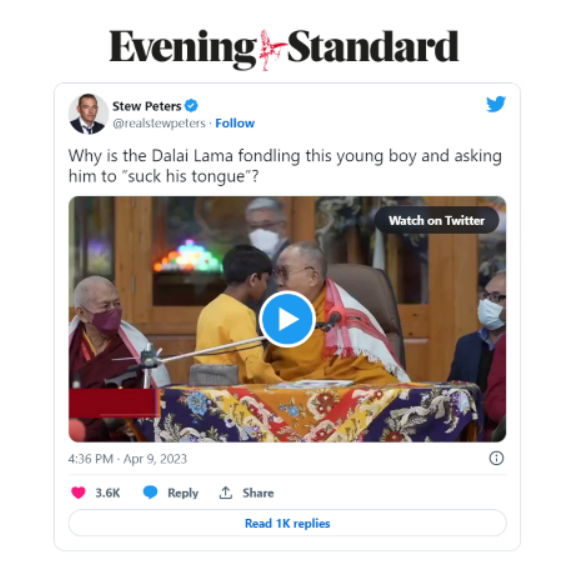 "The Dalai Lama is clearly pedo inclined," Stew Peters wrote in a tweet after the Dalai Lama's public statement of apology was issued, attempting to pass his "suck my tongue" comment off as an "innocent and playful" joke.
"He wrote a statement (in this person) after we posted the clip," Peters added, including a copy of the third-person apology.
"A video clip has been circulating that shows a recent meeting when a young boy asked His Holiness the Dalai Lama if he could give him a hug," the statement, which was posted from the Dalai Lama's Twitter account, reads.
"His Holiness wishes to apologize to the boy and his family, as well as his many friends across the world, for the hurt his words may have caused."
"His Holiness often teases people he meets in an innocent and playful way, even in public and before cameras," the third-person statement went on, attempting to excuse the Dalai Lama's conduct.
"He regrets the incident," the statement concluded.
Watch the disturbing video and read the Dalai Lama's full third-person statement below:
The Dalai Lama is clearly pedo inclined.

He wrote a statement (in third person) after we posted the clip below. https://t.co/7JC5Q6Fgqh pic.twitter.com/OXYu4cyJVX

— Stew Peters (@realstewpeters) April 10, 2023