Last Updated on November 14, 2023
GOP Speaker of the House Mike Johnson is preparing to collaborate with Democrats to keep the federal government open by way of a $1.6 trillion Continuing Resolution that will not cut federal spending and will not fund the securing of America's southern border. The House is expected to vote on the CR on Tuesday afternoon, ahead of a Friday deadline to fund the government or shut it down.
Amidst opposition from House conservatives who say they've drawn a line in the sand and will not vote in favor of the $1.6 trillion Continuing Resolution to fund the Biden government, new Speaker of the House Mike Johnson is hoping that Democrats will cross the aisle and extend their support for the CR. Reportedly, several of them have signaled their intent to do so – in both the House and the Senate.
The resolution, which was been drafted in two parts, has been touted as "clean" by Johnson and its other proponents, for it does absolutely nothing to change the massive spending vortex that the federal government has allowed itself and the American People to be sucked into.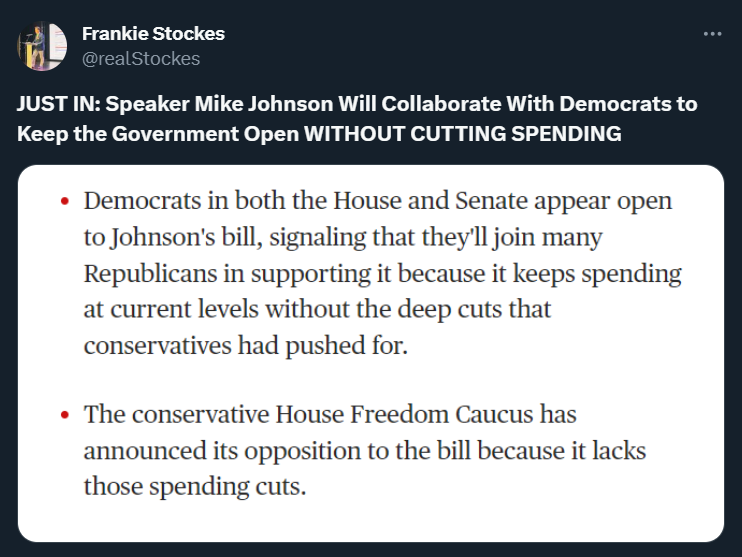 Though Johnson, the GOP establishment and, apparently, House and Senate Democrats alike, are poised to vote in favor of the Johnson spending bill, the House Freedom Caucus has officially come out in opposition to it, declaring in a post made to X that there will be "no more rolling over today to fight tomorrow."
"The House Freedom Caucus opposes the proposed 'clean' Continuing Resolution as it contains no spending reductions, no border security, and not a single meaningful win for the American People," the House Freedom Caucus said in a statement attached to the X post.
"While we remain committed to working with Speaker Johnson, we need bold change," the Freedom Caucus added.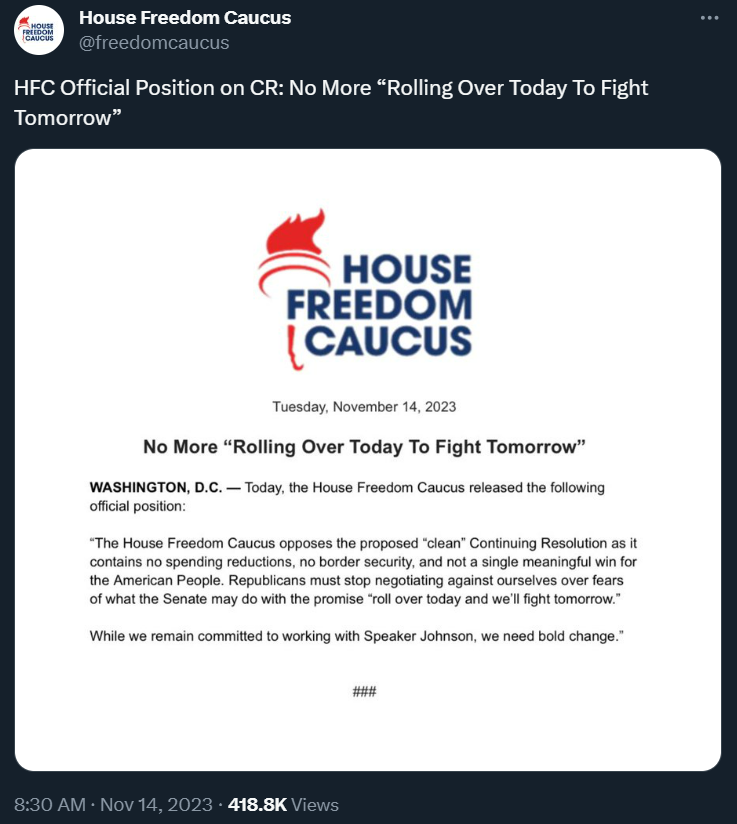 In a Tuesday morning interview on Steve Bannon's War Room, Freedom Caucus Rep. Andy Biggs (R-AZ) spoke out against the Johnson CR, reaffirming the official position of the House Freedom Caucus in telling Bannon that "If we capitulate to this package…I think that the base leaves us."
"I think the base says, 'Well you guys are no different ultimately than you were under McCarthy'," Biggs said.
Capitulating to this "clean" continuing resolution would be a colossal mistake.

This would be a continuation of Kevin McCarthy, Joe Biden, Chuck Schumer, and Nancy Pelosi's spending levels and policies.

Don't be surprised if Americans lose confidence in us. pic.twitter.com/jxBssVvOm9

— Rep Andy Biggs (@RepAndyBiggsAZ) November 14, 2023