Last Updated on March 3, 2023
Alex Murdaugh, the South Carolina lawyer and old-money Democrat who was accused of shooting his wife and son, was found guilty on Thursday evening on two counts of murder, bringing to a close the made-for-TV crime saga that began after his son killed a young girl in a drunken boating accident before meeting his own fate at the hands of his father.
The jury in Colleton County, South Carolina deliberated for just three hours, after a trial that lasted six weeks, finding Alex Murdaugh guilty of two counts of murder and two counts of using a firearm in the commission of a felony. The charges stemmed from the June 2021 murders of his wife, Maggie Murdaugh, and his 22-year-old son, Paul Murdaugh. Sentencing in the case is slated for Friday, and Alex Murdaugh faces a minimum sentence of 30 years and a maximum sentence of life in prison.
Before the Murdaugh family's widely-publicized fall from grace, which saw a political family compared to those of the Old South plastered all over tabloids and TV screens in a saga defined by murders and drug addictions, Alex Murdaugh and his relatives were major donors to the Democrat Party.
According to campaign contribution reports from the FEC, Alex Murdaugh donated thousands of dollars to the 2020 presidential campaign of Joe Biden and has funded numerous other Democrats over the years, including 2016 Democrat presidential nominee Hillary Clinton.
Alex is far from the only Democrat donor in the Murdaugh family, as his brother and other relatives have also habitually donated to Democrats and, at times, establishment Republicans.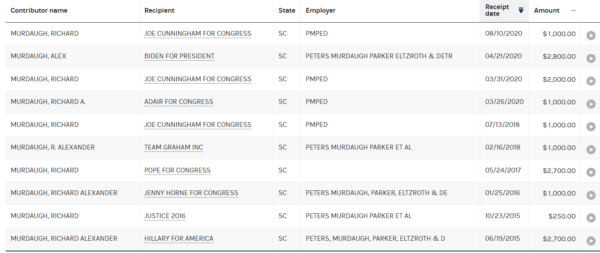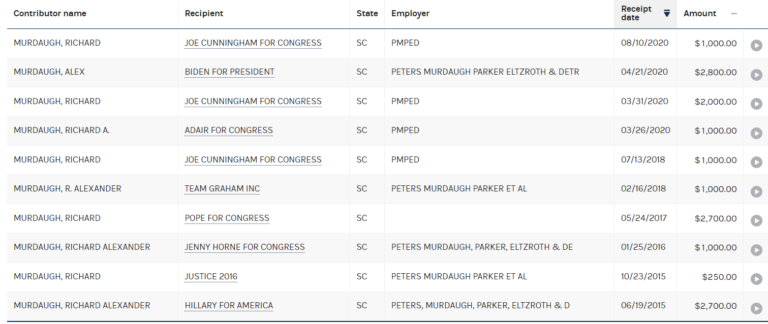 Further showing the Murdaugh family's deep ties to South Carolina's political elite and Democrat shot callers is his relationship with Dick Harpootlian, the two-time chair of South Carolina's Democrat Party and a failed Democrat candidate for Attorney General of South Carolina.
Harpootlian was among the attorneys who represented Alex Murdaugh in relation to the double homicide of his own wife and son, who he has been found guilty of executing.
In addition to the murders of Maggie and Paul Murdaugh, Alex Murdaugh has been suspected of a string of crimes, that include everything from major purchases of Oxycontin and other pharmaceutical opiates to insurance fraud to the suspected murder of a former housekeeper. He's also been accused of hiring his own distant relative to shoot him, in an apparent effort to cover up his crimes and make it look like someone was out to kill off the entire Murdaugh family.
A Netflix series, and several other crime documentaries, have been produced as a result of Murdaugh and his family's crimes.
UPDATE: Alex Murdaugh has been sentenced to two-consecutive life terms for the murders of his wife and son.