Last Updated on December 16, 2019
Music streaming service SoundCloud has reportedly moved to ban indie punk musician Negative XP after the artist sent them an inquiry about money being withheld from his account.
Negative XP has previously come under fire from verified Twitter users and Redditors for an explosively viral track called "Scott Pilgrim Vs The World Ruined A Whole Generation Of Women."
The song received over a million combined views on SoundCloud, Facebook, and YouTube, and was eventually attacked as "misogynist" by feminist YouTuber and music reviewer Anthony Fantano.
The revenue generated from the song and other tracks by Negative XP has reportedly been withheld by SoundCloud.
https://twitter.com/mkultravictim69/status/1203225295597252608?fbclid=IwAR1alHx8DQvDSYEjvP0jtJPbIaOsGxrmYUVAWhCV4CAcJcaVljtCvBqhzYU
When the artist inquired about the missing funds, he received an email from the SoundCloud "trust and safety team" that said his account has been banned for content that is "abusive, libelous, defamatory," and "obscene" as well as inciting "violence, terrorism, and hatred."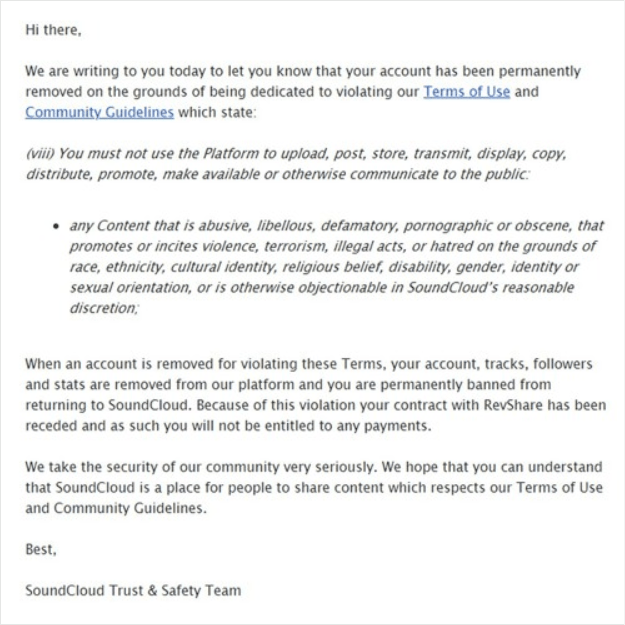 The majority of the music hosted on SoundCloud is in the hip-hop genre, which focuses on many of the subjects that constitute violations according to SoundClouds terms of use and community guidelines.
This fact was pointed out by Negative XP in a retaliatory track titled "SoundCloud Owes Me Money So They Sent Me An Email Saying They're Gonna Ban Me."
Speaking to National File, Negative XP said, "I haven't gotten my money yet, I've emailed them a few times about my missing money and the last time I did I got that email I used as the cover [of the music track]. I've been putting off asking them again because I think they'll just delete everything."
The musician added that he has had two SoundCloud accounts banned before, likely due to anonymous people mass reporting his work because of political disagreement.
"It's happened with the FBI," Negative XP continued. "People don't like me so they report me saying I'm a terrorist or something."
The artist added, "I feel like the people at SoundCloud probably have liberal attitudes … it also wouldn't be a big deal to shut me down because I'm just one guy."
The artist has also reportedly faced censorship from membership platform Patreon.
https://twitter.com/mkultravictim69/status/1205861417863254016?fbclid=IwAR26nJh-MUKeIsjQNayRyaoOWZrKNmWz9b9VJpKvUQ46CuWp-WKGgA1dvH0
"Scott Pilgrim Vs The World Ruined A Whole Generation Of Women" has been cited as the impetus for censorship efforts against Negative XP.