Last Updated on January 3, 2021
Senator Pat Toomey (R-PA) announced that he will not join the Electoral College challenge on January 6, and instead claims that the effort led by Senators Josh Hawley and Ted Cruz aims to "disenfranchise millions of voters" despite videos, sworn eyewitness testimony, and thousands of signed affidavits from election workers highlighting extensive evidence of voter fraud in the 2020 election.
In a series of tweets, Toomey said that the allegations of voter fraud "cannot justify overturning an election" and that such allegations "have been adjudicated in courtrooms across America and were found to be unsupported by evidence."
The senators justify their intent by observing that there have been many allegations of fraud. But allegations of fraud by a losing campaign cannot justify overturning an election.

— Senator Pat Toomey (@SenToomey) January 2, 2021
President Trump's own Attorney General, Bill Barr, stated 'we have not seen fraud on a scale that could have effected a different outcome in the election.'

— Senator Pat Toomey (@SenToomey) January 2, 2021
His narrow victory in Pennsylvania is easily explained by the decline in suburban support for President Trump and the president's slightly smaller victory margins in most rural counties.

— Senator Pat Toomey (@SenToomey) January 2, 2021
This would not be the first time Toomey has publically objected to the efforts of President Donald Trump. Over the summer, following President Trump's commutation of Roger Stone's sentence, the senator called the President's decision a "mistake."
Hours later, the President responded by calling him a "RINO."
"Do RINO'S Pat Toomey & Mitt Romney have any problem with the fact that we caught Obama, Biden, & Company illegally spying on my campaign?" said President Trump in a tweet on July 12.
On November 6, Toomey said that President Trump's allegations of widespread voter fraud were "disturbing," adding that there isn't "any evidence to support it."
"I'm not aware of any widespread or systemic fraud or anything of the sort," Toomey told ABC News.
On November 27, Toomey said the President will "be remembered for chaos and misery and erratic behavior" if he was to not sign the COVID-19 relief package after demanding an increase in payment for Americans from $600 to $2000.
It should be noted that Toomey used to be the Senate's 38th most wealthiest member. In 2014 during the Obama Administration, his net worth surpassed $3 million. According to reports, Toomey had received millions of dollars in campaign contributions from Big Pharma.
In 2015, Toomey purchased up to $15,000 of shares in Health Care Select Sector SPDR Fund.

Among Health Care Select's top holdings (with more than 33 million shares) is Pfizer Inc.

Select Medical Holdings last year ponied up $1.3 million in total lobbying; $42,125 of that was earmarked for Toomey.
By the start of 2016, the Pennsylvania senator had a net worth of $6.34 million, nearly doubling the average median Senate income of that year. By 2018, his net worth had sunken down to $2.04 million, around $300,000 more than the median Senate income of that time, according to Open Secrets.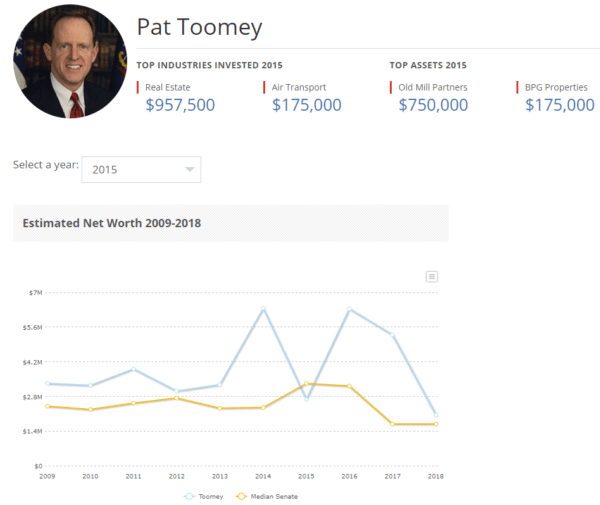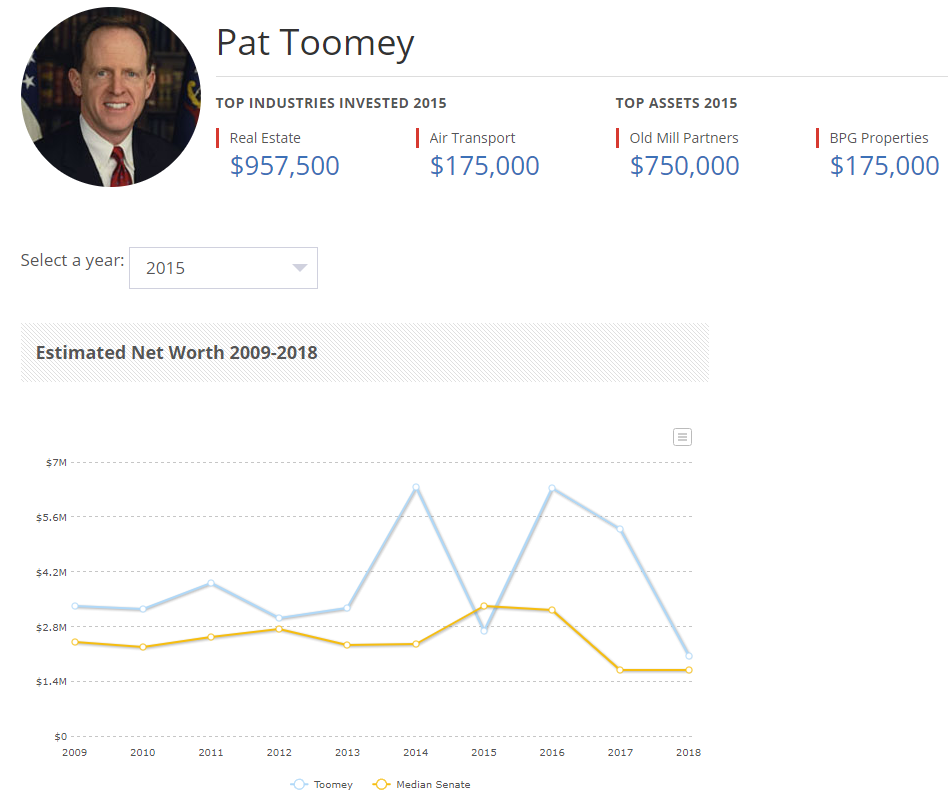 The data above may serve as the most recent record of Toomey's net worth as of 2018. But in October 2019, USA Today released a report listing off the richest members of Congress. This time, Toomey failed to secure a spot on the 76 member list.
President Trump has made efforts to fix problematic portions of Obamacare, lower drug prices, and end the opioid crisis – all to the displeasure of major pharmaceutical companies. One example of this could be seen in July, when high level pharmaceutical executives cancelled a White House meeting after President Trump issued multiple executive orders aiming to lower drug costs, according to Politico. 
A White House meeting with top pharmaceutical executives that President Donald Trump promised for Tuesday is off, five industry sources familiar with discussions told POLITICO. Three said the drug-pricing discussion was canceled because the major drug lobbies, reeling from Friday's cluster of executive orders on the topic, refused to send any members.
Toomey's reluctance to fight for the integrity of the 2020 election raises questions and has left Americans wondering where his loyalties lie, given that his net worth has significantly decreased as the industry of his donors faces immense pressure from the Trump Administration.