Last Updated on October 5, 2020
Authorities in New Jersey have confirmed that hundreds of pounds of mail have been found in a dumpster behind a bank. Mail-in and absentee ballots were included in the discarded mail bundles.
North Arlington, New Jersey Police Chief Scott Hedenberg confirmed the discovery of the undelivered mail on October 2, 2020. "Officers on scene did observe loose (rubber banded) bundles of mail, as described by the caller, which were secured on scene," he said.
The dumped mail, including over 200 ballots, was discovered by local resident Howard Dinger who said he found the mail "dumped in a dumpster behind one of the banks I service."
"I couldn't believe it when I found it. that's why I felt it necessary to call the police and report it," Dinger wrote on social media. Dinger described the cache as approximately 300 pounds, including at least 200 ballots.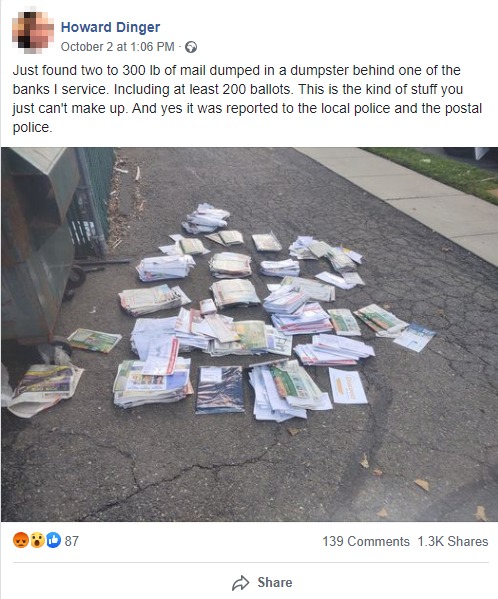 US Postal Service spokesman, George Flood said in a statement that the mail in question had been recovered and was being delivered.
"This matter was then turned over to our Office of Inspector General. We are unable to comment further at this time," Flood said to reporters.
Several states across the country, including New Jersey, are offering voters an option to vote by mail in the upcoming General Election. Traditionally, registered voters vote in person on Election Day or during early voting unless they request an absentee ballot.
New Jersey's Governor Phil Murphy, a Democrat, issued an executive order last August mandating each county's elections officials to send vote-by-mail ballots, with prepaid postage, to all active registered voters in the state.
There have been continuous reports of mail-in ballots being found discarded across the country. In Wisconsin trays of undelivered mail were found in a ditch along the side of a road. In Pennsylvania authorities found military ballots discarded.