Last Updated on July 29, 2022
Audio
of a phone conversation between U.S. Rep. William Timmons' (R-SC)
sister Brittany Timmons and Ron Rallis, husband of Paula Dhier, a
Greenville, S.C.-based socialite/lifestyle blogger, long rumored to be the congressman's mistress, confirms an affair between the married sitting congressman and Dhier.
Rallis confirmed the identity of Congressman Timmons's sister Brittany on two separate occasions.
First, Rallis posted about Brittney confirming the affair on his Instagram.
Separately, Rallis again confirmed the identity of Congressman Timmons's sister Brittney and her confirmation of the Timmons infidelity in an interview with local blogger Sam Kleckey.
South Carolina is a single-party consent state, meaning that Rallis was not obligated to inform any of the other parties on the phone call about the fact that they were being recorded.
In the conversation recorded by Rallis, Brittany (Timmons' sister) tells Rallis that "Sarah [Timmons' wife] was going to dinner with Paula [Dhier] and then Paula was going and sleeping with William".
Brittany goes on to state that "William is a cheater and a liar", while Rallis notes that "William has been cheating on Sarah since the beginning of time".
Listen to the call between Timmons' sister and Rallis by clicking here.
The Post and Courier reported that rumors of an alleged extramarital affair between U.S. Rep. William Timmons (R-SC) and Paula Dhier first emerged publicly around the Fourth of July holiday on a local gossip blog, FITSnews. 
However, the focus on Timmons' conduct picked up steam in the ensuing days on the Instagram account of Ron Rallis, a prominent Greenville real estate developer, who claimed Timmons had an affair with his wife and abused his power to try to control Rallis.
Specifically, Rallis accused Timmons of influencing police and judges to have him arrested and jailed on charges of kidnapping and domestic violence, 2nd degree, to further the affair Timmons was having with his estranged wife.
Rallis posted on his Instagram that he spent months wearing an ankle monitor and was separated from his young daughter before the charges were expunged.
Most citizens of the South Carolina Upstate weren't even aware of the allegations until Timmons, a second-term congressman and fifth-generation heir to one of the Palmetto Upstate's most prominent families, spent a full day attempting to dispel the rumors on S.C. conservative radio.
In appearing on the Tara & Charlie shows, and three others, Timmons said he would not provide specifics on questions of infidelity but did want to address allegations that his personal issues could affect his ability to serve in public office.
"I am not a sexual deviant," Timmons said on The Tara Show without being prompted.
LISTEN:
Unfortunately, neither Tara Servatius or Charlie James had the courage to specifically ask Timmons if he played any role in bringing about the false kidnapping/domestic violence charges against Ron Rallis.
With Rallis releasing audio proving the veracity of the Timmons-Dhier affair, a closer look gives substantial reason to believe his more serious claims.
For instance, a check of Greenville County state court records shows no record of the kidnapping/domestic violence charge, which would be consistent with an expungement.
However the search does reveal a recent lawsuit filed by Ron Rallis against the Greenville City Police Department, Police Chief J.H. Thompson, and Paula Rallis for monetary damages and more.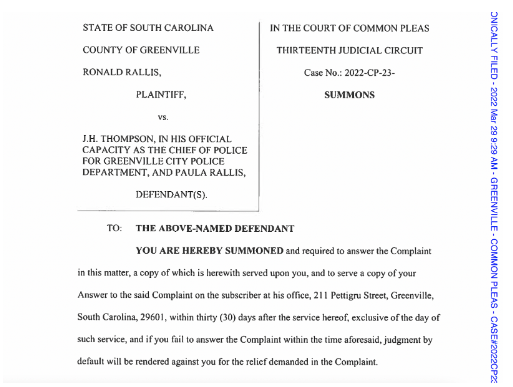 Timmons, who unconvincingly won his Republican primary election just a  month ago, narrowly avoided a runoff with insurgent candidate Pastor Mark Burns, making the timing of this scandal questionable and convenient for the SCGOP establishment.
Rep. Timmons will face off against Democrat Ken Hill in the general election November 8th.
Members of the South Carolina GOP have yet to publicize any comment regarding the allegations against their fellow Congressman.
Timmons' close ties with South Carolina Republican leaders may have discouraged them from commenting, but with Timmons' own sister confirming the validity of the affair rumors, GOP members may be forced to publicize comments soon.
U.S. Senator Tim Scott (R-SC) officiated Timmons' wedding with Sarah Anderson, which took place on the Senate Balcony, in August of 2019.
Stay tuned to National File for any updates on the Timmons scandal.