Last Updated on October 10, 2023
An Egyptian intelligence official says that Egypt forewarned Israel that Hamas was preparing to launch "something big" from their bases in the Gaza Strip, but that Israel ignored the warnings, leading to Hamas executing a historically unprecedented attack and triggering a war that in a matter of only days has led to thousands of deaths and widespread civilian carnage.
The Egyptian intelligence official spoke to the Associated Press on the condition of anonymity, because he was not authorized to share "sensitive intelligence" with the media. According to the Egyptian official, Israel was repeatedly warned that Hamas was planning to launch a major attack from the Gaza Strip, but Netanyahu's government dismissed the warnings and was instead focused on Hamas's West Bank operations, where Israeli settlers have been clashing with Palestinians who say the Israeli settlements are a form of expansionism.
"We have warned them an explosion of the situation is coming, and very soon, and it would be big," the Egyptian intel official told the AP. "But they underestimated such warnings."
While Israel's Netanyahu Administration denies that they ignored Egyptian warnings, if they did, it wouldn't mark the first time that Israeli intelligence stood down ahead of a major Islamic terror attack that thrust the Middle East and the world into war and chaos.
After the terror attacks on September 11th, 2001, it was revealed through multiple investigations and even public, televised admissions, that Israeli intelligence had advanced knowledge that America would fall under attack. At least one group of Israeli intel operatives, who are known as the "dancing Israelis" even bore witness to the attack, setting up recording equipment ahead of time and then celebrating as planes hit the World Trade Center.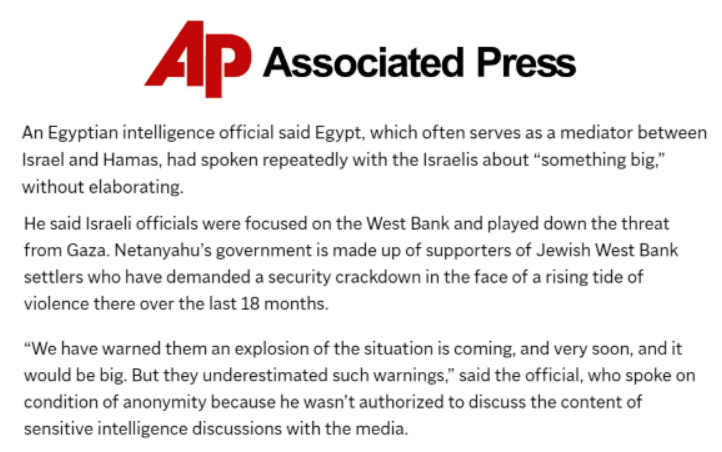 The revelations from the unnamed Egyptian intelligence official echo widespread speculation that an Israeli intelligence and defense failure, be it accidental or deliberate, created the conditions in which Hamas was able to catch the nation off-guard, and move unmolested into populated Israeli areas, where civilians were slaughtered.
In response to Hamas, Israel has launched unprecedented attacks of their own and says that its military will level the Gaza Strip.
As National File reported, Israeli Defense Minister Yoav Gallant announced a "complete siege" of the Gaza Strip, cutting off electricity, water, food, and fuel ahead of a massive, indiscriminate bombing campaign.
"I have ordered a complete siege on the Gaza Strip," Gallant announced on Monday. "There will be no electricity, no food, no fuel, everything is closed. We are fighting human animals and we act accordingly," Gallant says.
As the war between Hamas and Israel develops, and concerns grow that Hezbollah and other Islamic groups may intervene on behalf of Hamas, the U.S. war machine and its associated politicians are already calling for war with Iran, due to its longtime links to Hamas.
"I'll say this to Prime Minister Netanyahu: Finish them. Finish them," GOP presidential candidate Nikki Haley told Fox News in the immediate aftermath of the Hamas attack. "Hamas did this, you know Iran's behind it. Finish them. They should have hell to pay for what they've just done."
Amazingly, it would appear that the U.S. war machine is already at the center of the conflict and its root causes, with Hamas releasing a video thanking U.S.-funded and armed Ukraine for selling them weapons.
"We thank the Ukrainian authorities for selling us these weapons," a Hamas fighter said in a video showing off the Ukrainian-provided arsenal.
"We will use this weapon against you, enemies," he went on. "We will use it against Israel."