Last Updated on September 21, 2021
General Mark Milley, chairman of the Joint Chiefs of Staff, reportedly got arrested and charged for driving under the influence (DUI) on November 19, 1982 in Cumberland County, North Carolina. Milley is currently under massive scrutiny following revelations that he undermined President Donald Trump, including by phoning the Chinese Communists to negotiate with the ChiComs around Trump's back.
Peter D'Abrosca, who broke the story for the Star News Network, reports: "Those records show that Milley was not convicted on the drunk driving charge, but was found guilty of driving the wrong way on a one-way street. Milley paid a $100 fine for going the wrong way, plus a $31 court fee. The drunk driving charge was dismissed by the district attorney's office on Dec. 21, 1982, according to the court records."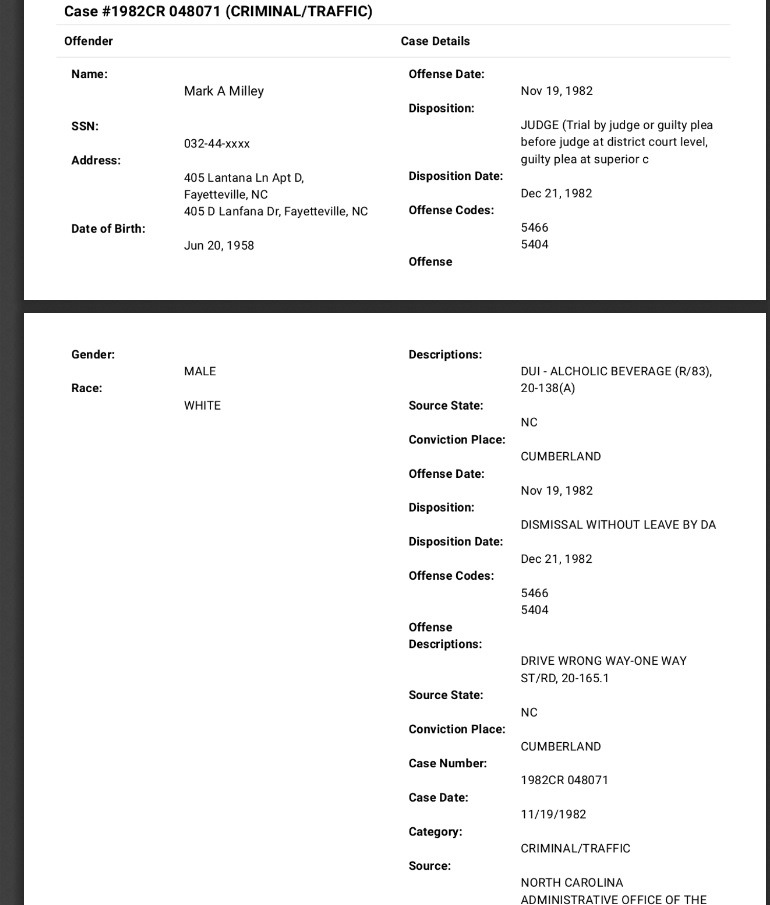 NATIONAL FILE'S ANDREW WHITE REPORTED: General Mark Milley held a secret Pentagon meeting where he instructed staff to ignore orders given by President Donald Trump shortly after January 6, according to Watergate reporter Bob Woodward. The book also reveals that Milley quietly coordinated with a Communist Chinese General behind President Trump's back.
New explosive revelations from Bob Woodward's book "Peril" reveal that General Mark Milley held a secret Pentagon meeting behind President Donald Trump's back where he instructed his staff to ignore orders given by the President a few days after January 6. The purpose of the meeting was centered on Milley's belief that President Trump would order the use of nuclear weapons towards the end of his term.
CNN reported that Milley "called a secret meeting in his Pentagon office on January 8 to review the process for military action, including launching nuclear weapons. […] Milley instructed them not to take orders from anyone unless he was involved." (READ MORE: 'White Rage' General Mark Milley And Transgender Health Secretary Rachel Levine Played Football Together In High School)
"You never know what a president's trigger point is," Milley reportedly told his staff. "No matter what you are told, you do the procedure. You do the process. And I'm part of that procedure," Milley said. "Got it?" His senior staff replied, "Yes, sir."
The book also reveals that Miley had secretly coordinated with a top Communist Chinese general in the days following January 6 behind President Trump's back. "General Li, I want to assure you that the American government is stable," Milley said, according to a transcript, "and everything is going to be okay." (VIDEO: Tucker Eviscerates 'Obsequious' Pro-CRT General Mark Milley, 'He's Not Just A Pig, He's Stupid')
Milley previously drew criticism for defending anti-white racism and making objectively false statements about supposed "white rage" during a Congressional hearing. However in light of Biden's disastrous Afghanistan withdrawal, Miley is back in the spotlight for his role in the grave military defeat at the hands of Taliban militants. "So he reads about 'white rage' as if it's totally real, it's a medical condition. And by the way, since it's a medical condition, at what age can you catch white rage? Most of us assumed our two-year-olds were just teething, now we know it's their whiteness that's making them so angry. Thanks Mark Milley, we appreciate your contribution to this generation's scientific racism. By the way, have you read anything recently about winning wars? Apparently not," said Fox News host Tucker Carlson."