Last Updated on December 28, 2019
In an anti-colonization Twitter rant, rapper J Hus made the claim that Europe was "Forcing LGBT onto" Africa and that it was "weaponizing" homosexuality.
The controversial anti-colonization Twitter rant began: "STOP FORCING LGBT ONTO US. Live your life I don't care but don't force it onto me especially when you don't wanna recognise these black struggle [sic]."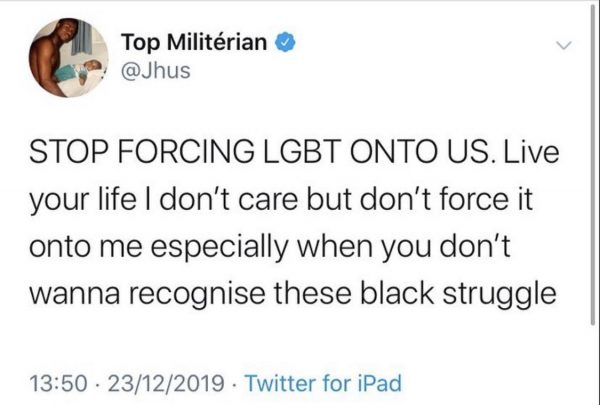 Some of the tweets no longer appear, but according to The Independent, J Hus went onto say: "Trust me i ain't homophobic. The more gay men the more women for me. If you want come kill me. I know what I'm saying.
"They try force Ghana to include LGBT into their education when its not their culture. You can't tell me they don't try force it on us."
https://twitter.com/Jhus/status/1209150125320343552
Afterwards, the rapper issued an apology, withdrawing his statement.
He said: "Okay maybe I'm wrong then. Forgive me. I don't wanna offend anyone. From my point I saw things different. You can school me."
He did, however, give his point of view, saying: "To me it looked like they was weaponizing it against us. But do your thing."
https://twitter.com/Jhus/status/1209171840998035457
https://twitter.com/Jhus/status/1209180098580099072
He later finished the social media storm with the closing remark: "The culture I practice, we're not familiar with these things that's why I have a different view. I don't hate anyone but I stand up for my culture. Don't take no offence. Live your life happily."
https://twitter.com/Jhus/status/1209186280984199169
J Hus' comments appeared to have triggered some social media users.
Rapper, MNEK, had the following to say on J Hus' problematic views regarding intersections: "Ok, so are you saying that LGBT people are exclusively white? That there's no such thing as intersectionality? That fans of your music who are both black and LGBT, myself included, don't understand black struggle either? I just want to be clear."
.@Jhus ok so are you saying that LGBT people are exclusively white? that there's no such thing as intersectionality? that fans of your music who are both black and lgbt, myself included, don't understand black struggle either? i just want to be clear.

— MNEK (@MNEK) December 23, 2019