Last Updated on December 7, 2022
Democrats and their donor-class oligarchs spent $250 million to buy Georgia's US Senate seat for Raphael Warnock, the left-wing incumbent who's backed by Big Tech and arrived in Washington thanks to his state's contested 2020 election.
Democrat Raphael Warnock was declared the winner over Republican nominee Herschel Walker, in Georgia's US Senate run-off, after an irregular election that has once again marred the state with widespread allegations of fraud.
Warnock, with the help of his partisan handlers, raised $150,526,335 dollars by the time the 2022 midterms were said and done, with the bulk of this money coming from PACs, deep-pocketed oligarchs, and out-of-state donors.
His single largest benefactor is Alphabet Inc., the multinational tech conglomerate that was born out of a restructuring of Google and its subsidiaries.

Warnock also benefited tremendously from outside spending, mostly in the form of left-wing attack ads against his opponent, Trump-aligned Herschel Walker.
In all, $84,285,244 in outside money was spent against Walker in the 2022 election cycle, mostly on behalf of Warnock, or other Democrats at various points in time.
Warnock, on the other hand, benefited from over $40 million in direct outside support, and dealt with $20 million less in attack ads and other outside opposition than Walker did.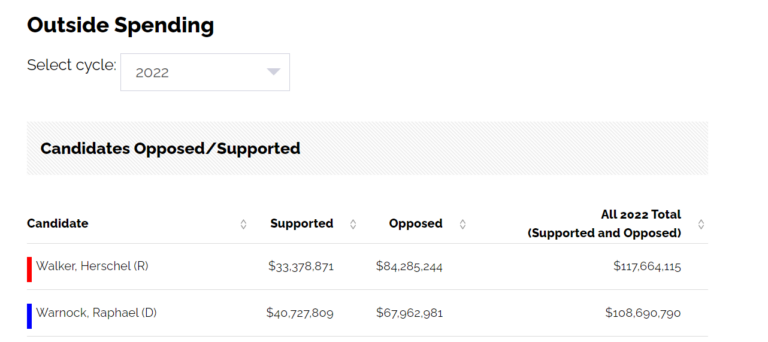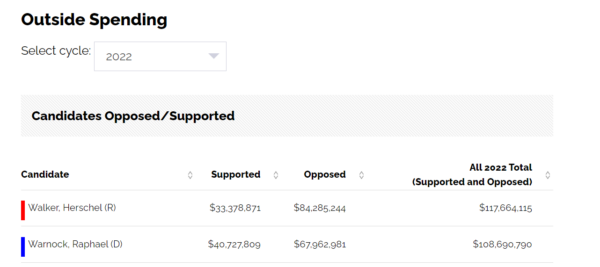 While Warnock saw his pockets filled by a nationwide effort among leftists to retain control of the US Senate, Walker fell victim to the "pink trickle" politics of GOP leadership, as establishment leaders Kevin McCarthy and Mitch McConnell divided campaign money among the party's chosen ones.
Walker was left to starve, with Warnock's war chest outvaluing his by almost $100 million.


Such was the case for America First campaigns all over the country, as GOP leadership failed to deliver on the "red wave" they promised would save America from Joe Biden and his left-wing agenda.
Republicans, they promised, would neuter Joe Biden's agenda.
Now, that won't be happening, as Democrats have managed to hold on to the Senate, where Mitch McConnell (R-KY) remains at the helm of the GOP.
Republicans do, however, have a razor-thin majority in the House, where establishment leader Kevin McCarthy (R-CA) is facing serious opposition from conservatives in his quest to be named Speaker of the House.