Last Updated on January 31, 2020
A man claiming to be an administrator in a pro-Bernie Sanders Facebook Group supplied Maddow with the story of an Albanian bot who tried to rig the election against Hillary Clinton. The supposed bot was a military veteran living in San Diego.
When she first met John Mattes in 2016, Joanne Allen was impressed by the former local San Diego news reporter who had been bloodied while exposing a real estate scam as well as his involvement in the Iran-Contra investigation with the Senate Foreign Relations Committee in the 1980s. He was very vocal about his own consumer advocacy, but also held events at local bars called "Beers for Bernie" that he claimed would raise money for the campaign.
Neither she nor the other Bernie Sanders campaign volunteers who interacted with Mattes could have predicted that after the general election he would drag their Facebook group into the flurry of stories about Russian interference into the process, let alone have some of their names flashed on the screen as "Albanian bots" on a Rachel Maddow news segment featuring Mattes' "research". By the time she spoke to me in 2018, Allen's (video) efforts to refute those allegations against her fellow volunteers still had not elicited any response from the myriad of media reporters and organizations that had published or referenced him.
Their saga is an illustration of how not just politicians but everyday voters can be defamed as foreign agents in the name of preserving a political orthodoxy.
From investigative reporter to establishment sleeper
A Politico article by Edward-Isaac Dovere in February asserted that Bernie Sanders had lied when he responded to inquiries by saying that he had taken action to combat the "Russian incursion" into the election by turning over information to the Hillary Clinton campaign. In reality the campaign official that Sanders had thought had taken action was no official at all, but a local volunteer named John Mattes.
He alleged that Albanian and Macedonian trolls and "bots" attempted to join the "San Diego Berniecrats" Facebook group following Sanders' exit of the Democratic primary in June 2016 and fill its board with spam and fake news to deter voters from voting for Clinton.
But Mattes let slip a crucial tell, claiming that he believed that by telling a researcher for American Bridge 21st Century of the infiltration that he was effectively reaching the Clinton campaign. Anyone that knew of the Democratic battle in 2016 would be aware that American Bridge is an opposition research PAC led by Clinton ally David Brock who would appear on TV news and call Sanders a communist sympathizer as he did in 2015 on Bloomberg.
There was no benign reason that a Bernie Sanders volunteer would be in contact with American Bridge, whose sister organization Correct the Record engaged in online harassment against Sanders activist groups during the cycle.
After digging into his history, I found that Mattes had been the key source for Huffington Post's Ryan Grim and Jason Cherkis a year earlier.
In their article Mattes was named as an administrator the "San Diego Berniecrats Group". And it was also this article, "Bernie Sanders' Campaign Faced A Fake News Tsunami"that helped set off the tangent by media organizations claiming that not only the Trump campaign, but also the Sanders 2016 campaign had been infiltrated by the Kremlin. Yet this accusation was always groundless.
Grim built a circumstancial case around the allegations shared with him by Mattes, but no other group member agrees that he was an administrator, and he has never stepped forward with the names of his American Bridge and Obama Administration contacts <see next article in series>.
But what about the material evidence that he told Dovere that he had shared with them? There was only one instance where this was supposedly shared, the Rachel Maddow segment on MSNBC from March 21 entitled "Russia Continues Info-War Tactics in US". It is the closest thing to an actual example of what he was talking about that has been made public, and is pure cartoon lunacy.
In a typically sensational monologue, Maddow cited John Mattes' "research" and flashed on screen various notifications from the "San Diego Berniecrats" and "Bay Area for Bernie" groups purporting to show evidence of the infiltration. The only "proof" of the allegations were Maddow's assertions that Mattes had traced back the profiles to Macedonian and Albanian domains. No effort was made to reach out to the people whose names were so carelessly featured on screen and hear their side.
The frames are presented without context. But in my own communication with the people shown on screen it becomes clear that Maddow misrepresented them whether with or without Mattes' input:
Indivisible goes Back to the Future
One post flashed on the screen (above) was portrayed as the work of an Albanian bot attempting to deceive Sanders voters who would otherwise have voted for Clinton during the campaign. The author "Jim Ahab Boydston" claims that the activist group Indivisible was a creation of the Super PAC Priorities USA and George Soros. But Boydston (below left) is not a bot or Albanian, he is a San Diego area resident, San Diego Opera performer, and served in the US Navy on a nuclear submarine.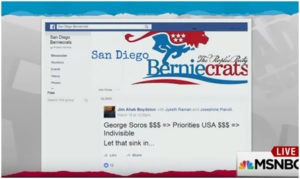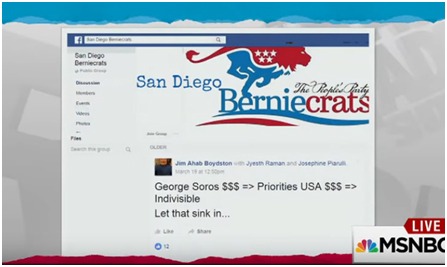 Beyond that, the post was from March 19, 2017, three months after the election, a fact not borne out on the screen where the year portion of the date is not visible. It had no relevance one way or another to Russian collusion. The easy clue for this is the fact that Indivisible was only formed in December 2016. Boydston could not have posted fake news condemning the group if it didn't exist yet. I interviewed Boydston and his friend and fellow volunteer Josephine Piarulli (whose name was also displayed in the Maddow frame) about the allegations. They had both served as Sanders delegates to the 2016 Democratic National Convention.
They were even honored for this by their local congressional district during a social captured in the Times of San Diego  pictured dressed up as "Opera Man and Lady Liberty" in which Piarulli was in the frame with John Mattes himself (below right).


Warning about donation scams, not Russians
"Bay Area for Bernie" administrator Aleta Pearce posted a May 16, 2016 warning for group members. Maddow portrayed this (below, left) as one against foreign fake news posts. When messaged via Facebook, Pearce told me that John Mattes "is an operative". She directed me to an interview that she had done with left-wing activist Lauren Steiner the week of the HuffPost article in which she claimed that Grim and Cherkis had "spun" her words into a new excuse for Hillary Clinton losing the 2016 election.
The post in question (below, right) dealt with fake sites that were scamming Sanders supporters by claiming to be collecting money for the campaign or spamming fake news in order to drive up clicks for revenue.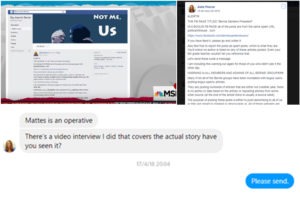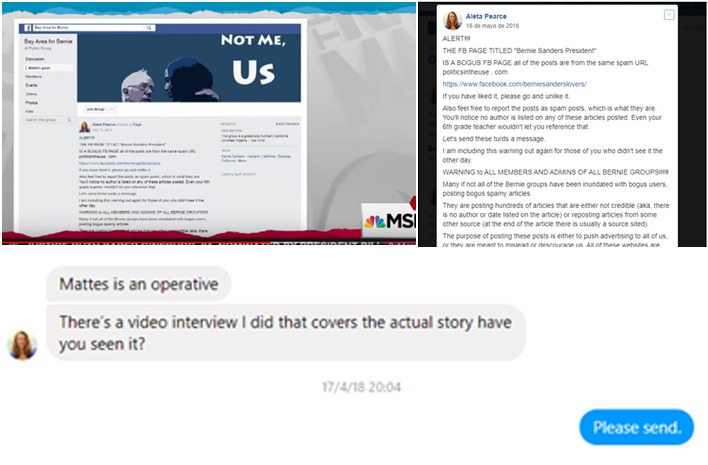 Boydston responded to my question about the true sequence of events by saying that "what happened towards the end of the primary season was he [Mattes] started making these posts blaming Russia which, as a lot of us know, is absolutely fake".
When asked how the Maddow story had affected him, he said "other people who have known me in person for decades believed that I am an Albanian bot working for Trump and Putin".
The MSNBC segment bleached all of the context out of these supposed pieces of evidence. The Facebook users in question were real people, and Mattes had betrayed their confidence in order to support his hypothesis of a foreign infiltration.
But when flashed across the screen without dates or qualification, it all looked convincing to the #Resistance audience.
This is the first installment in a series of articles National File will release explaining how John Mattes, apparently working with Clinton Super-PAC American Bridge, convinced millions of Americans that bots were responsible for Hillary Clinton's loss in 2016, and that Sanders is somehow connected to foreign agents.