Last Updated on July 30, 2020
Damning evidence has surfaced this week that reveals St. Louis Circuit Attorney Kim Gardner referenced the case of Mark and Patricia McCloskey in campaign fundraising email blasts days before filing felony weapons charges against the Missouri couple.
In a motion filed by the McCloskeys on July 29, they argue that Kim Gardner should be disqualified from the case after leaked fundraising emails from Gardner's VoteKimGardner.com campaign team referenced the "two who pointed guns at peaceful citizens during the Black Lives Matter protests."
Screenshots of the emails submitted to the court by the McCloskeys show the Gardner campaign pleading with supporters of Gardner to donate, claiming she is "under attack" from President Donald Trump and "right-wing media, including Fox News."
"Because you are a supporter of Kim, I want to make you aware of a few late-breaking developments that are making national headlines right now. You might be familiar with the story of the couple who brandished guns during a peaceful protest outside of their mansion," one email states.
"Instead of fighting for the millions of Americans affected by the pandemic, including 31,000 Missourians, President Trump and the Governor are fighting for the two who pointed guns at peaceful citizens during the Black Lives Matter protests," Gardner's message continues.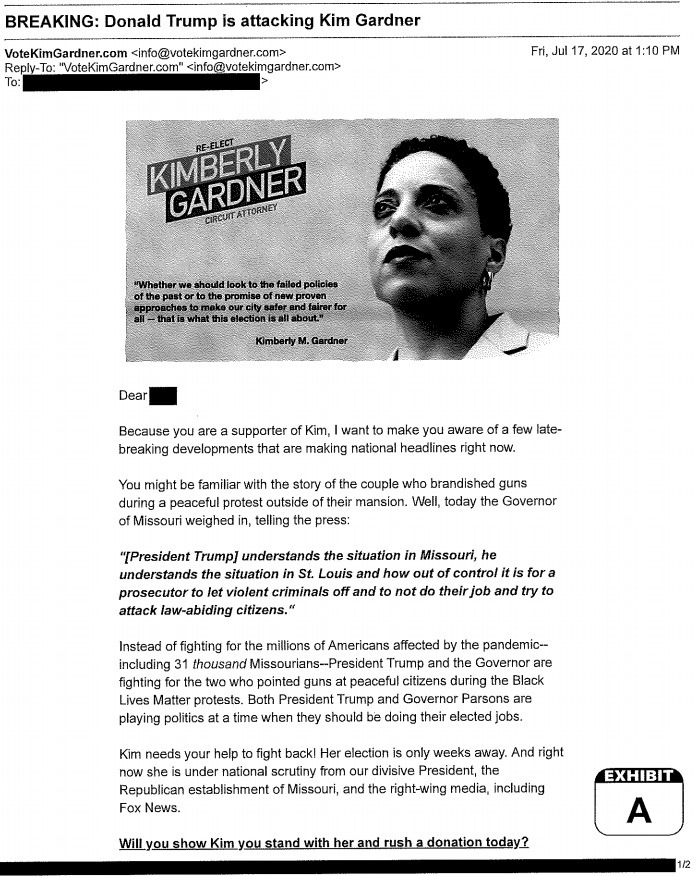 Gardner's campaign then continued to highlight the case in campaign fundraising emails after charges were filed against the McCloskeys, implying that Gardner's re-election would be crucial in a potential felony conviction of the McCloskeys.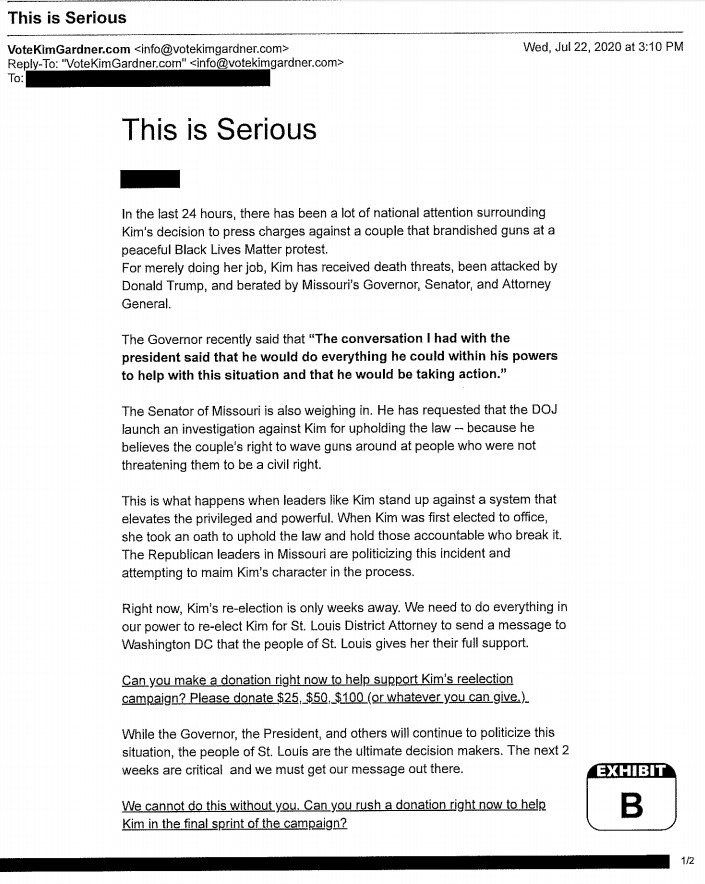 McCloskey attorney Joel Schwartz stated in the motion to disqualify Gardner, "The July 17th email drew a direct line from the incident, which had not yet resulted in criminal charges, to Ms. Gardner's political antagonists and from there to a call for donations to further her re-election efforts. It implied that the defendant was among those 'perpetuating a system of systemic racism and police brutality.'"
The motion also notes under legal precedent of Section Section 56.110 of the Revised Statutes of Missouri, "The courts have stated that a prosecutor should be disqualified if the prosecutor has a personal interest in the outcome of the criminal prosecution which might preclude affording the defendant the fair treatment to which defendant is entitled."
The full motion can be seen below.
Kim Gardner has found herself at the center of several scandals in recent weeks, from reports that she failed to disclose trips paid for by activist groups, to receiving campaign ads for her 2020 re-election campaign from billionaire hedge fund manager and political donor George Soros.