Last Updated on July 9, 2021
President Trump and meme extraordinaire Carpe Donktum (Logan Cook) share a court victory today with the dismissal of the civil suit in which they both served as unlikely joint defendants. Both Trump and Cook tweeted a video which was manipulated by Cook to appear as if CNN was breaking a story about a black toddler being chased by a racist white toddler.
The original viral video of the toddlers shows them running towards each other until they meet and give each other a big adorable hug.  The video then continues with the toddlers running in the same direction down the sidewalk one after the other. It was the second part of the video Cook manipulated by placing the CNN logo and "BREAKING NEWS" banner to satirize the global news organization's race-based news reporting.
Cook took to Instagram to announce the legal victory by simply posting, "CASE DISMISSED /  JUSTICE PREVAILS / THAT IS ALL". See the manipulated video and the original in the tweet below:
They threw out the case against Carpe Donktum. Another win for freedom of speech and humor! pic.twitter.com/rnDohUEcCk

— Magical Trevor (@magical_trevor) July 9, 2021
Today Judge David Cohen of the New York Supreme Court signed the dismissal ending the case which was filed in September 2020. Although there hasn't been any word from President Trump regarding the judge's ruling or the lawsuit there has been a statement released by Carpe Donktum in 200, followed by a short statement today. Michael Malice delivered the following on Twitter in 2020:
BREAKING
Carpe Donktum issues statement regarding lawsuit pic.twitter.com/FjKplgPZEL

— Michael Malice (@michaelmalice) September 21, 2020
Cook pondered with a rhetorical post on Instagram when he might get his Twitter account back.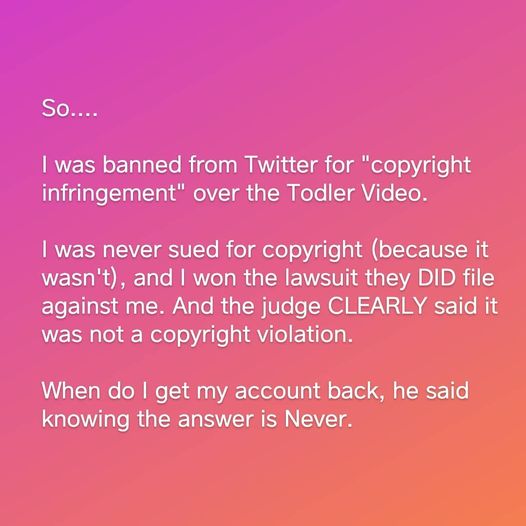 There is no indication at the time of publishing Twitter will be taking any action on the suspended @CarpeDonktum account.