President Trump called out the FBI and their partisan allies within the mockingbird media, in a post to his Truth Social platform, accusing them of working together to cover up the Hunter Biden laptop story for the express purpose of psychologically influencing voters and swinging election results.
President Trump's post to Truth Social blasted the FBI, who he says "illegally suppressed all of the really bad information on the Biden family (laptop!) at a level never before seen," in an effort to protect the Biden presidential campaign and the interests of the uni-party establishment.
While the FBI and their media allies blamed the now-verified Hunter Biden laptop story on "Russian disinformation," they blocked positive news about Trump from getting out to the public, the President posted.
Instead, they'd put out "bad stuff," in what many have compared to a psychological operation against American voters – a sentiment President Trump seems to agree with.
"That would be the very definition of the Government's RIGGING of an Election," President Trump wrote, before linking the campaign consultant class into the plot as well.
"That would be the very definition of the Government's RIGGING of an Election. Pollsters projected this Scam made a difference of Millions of votes," President Trump went on. "What are the CONSEQUENCES?" he asked.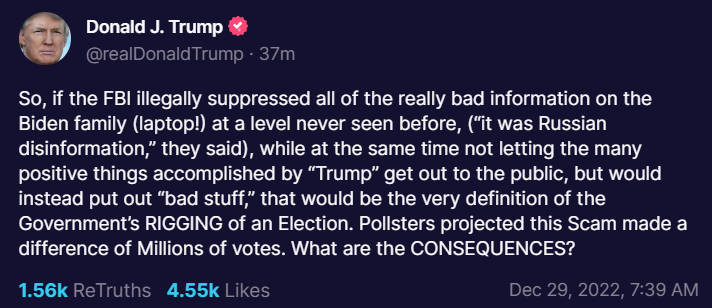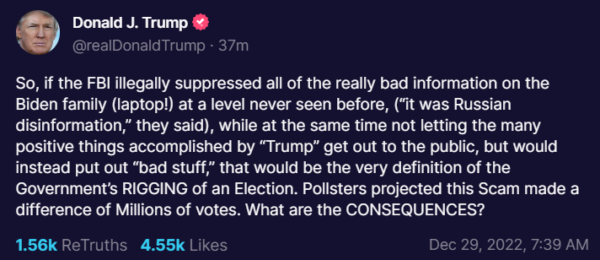 President Trump called out the FBI and mockingbird media after calling out the soon-to-be-defunct J6 Committee in a prior post to Truth Social, lamenting the hyper-partisan Pelosi panel as an "Unselect Committee of political Thugs."
That post came after the J6 committee was forced to withdraw their subpoena of President Trump "concerning the January 6th Protest of the CROOKED 2020 Presidential Election," he explained.
"Perhaps the FBI's involvement in RIGGING the Election played into their decision," wrote Trump.
"In any event, the Subpoena is DEAD!"