Last Updated on November 9, 2023
The Republican presidential primary debate on Wednesday drew in the lowest number of viewers yet for a Republican presidential debate this cycle. The NBC News Presidential Primary Debate took in 4.9 million viewers, according to Nielsen fast national ratings reported by TVLine. President Donald Trump did not attend the debate, instead holding a rally in Hialeah, Florida. The debate pulled a 0.5 rating in the 18-to-49 demographic and lost in that demo to both the CMA country music awards on ABC (0.8) and Survivor on CBS (0.7).
Previously, the Fox News debate scored over 12 million viewers and the Fox Business-Univision debate topped 9 million viewers. So the overnight preliminary ratings show a pattern: people are tuning OUT of Republican presidential debates that do not feature Trump.
Earlier in the day Thursday, preliminary overnight ratings numbers posted to thetvratingsguide.com showed the debate hitting 5.79 million viewers and still losing in the 18-to-49 demo to both Survivor and the CMA Awards.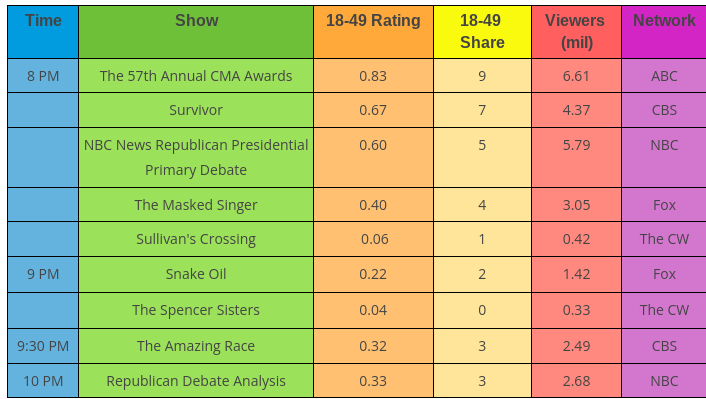 The debate was mostly uninteresting. Salem Media's Hugh Hewitt was barely noticeable in his role as a conservative co-moderator alongside NBC's Kristen Welker and Lester Holt, who repeatedly admonished the crowd to get them to stop cheering for the different Republican candidates, but he failed to stop them.
Ronna Romney McDaniel's Republican National Committee handpicked Salem Media Group to partner with NBC News on the debate. But Salem was powerless. A spokesperson for NBC openly said that NBC News had full editorial control of the debate questions.
An NBC spokesperson said that NBC controlled the editorial content of the questions, according to The Washington Post. 

Thus, supposedly conservative Salem Media Group was exposed as controlled opposition at the third Republican presidential debate in Miami, which got very low ratings.