Last Updated on June 13, 2023
45th President Donald J. Trump's lead in the latest Morning Consult GOP Primary poll has grown to a whopping 40% after his indictment at the hands of the Biden DOJ in a South Florida court, with Florida Governor Ron DeSantis ranking as the first loser.
The latest 2024 GOP Primary poll from Morning Consult shows President Trump raking in the support of a whopping 59% among potential GOP Primary voters, with Ron DeSantis coming in an incredibly distant second place, bringing in the support of just 19% of poll respondents.
The poll, which was conducted between June 9th and June 11th, came immediately after news broke that the Biden DOJ has indicted President Trump and that the hearings will be carried out in the home state of Ron DeSantis, in a Miami courtroom.
Beneath DeSantis, the rest of the GOP field is positioned even further from President Trump and Mike Pence is the only one of them to even break the 5% threshold, targeting the support of just 8% of the poll's respondents. Below Pence is Tim Scott, at 4%, and below Scott are Nikki Haley and Vivek Ramaswamy, each of whom scored at just 3% in the Morning Consult poll.
Former New Jersey Governor and Never Trumper Chris Christie registered even less support, scoring at 2%, and China-tied ex-Arkansas Governor Asa Hutchinson, who opposes legislation to stop the genital mutilation of children, boasts the support of just 1% of those polled.
View the poll below: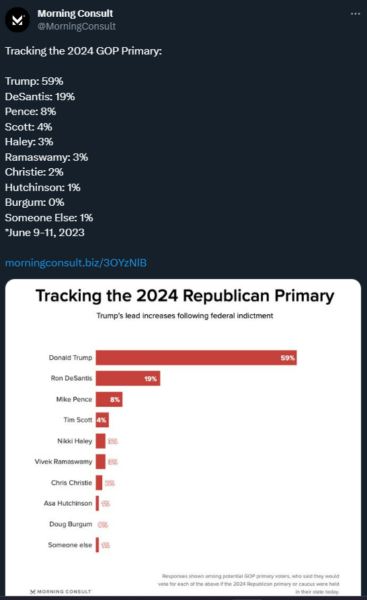 The results of the Morning Consult poll showed that President Trump's already massive support has only grown in the aftermath of his indictment by Joe Biden's Department of Justice, the latest in a round of Soviet-style political persecution that's also seen him indicted in Manhattan, by Soros-funded DA Alvin Bragg.
The persecution attacks against President Trump are ongoing. Stay with National File for updates as they become available, and as President Trump stares down the Biden DOJ in Miami.