Last Updated on February 13, 2023
New polling numbers show that a massive swath of the American People want the United States to be led by a strong ruler who will "crack down on those who undermine our values," a position that has only grown in recent years amidst open-borders, narco-genocide, and the rapid deterioration of American culture and standing.
The national poll of 1,500 respondents conducted by a self-described group of scholars and published in The Conversation shows that "majorities of every political stripe agree or strongly agree," with the idea that America needs a "tough leader" who will "crackdown" on "those who would undermine American values."
Among those most enthusiastic about the idea are self-described "strong Republicans," 90% of whom all together say that America is in need of a stronger leader who's willing to defend American culture and ideals.
46% of them say they "strongly agree" with the need for a tough American leader, with another 44% saying they simply "agree." Only 7% "disagree" with the idea, and a small fraction of 3% say they disagree "strongly."
Of those describing themselves as "not strong Republicans," a 70% supermajority support the idea altogether, with 26% saying they "strongly agree" with the need for a "tough leader" while 54% say they simply "agree." Roughly 20% "disagree" or "strongly disagree."
While independents were more evenly split, with 49% of them expressing their support for the idea of a strongman President, Democrats did back their idea, though by somewhat smaller levels than the poll's Republican respondents did.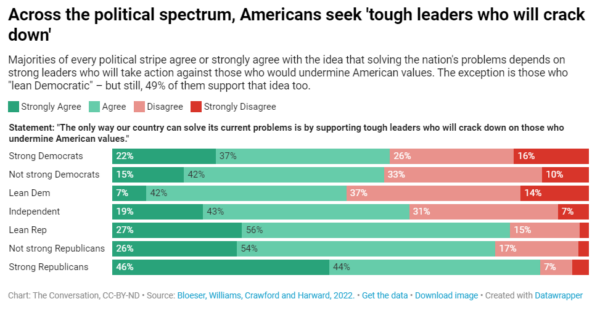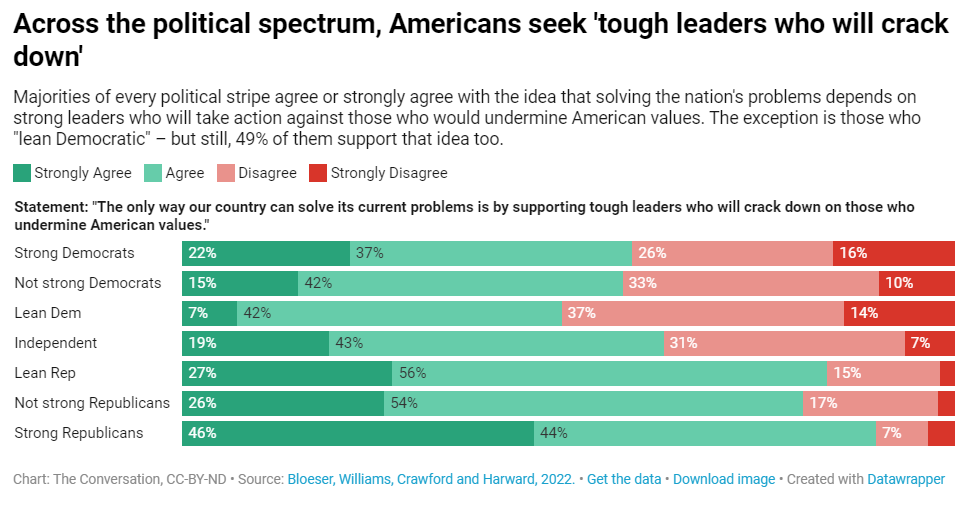 The results of the poll mark a massive increase in support for a "tough leader" of America since studies similar to this one began roughly 20 years ago, The Conversation reported, and can quite obviously be contributed to the steady decline of American power and standing on the world stage, porous borders, and cultural collapse that's resulted in narco-genocide.
Much like in Europe, where open borders and an organized assault on Western Culture have even outpaced those seen in the United States, renewed support for strong, patriotic leadership has rapidly grown over the last political decade.