Last Updated on October 23, 2023
Politico is reporting that South Carolina US Senator Tim Scott's GOP presidential campaign is "on the ropes" after failing to get off the ground and recording rock bottom numbers in every poll that's surveyed the GOP field. Even Scott's hometown newspaper is pulling against him, calling on Never Trumpers to get behind another South Carolinian for president, Nikki Haley.
Tim Scott's 2024 GOP presidential campaign has failed to gain the traction that many in the political establishment claimed it would and now, Scott runs the risk of being forced out of the primary process before a single vote is even cast. As Politico mentions, Scott has not yet qualified for the next GOP debate, but his campaign claims that by debate night, Scott will be allowed the stage.
After initially hedging his bets on getting out the vote by making countless Fox News appearances, Scott has pivoted, in an apparent move of desperation, to courting voters by way of the even more liberal press, blitzing networks like CBS, ABC, and CNN in recent days.
"I'm disappointed", the Politico report's headline reads, adding that "even Tim Scott's friends and fans see a campaign on the ropes."
The report's sub-header adds even more woe to the Tim Scott situation, reporting that his "polling is down, his super PAC is in retreat and his hometown newspaper is cheering on Nikki Haley instead."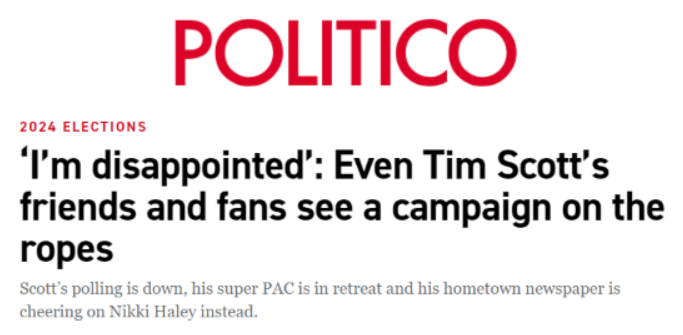 Throughout the Politico report, leading Republicans from South Carolina and around the country provided commentary on the troubled Scott campaign.
According to former South Carolina Governor Mark Sanford, who showed support for Scott from the very beginning of his run, the candidate is not registering with a national audience.
"The Tim that they know in South Carolina is not the Tim that people may be perceiving in Iowa and New Hampshire and other states," Sanford said.
But even if Scott really does perform better before an audience of South Carolinians, his hometown newspaper has apparently not gotten the memo.
As mentioned, Politico reports that South Carolina's Never Trump Post and Courier newspaper, which is published in Tim Scott's hometown of Charleston, has come out in support of Nikki Haley, calling on GOP voters to join forces behind Haley in an effort to defeat President Trump.
This plan has at least one massive pitfall though, considering that Trump has routinely polled well over 50% when matched up against the entire GOP field – meaning that even if all the candidates pooled their resources and support behind one individual, Trump would still be in the lead.