Authorities in Tulsa, Oklahoma have charged a black man with two hate crime murders after they say he publicly executed two strangers "because they were white."
The Tulsa Police Department has announced that Carlton Gilford is facing multiple charges, including two counts of murder and a count of "malicious intimidation or harassment" – Oklahoma's hate crime designation.
On April 18th, 2023, police say that Carlton Gilford walked inside Tulsa, Oklahoma's Rudisill Library, and murdered a random white man, 35-year-old Lundin Hathcock, by shooting him in the back of the head, execution style, as Hathcock sat at a library desk.
Hathcock was transported to a local hospital, where he was pronounced dead.
After shooting Hatchock at the library, police say that Gilford went to a nearby QuickTrip convenience store, where he once again shot a random white man in the back of the head, before shooting him again when he fell to the ground. The victim, 55-year-old James McDaniel, died at the scene.
"SUSPECT CHARGED WITH HATE CRIME," a May 2nd Facebook post from the Tulsa Police Department reads.
"Tulsa County District Attorney's Office charge Murder suspect, Carlton Gilford, with Hate Crime."
"Two weeks ago we arrested Gilford after he shot 2 people in the back of the head, one at Rusisil Library and the other at QuickTrip," the post reads. "At this time, there does not appear to have been any connection between the victims and the suspect."
"After examining the evidence from the case, District Attorney Steve Kunzwell, charged the suspect with the additional Hate Crime," the post explains.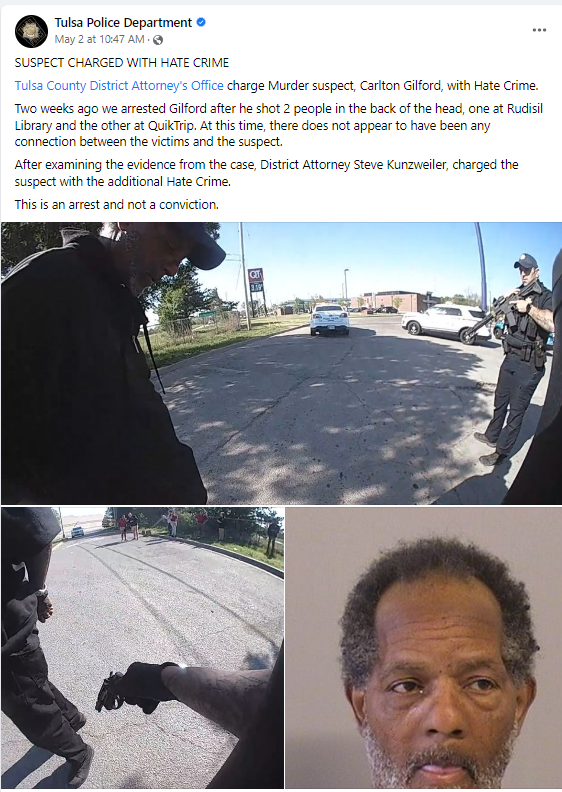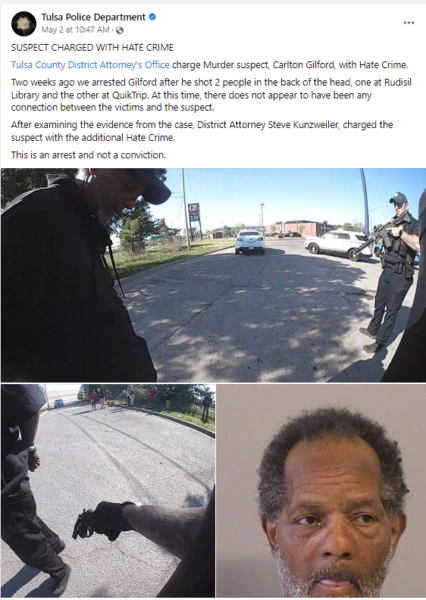 The murders in Tulsa are just the latest black-on-white crimes to go viral online, despite the best efforts of corporate media to ignore them, as anti-white violent crime skyrockets nationwide.
In a recent post to Twitter, Elon Musk questioned the media's biased reporting on violent crime and interracial homicides, responding to a tweet from @EndWokeness that put actual interracial crime rates into perspective, comparing them to corporate media coverage, which focuses almost entirely on white-on-black crime, which comprises just a tiny fraction of violent interracial incidents in the United States.
According to the tweet, which cited Bureau of Justice statistics, in 2018 alone, there were 347,948 violent black-on-white crimes, compared to just 39,778 violent white-on-black crimes.
One can surmise, based on the massive uptick in violent anti-white crime after 2020's Black Lives Matter riots, that the current year's number of anti-white violent crimes is trending even higher.
"Odd, why would the media misrepresent the real situation to such an extreme degree?" Musk asked, perhaps rhetorically, in response to the tweet.