Last Updated on July 21, 2023
A newly-released photograph published by The Daily Mail shows Hunter Biden's lawyer and so-called "sugar brother" Kevin Morris smoking a bong at his Los Angeles home during a Thursday visit from Hunter.
Kevin Morris, a Hunter Biden attorney and close friend who has been described as Biden's "sugar brother" (financier), was photographed on the balcony of his Los Angeles home on Thursday smoking from a large bong, a water pipe commonly (an almost exclusively) used to smoke marijuana which, notably, is legal in California.
The photograph was originally published by The Daily Mail and has since gone viral online, considering Hunter Biden's long history of drug use – a history that has plagued his father's time in the White House, including over July 4th weekend.
It marks just the latest chapter of bad press and public embarrassment for Hunter Biden's legal team, after it was recently announced (and defended by Kevin Morris) that disgraced ex-GOP Congressman and un-elected J6 Committee consultant Denver Riggleman is working in a non-attorney role for Biden's defense team.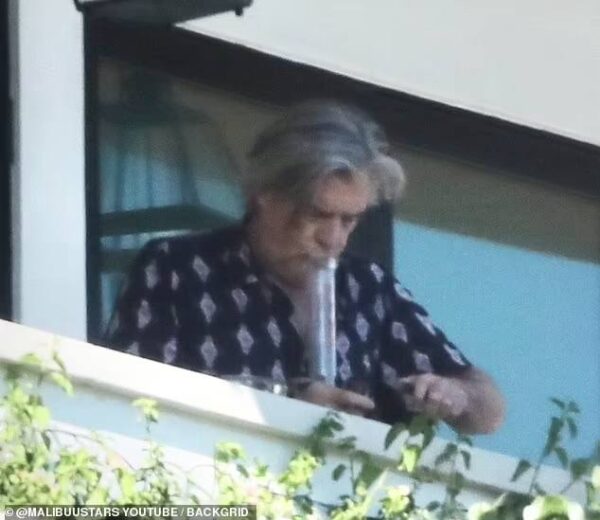 The bong photograph comes on the heels of a Biden White House drug scandal in which cocaine was found in the White House after a visit from Hunter Biden, a known powder and crack cocaine addict. While an immediate cloud of suspicion surrounded Hunter in the eyes of the American public, that suspicion has only grown after the Secret Service closed the investigation without ever identifying a suspect, despite the White House being one of the most surveilled and secure buildings on the planet.
What's more, is that in the midst of the White House cocaine investigation and during the 4th of July fireworks display, Hunter Biden appeared to be in an intense sweat consistent with drug use and was seen on camera stepping away from his family and doing what many believe was a bump of cocaine.
YOU DECIDE: Was Hunter Biden Taking A Bump Of Cocaine During The White House Fireworks? 
This video of Hunter Biden looking like he sniffed a bump of cocaine at the White House was taken w/in *days* of the Secret Service finding a bag of cocaine on the premises

Today the Secret Service announced there are no suspects

They think you're stupidpic.twitter.com/Bt5hCT2ghf

— DC_Draino (@DC_Draino) July 13, 2023