Last Updated on February 17, 2022
In an email obtained by National File, the owners of Octane Crossfit Gym in Phoenix, Arizona sent a politically charged message to all of its members, referencing the protests in the aftermath of the death of George Floyd.
The Octane Crossfit attacked its own community as being too "white" and "cisgender" for its lack of participation in the recent George Floyd protests in which Black Lives Matter has made a comeback on a global level.
The communication begins by saying:
America is currently suffering from two pandemics- a virus and racism.

In a community that is known for honoring soldiers, firefighters and raising awareness for cancer and other hardships the CrossFit community has said nothing about the loss of black lives. Silence is betrayal. Being silent is choosing the side of the oppressor.

CrossFit has historically been a white, cisgender male oriented sport that lacks diversity. The demographic disparities have been made even clearer now more than ever.
The message then goes onto call on crossfitters to work out in solidarity with Black Lives Matter.
We are the Black Power Cleans Lifting Club. We seek to uplift, honor and acknowledge the black CrossFit community.

On Saturday June 6th, I challenged the entire CrossFit community to complete "Big Floyd" in honor of our fallen justice hero George Floyd. He was killed tragically on May 25th, 2020 at the hands of law enforcement.

Tag all your CrossFit friends, boxes, and competitions. Together we can workout in solidarity to honor the black lives that have been unjustly killed.

We won't stop at George. Breonna Taylor, Tony McDade, Ahmaud Arbery— we will honor you. Let's come together as a CrossFit community to workout for Black Lives. Black Lives Matter."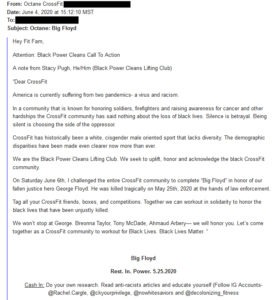 The gym seems to be reinforcing its political email with posts to its social media, referencing the email and posting the infamous black rectangle to its Facebook page.
https://www.facebook.com/OctaneCrossFit/photos/a.372974506241888/1336268596579136/?type=3&__xts__%5B0%5D=68.ARCEOSWWvVlQM3H06sJtSTf3hJvBx8VDEDrmJY-KcqNnhgOvBSo7iq36kJvSEwNnQ83MoOchYkApKGFq9JNFEFpJsl8gjIIVTGsEpMYOpiAqkSJVLe52GovCQ2FdG7MXsIb-1ZW822aqg_Oj6bqwhApDLC42VWX3ErubLLcYI7y9rikn8c3Z5JZMhPzMnftPNHhh4Oq-k9Olq1wNeVDtXJatGHCANGc-HwH9Qgux9bYvMe8xF7chSAB7b3JOWmr88W0-FkT92c5loKJjNtDirl4yi98w4UZDM0noxI37EpkG1ootNHtRGAyFgxxBwjlUwn63zKQD8fDdyQHXagpuLlM_DA&__tn__=-R