Last Updated on April 8, 2022
Pfizer hired 600 employees in the months after its COVID-19 vaccine received emergency use authorization in the United States due to the "large increase" of reports of side effects linked to the vaccine, according to a recently released company document. The FDA is required to release a certain number of vaccine-related Pfizer documents each month as the result of a February court ruling.
Pfizer has "taken multiple actions to help alleviate the large increase of adverse event reports," according to the unredacted document. "This includes significant technology enhancements, and process and workflow solutions, as well as increasing the number of data entry and case processing colleagues."
According to the document, Pfizer had recorded 42,086 case reports (25,379 medically confirmed and 16,707 non-medically confirmed) across 158,893 events as of February 28, 2021. When breaking this figure down further, Pfizer recorded 1,403 cardiovascular Adverse Events of Special Interest (AESIs), amounting to 3.3% of the adverse events data set. The full unredacted document contains information on all recorded AESIs that were recorded as of its creation last year.
The analysis of adverse event reports was previously disclosed to the health transparency group, but certain portions were redacted. Among the redacted information was the number of workers Pfizer hired in order to deal with the increase adverse event reports.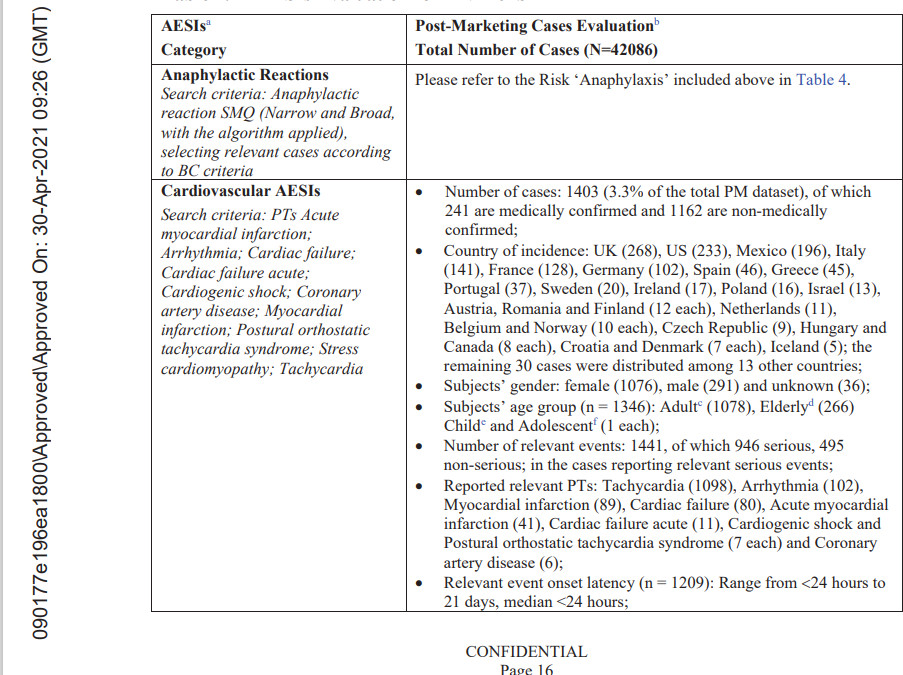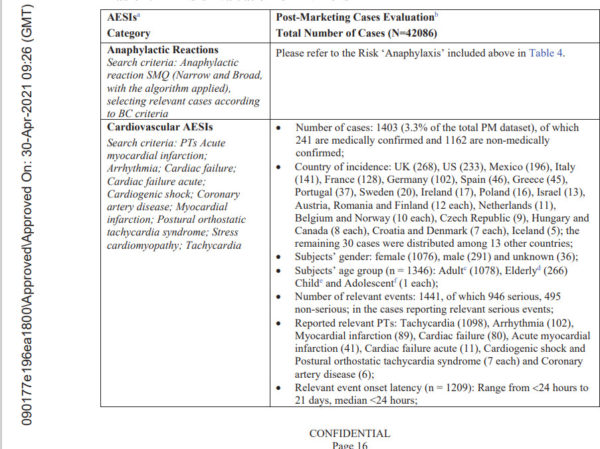 "We asked that the redactions on page 6 of this report be lifted and the FDA agreed without providing an explanation," Aaron Siri, a lawyer representing the plaintiffs, told The Epoch Times in a statement. The redactions had been made under (b) (4) of the Freedom of Information Act, which lets agencies "withhold trade secrets and commercial or financial information obtained from a person which is privileged or confidential."
The Pfizer document further revealed that approximately 126,212,580 doses of the Pfizer BioNTech vaccine had been shipped worldwide as of last February, though it is unclear how many of those doses had been administered. Prior to the court order, the FDA wanted to keep the documents sealed for at least 55 years.