Last Updated on October 7, 2021
As the race for the 8th Congressional District in Pennsylvania heats up, there is much speculation that Republican James Bognet may step into the ring once again. While Bognet touts himself as a pro-Trump, America First candidate, he has a history of associating with staunch anti-Trumpers like Mitt Romney, John McCain, Arnold Schwarzenegger, and George H.W. Bush.
With only one Republican, Teddy Daniels, currently running for a chance for the U.S. House, rumors that Republican James Bognet may announce his candidacy once more are circulating. In the 2020 Congressional Race, Bognet secured an endorsement from President Donald Trump. Though the 45th President endorsed the 7th District's Lisa Scheller during the 7th Congressional Primary, he Bognet's endorsement came during the general election.
The President appeared to have reservations about endorsing Bognet in 2020, and that may be in-part due to his history of associating with popular anti-Trump figures before running for Congress in Pennsylvania. (READ MORE: Cindy McCain On Epstein: 'We All Knew What He Was Doing')
Bognet, a former staffer for now anti-Trump Senator Mitt Romney (R-UT), had previously served as the Vice President of a Democrat founded lobbying firm – the Glover Park Group in 2016. As National File reported in May, 2020, Bognet is an establishment insider who served a leading role on Romney's failed 2012 presidential bid – and did not vote in the 2016 Presidential Election.
Back in 2003, Bognet helped launch anti-Trump Arnold Schwarzenegger's political career. He served as his campaign policy director in 2006, and continued working chief positions in the administration during his term. Schwarzenegger recently said "screw your freedoms" in a viral post video about COVID-19 mask mandates. After that, Bognet worked as an economics advisor to Mitt Romney's presidential campaign.  When Romney ultimately dropped out of the race, Bognet started working for anti-Trump John McCain's Presidential campaign as a communications adviser.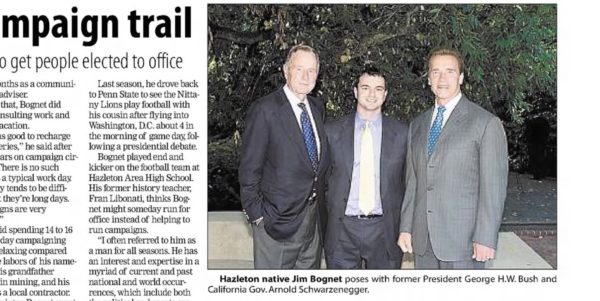 Accusations that Bognet is a "carpetbagger" were levied against the careerist Republican, who had spent most of his career outside of the 8th District. Reports indicate that in the span of 20 years, Bognet had only voted locally in Pennsylvania two times.
As far as the political stances taken by members of Bognet's immediate family go, his sister Christa, or as her Twitter name describes her, "Christati Notanazi," frequently posts and retweets liberal, anti-Republican, and anti-Trump content online. She has referred to former President Trump as a "lunatic," his supporters "dangerous," and has called modern Republicans a "threat to our personal and national security."
What more evidence do we need to accept that this man wants to destroy everything he can, and that his supporters are dangerous? It's not a secret. They're proudly hateful. https://t.co/PppC6PXX5e

— Christati Notanazi (@CBogeek) February 28, 2021
Many Pennsylvanians are familiar with the Jerry Sandusky pedophilia scandal, where the former Penn State University assistant football coach was sentenced to life in prison for the sexual abuse of children. The scandal had tarnished the reputation of head coach Joe Paterno, as some reports suggested that he had known about the pedophile activity since the 1970's.
Bognet previously ran for Trustee of Penn State along with 5 others and lost the race. While this may not seem relevant to his political aspirations, a factor tying Bognet into the Sandusky Scandal raises questions. A man named Anthony Lubrano had endorsed Bognet's effort.
However, Lubrano has gone public signalling his disapproval over former Penn State President Graham Spanier's incarceration over the scandal. He has demanded an apology from the school for quickly firing Spanier, and suggested other employees in the athletic program who were implicated in the scandal were unfairly fired from their jobs. Bognet has not commented on the scandal, nor has he commented on the endorsement by Lubrano.
Lubrano has publicly followed the case against Sandusky for years, making his feelings against the school's handling of the matter known in various posts to social media and interviews with newspapers.
When Bognet won his 8th District Republican six-way primary in 2020, ahead of his general election endorsement from former President Trump, his victory did not come without consequence. His tactics had burned bridges with Republican constituents and colleagues alike, as his family and friends were behind PAC's that attacked his rivals at the time.
Mike Marsicano, one of the six candidates who faced defeat, refused to endorse Bognet as a result of the attacks. "I know I stand by at least one other candidate when I say that I will not be endorsing, nor supporting, the Republican nominee because he is no conservative," said Marsicano. "I understand that my decision may cause backlash, however I am not one to compromise my principles. Jim Bognet does not represent the values of this district, or the great people that call it home. He ran a campaign of smears and lies."
At present, it appears Teddy Daniels, the only declared candidate, is gaining ground in the race for the 8th District. Daniels recently met with President Trump and Jody Hice, the Chair of the House Freedom Caucus, at the Trump National Golf Course in Bedminster, where Daniels secured a photo with the 45th President, something coveted on the campaign trail.
Great afternoon with President Trump and Congressman Jody Hice, Chair of the House Freedom Caucus at Trump National Golf Course. Had a great talk with President Trump. Was nice meeting Ivanka Trump, too. @JodyHice @IvankaTrump @DanScavino pic.twitter.com/okMvrL4Wrf

— Teddy Daniels for Congress (@DanielsCongress) June 30, 2021
Should Bognet choose to enter the race, National File will closely monitor efforts to obtain President Trump's endorsement from all campaigns.