Last Updated on July 20, 2022
Republican Pennsylvania gubernatorial candidate Doug Mastriano is surging in his race against Democrat Josh Shapiro, and the mainstream media is freaking out. POLITICO is trying to credit Democrats with having "boosted" Mastriano in his primary because they didn't think he would win the general — a common tactic among Democrat strategists that backfired on the liberal media in 2016 in the case of President Donald Trump — but Mastriano is clearly his own man.
Mastriano established himself as a force to be reckoned with during the election overtime period, when he used his perch as state senator to host the famous "Gettysburg" hearing where Rudy Giuliani laid out the extent of the voter fraud that occurred in Pennsylvania. Mastriano won the GOP primary decisively and now POLITICO notes that he is inside the margin of error in polls that pit him against Shapiro.
Clearly, the populist Right is gaining traction in political races all over the country. But will Mastriano be able to overcome the very same systemic election problems that cheated Trump in 2020? And is there still hope for meaningful populist political success within the established system, under an increasingly hostile federal government.
Mastriano laid out his gubernatorial priorities in his victory speech after claiming the Republican nomination:
NATIONAL FILE EXCLUSIVELY REPORTED: Pennsylvania Democrat attorney general Josh Shapiro, who is now running for Governor of Pennsylvania, stands accused of covering up election fraud complaints against Democrats dating back years during his current tenure as attorney general, leading a whistleblower to accuse Shapiro of being "criminally negligent."
"AG Shapiro turned a blind eye to the alleged criminal wrongdoing of members of the Democrat Party in our county (Fayette County, Pennsylvania). These same Democrats now owe gubernatorial candidate Shapiro their support in his run for the governorship.  They hosted him recently," whistleblower Robert Frasconi told NATIONAL FILE, noting that he made a formal 2018 complaint directly to Shapiro "after the numerous contacts to his subordinates went unanswered."
Robert Frasconi told NATIONAL FILE:
"1.  A case of alleged election fraud involving a former Democrat state representative who served 10 years as state representative in the 51st Legislative District.  Timothy S. Mahoney was elected alongside Josh Shapiro after the middle-of-the-night pay raise scandal of July 2005.  Shapiro and Mahoney served together on the House Reform Committee.  They are friends.  Mahoney pushed for a countywide referendum on school consolidation in 2011.  Pennsylvania law does not permit advisory referenda.  Thus, I and my colleague, Delinda Young, challenged Mahoney's referendum petition in the local PA Court of Common Pleas.  We prevailed, and Mahoney's referendum petition was struck.  We later came to learn of Mahoney's election fraud — he altered and falsified affidavits of circulator and signed as the sole affiant, as if he solely circulated the petitions.  He also perjured himself in the courtroom as he lied about the circulation period for his referendum petitions.  Mahoney receives credit for pushing for the PA's so-called Open Records law.  Interestingly, we made open records requests for Mahoney's per diem records during his purported circulation period of his referendum petitions June 1 – Aug. 8, 2011.  As Mahoney then sat on the House Appropriations Committee, and as the PA budget must by law be completed by July 1, the per diem records showed that Mahoney was reimbursed for overnight stays in Harrisburg (200-plus miles away from Fayette County).  Thus, Mahoney could not be in Harrisburg and before 50 continuously circulating referendum petitions as he attested on his altered and falsified affidavits of circulator.  In short, the proof of Mahoney's election fraud is incontrovertible and irrefutable.  My colleague, Delinda Young, and I went through two election boards, two district attorneys, and three AGs (including Josh Shapiro) to no avail as they all covered for Mahoney."
Frasconi went on to say: "2.
In 2012, Fayette County DA Jack R. Heneks, Jr. made an application to impanel a county investigating grand jury. Primarily, the Grand Jury was impaneled to investigate election related issues along with some other issues.  Three election-related referrals were made to DA Heneks by the Fayette County Election Board.  Mahoney's alleged election fraud was one of those referrals.  As then-DA Heneks and Mahoney are friends, the Grand Jury never issued a presentment against Mahoney.  In fact, there were eight presentments issued by the Grand jury.  Seven of the eight were dealt with; however, the 5th Presentment was sealed by Presiding Judge Steve P. Leskinen on 12/12/2014.  The docket sheet for Fayette County Grand Jury #2 on the Unified Judicial System database shows that the 5th Presentment remains sealed to this very day and that the status of the Grand Jury is active, although the grand jurors were dismissed nearly nine years ago! Shapiro was made aware of all this in a 2018 official complaint."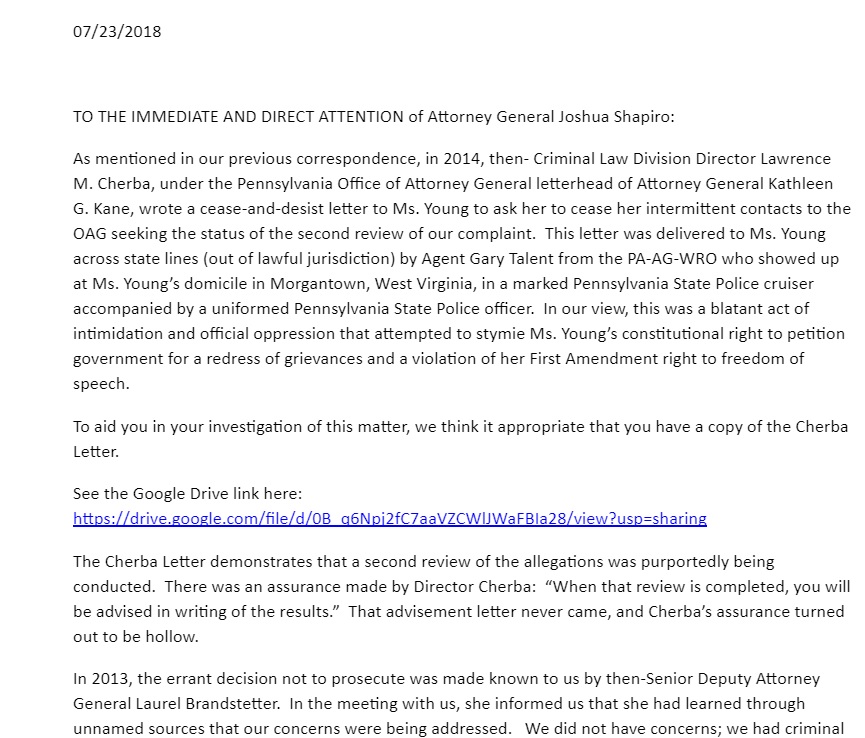 "In 2018, at the Fayette County Fair, the Democrats were caught offering inducements to switch political party affiliation.  This is a violation of the PA Voter Registration Act.  A formal complaint was filed by the PA GOP chairman and a hearing was held on September 10, 2018. At that hearing, Fayette County Democrat Party Chairman George "Huck" Rattay testified and took the Fifth approximately 40 times.  Mahoney also testified that a weekend stay at a condo owned by him at 84 Lumber magnate Joe Hardy's Nemacolin Woodlands Resort was one of the inducements offered!  The matter was referred by a unanimous vote of the three-member, county, Voter Registration Commission to DA Richard E. Bower.  He said publicly that he forwarded the matter to AG Josh Shapiro because of a conflict of interest.  Bower was a Democrat who financially supported the local "Democratic Radio Hour" talk show on our local AM radio station WMBS 590.  Fayette County Democrat Chairman Rattay hosts that talk show.  Bower subsequently changed his party affiliation to Republican, but he is still the rat he was as a Democrat DA who refused to investigate Mahoney's election fraud.  Bottom Line:  Neither Fayette County Democrat Party Chairman George Rattay nor ex-Democrat state representative Tim Mahoney ever faced investigation (let alone prosecution) for their alleged violations of the Pennsylvania Voter Registration Act.  The statute of limitations has run out (normally 2 years in Pennsylvania for misdemeanors).  In my view, Shapiro is criminally negligent for failing to investigate — a requirement under Pennsylvania law!"
"What really bothers me is the depth and breadth of the corruption, Mr. Howley.  If I or my colleague, Delinda, ever broke an election law, falsified an affidavit, lied to the court, or lied to or misled an investigating grand jury, Democrats like PA AG Josh Shapiro, former DA Jack Heneks, and current DA Rich Bower (Democrat turned RINO) would lock us up and throw away the key," Frasconi stated.