Last Updated on June 29, 2020
Nevada Democrat governor Steve Sisolak was caught without a mask at a recent fancy dinner in Las Vegas, even though Sisolak shortly thereafter mandated face masks in public for Nevadans during the Coronavirus pandemic. The PAC No Mask Nevada, chaired by the owner of a restaurant, has now sprung up to resist Sisolak's mask mandate. PAC chairwoman Melissa Blundo stated, "The government mask mandate is ruining businesses like mine." Clearly, Sisolak did not seem to consider himself to be at personal risk by foregoing the facemask custom in his own life, illustrating his perceived hypocrisy on the issue. Here are the photos of a maskless Sisolak: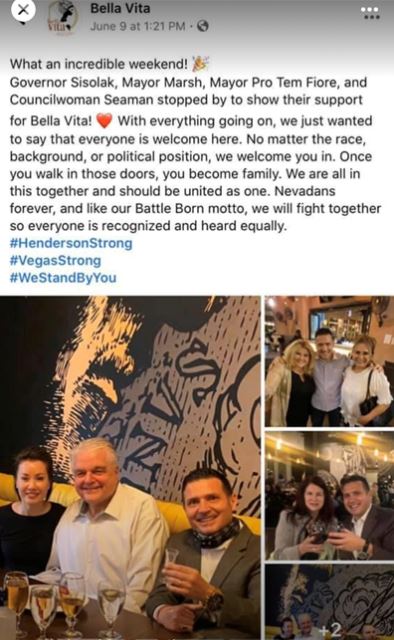 "While supporting a local Southern Nevada business and eating a dinner with the First Lady, both the Governor and the First Lady removed their face coverings in order to eat their meals after they'd been served. He was approached and agreed to take a quick photo with the management of the restaurant. The governor recognizes he should have put his face covering back on and separated himself by six feet. He understands we are all adjusting to these practices under our new normal and he takes his responsibility seriously to model the behavior he expects of the residents of this State to replicate," Sisolak's office stated in response to the controversy.
The Anti-Mask movement is gaining some new superstars nationally:
WATCH: "I will not be muzzled like a mad dog;" face mask debate turns fierce in St. Lucie County. https://t.co/QgY6V16xvg pic.twitter.com/XeLsrSVRGQ

— WPEC CBS12 News (@CBS12) June 26, 2020
This is not the only gubernatorial facemask hypocrisy. NATIONAL FILE recently reported:
Former Republican Michigan Congressman Kerry Bentivolio told National File that Democrat Michigan governor Gretchen Whitmer's office rejected his offer to provide her with thousands of medical face masks that he obtained to help the people of Michigan.
Whitmer has criticized President Donald Trump's administration for supposedly failing to deliver face masks and other medical supplies to her state.
Trump approved Michigan's Major Disaster Declaration, which qualifies Whitmer's state for FEMA relief. As of the afternoon of Wednesday March 25, Whitmer had still not requested an emergency declaration to FEMA, even though she was taking to cable news to criticize Trump's federal government for supposedly abandoning her.
Whitmer said Saturday that FEMA delivered 112,000 N95 face masks to her state.
Previously, Whitmer's office rejected Bentivolio's help while claiming in the press to be short-handed.
Bentivolio purchased 3,000 N95 face masks to help people in his state, and he's receiving another 2,000 masks from Texas.
Bentivolio, who served in Congress from Michigan's 11th District from 2013 to 2015, said he called Whitmer's office after he received the masks, and spoke to one of the governor's representatives.
"I just called them and said, I'll deliver them to wherever. They said, we're not interested," Bentivolio said.
Whitmer's office said that Bentivolio is not on the "approved list of contractors," but would not explain to the former congressman what he needed to do to get on the approved list of contractors, Bentivolio said.
"They couldn't get me off the phone fast enough," Bentivolio said.
Whitmer publicly put out a call for medical supply donations days ago due to supposed Trump malevolence.
"Right now, medical professionals across the state are forced to reuse face masks. This increases the risk of spreading COVID-19 during a time when we should do everything we can to mitigate it. We're not getting the tools we need from the federal government, so it's on all of us to work together to protect each other," Whitmer stated.
Whitmer also issued an order warning that the state could investigate medical professionals who prescribe hydroxychloroquine for Coronavirus, after President Donald Trump promoted the anti-malarial drug as a treatment for COVID-19.