Last Updated on January 3, 2020
In an article published early in the day on January 2, 2019, the New York Times wrote about the military power behind hypersonic missiles in an article titled "Hypersonic Missiles Are a Game Changer," and specifically mentioned the possibility of assassinating Qasem Suleimani, only hours before President Donald Trump authorized the missile strike that took his life.
As the country braces for possible Iranian retribution for last night's successful military strike on Suleimani, social media users have began to notice a New York Times article that seemingly could have given the dead general advanced notice of the strike.
New York Times wrote, regarding the potential of hypersonic missiles, "What if the former commander of Iran's Revolutionary Guards, Qassim Suleimani, visits Baghdad for a meeting and you know the address?"
The article continues, "The temptations to use hypersonic missiles will be many."
The hypothetical scenario posed by the New York Times is almost exactly what happened last night.
"General Soleimani was actively developing plans to attack American diplomats and service members in Iraq and throughout the region. General Soleimani and his Quds Force were responsible for the deaths of hundreds of American and coalition service members and the wounding of thousands more," according to the Pentagon.

"He had orchestrated attacks on coalition bases in Iraq over the last several months – including the attack on December 27th – culminating in the death and wounding of additional American and Iraqi personnel. General Soleimani also approved the attacks on the U.S. Embassy in Baghdad that took place this week," the Pentagon stated.
National File also reported that radio and TV host Alex Jones, who says he received advanced notice of the strikes from top Pentagon sources, believes the move against Iran coming one day after President Trump fired much of the National Security Council's employees is no coincidence:
"They were working with the Obama Deep State, thinking they were untouchable, and Trump called their bluff."

Jones also pointed out to National File that this strike comes one day after President Trump fired Obama-era employees at the National Security Council.

"That's why Trump just fired all those National Security staff that have been leaking information," said Jones.

"He's had them all under surveillance. Trump is making his move, this is it."
The strange coincidence of the New York Times article has led many on social media to wonder if the publication received advanced knowledge from the Pentagon, and attempted to warn Soleimani of the impending strike.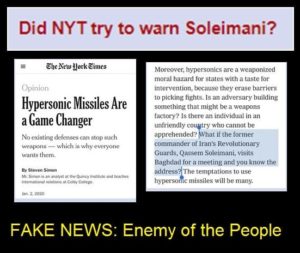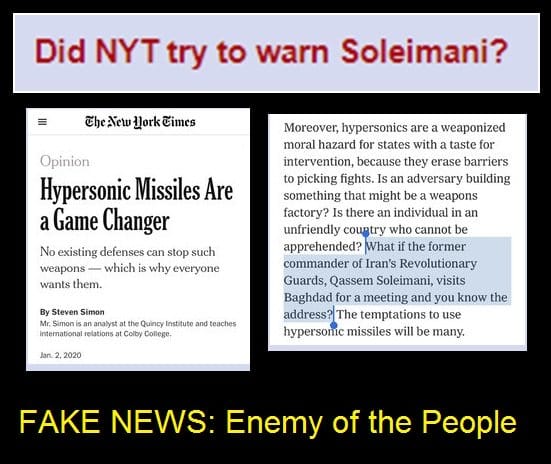 While many supporters of President Trump have celebrated the attack, some have voiced critical opinions.
Fox News host Tucker Carlson slammed the decision to strike Iran on Thursday night, saying that those behind the attack are "liars" and "they don't care about [Americans]."