Last Updated on September 11, 2019
In a tweet, the New York Times suggested that the attack on the Twin Towers 18 years ago today was the fault of airplanes, not terrorists.
In a now deleted tweet, the New York Times said that "18 years have passed since airplanes took aim and brought down the World Trade Center," implying that the attacks were not the fault of the terrorists who organised them, but the planes themselves.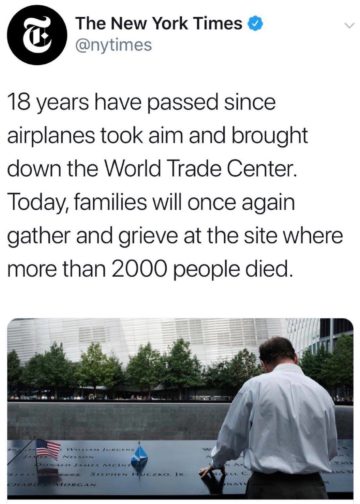 The tweet was swiftly deleted, and replaced with the one below.
18 years after nearly 3,000 people were lost, families of those killed in the terror attacks will gather at the 9/11 memorial. There will be a moment of silence at 8:46 a.m., then the names of the dead — one by one — will be recited. https://t.co/rFn2evf1dA

— The New York Times (@nytimes) September 11, 2019
A subsequent tweet noted the deletion of the earlier one, and said that the story had also been "edited for clarity," as the article also had a similarly-worded section.


The New York Times were torn apart on Twitter for their error, with many users noting just how disrespectful the original tweet was.
https://twitter.com/Suffragentleman/status/1171751159826198529
Why does it matter what rhetoric our leaders use when they talk about national tragedies?

Because it translates into our everyday language@nytimes today: "18 years have passed since airplanes took aim"

19 islamic terrorists took aim at us that day

The NYT wants us to forget

— Charlie Kirk (@charliekirk11) September 11, 2019
"[A]irplanes … brought down the World Trade Center."

Not "jihadists operating hijacked airplanes," but "airplanes."

What a joke you are, @nytimes. pic.twitter.com/bTbUcA02q0

— Josh Hammer (@josh_hammer) September 11, 2019
The @nytimes shows again they do propaganda
Not news

Their tweet (deleted after ridicule) said "airplanes took aim" on 9/11

No
Jihadists took aim
And killed thousands
Shame pic.twitter.com/EjruYyJgwO

— Jim Hanson (@JimHansonDC) September 11, 2019
https://twitter.com/PamelaGeller/status/1171771375532613633
First take: Assign culpability to airplanes

Second take: Use passive voice to avoid assigning culpability to anyone

The @NYTimes wants you to forget#NeverForget pic.twitter.com/ncX1zX9UsO

— Will Chamberlain (@willchamberlain) September 11, 2019
The original tweet is reminiscent of Representative Ilhan Omar's comments earlier this year, when she described the 9/11 terror attacks as "some people did something," when speaking at an event for the Council on American Islamic Relations (CAIR). She made further insensitive remarks by telling Muslim Americans to "raise hell" and "make people uncomfortable."
President Trump was interviewed shortly after the attacks by German media, telling the reporter that he had "never seen anything like" Ground Zero:
The devastation, the human life that's been just wasted for no reason whatsoever. It's a terrible scene, it was a terrible sight, but New Yorkers are very resilient and they'll rebuild quickly…

You want to just say the hell with it, we're going forward, nothing's going to change. But the fact is something has changed, very dramatically.