Last Updated on November 16, 2021
The New Hampshire Department of Education has launched a system for parents to report cases of racist anti-white discrimination against their children from teachers and schools.
Earlier this year, New Hampshire, along with a number of other states, effectively banned the teaching of anti-white Critical Race Theory in public schools, as well as banning teaching materials that could be considered racist by any definition.
The budget was signed into law by Republican Governor Chris Sununu in June includes a ban on any government employer, including public schools, from teaching any of the following:
That people of one age, sex, gender identity, sexual orientation, race, creed, color, marital status, familial status, mental or physical disability, religion, or national origin, are inherently superior or inferior to people of another group;
That anyone from the named groups is inherently racist, sexist, or oppressive, whether consciously or unconsciously;
That an individual should be discriminated against or receive adverse treatment solely or partly because of their identity;
That people of one identified group cannot and should not attempt to treat others equally.
The bill further included protection from repercussions for any public employee who refused to take part in a program that espoused those values, and that the parents of any pupil who were taught as such could launch civil action against the schools that did so. Teachers who were involved in teaching the discriminatory messages could face sanctions from their school boards.
Last week, the New Hampshire Department of Education decided to put the legislation into action, and produced a new webpage and questionnaire form for parents to easily report an active case of any discrimination that was forbidden by HB2.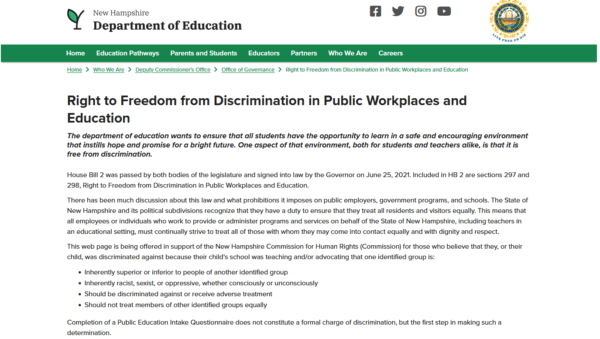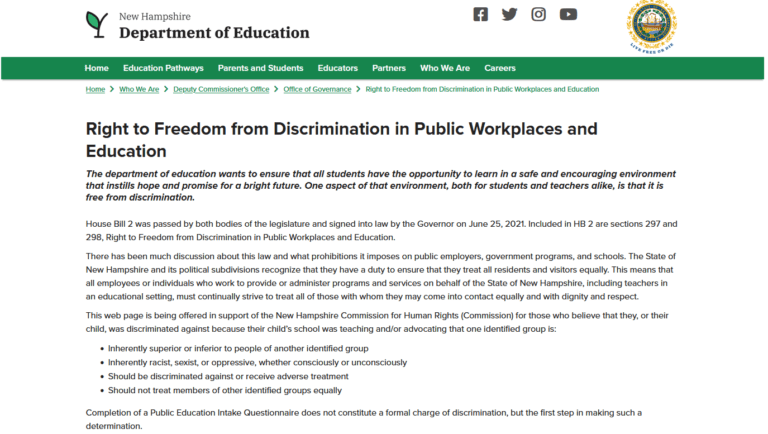 The alleged discrimination would then be investigated by the New Hampshire Commission for Human Rights, who would then decide whether there was enough evidence as to if the complainant should file a formal charge. (READ MORE: FBI Targets Anti-CRT Parents Using Counterterrorism Tools After NSBA Letter, Garland Memo – Whistleblower)
The bill, however, did make clear that the discussion of "the historical existence of ideas and subjects identified" was not banned, as long as it was "part of a larger course of academic instruction." Guidance produced by the New Hampshire Attorney General's office in July said that teachers would not be in violating of the law simply for making some students "uncomfortable," or for discussing current events, such as Black Lives Matter protests.
The teaching of anti-white Critical Race Theory sparked backlash across the country, and arguably reached a high water mark after this legislation was passed, with the election of Republican Glenn Youngkin to the position of Virginia Governor, who stood with parents against Democrat candidate McAuliffe, who during the campaign suggested that they should have no input into the education of the children.