Last Updated on October 15, 2020
Democrat presidential candidate Joe Biden fundraised for his daughter-in-law Kathleen's nonprofit group the DC Volunteer Lawyers Project, which sends court-appointed attorneys to insert themselves into divorce and custody cases on behalf of children. The DC Volunteer Lawyers Project quietly dismissed a volunteer lawyer who was accused of propositioning a teen boy in a courthouse bathroom in 2011.
The boy's mother told NATIONAL FILE that she believes the Biden group's volunteer lawyer was using his power to victimize her son as part of a pattern of the employee inviting "boys" to his home for supposed mentoring. Her son, who she said does not want to be involved in a political article for fear of his own employment, confirmed the basic details of his mother's version of events but says that he did not feel victimized — however, witnesses confirm that he felt victimized at the time of the incident. A witness calls the DC Volunteer Lawyers Project a "sleazy group" and said "they hang out all over the courthouses."
Emails provided to NATIONAL FILE by a former Washington Examiner editor and a separate witness statement confirm that a complaint was made to the DC Volunteer Lawyers Project. Kathleen Biden helped found the DC Volunteer Lawyers Project in 2008 and became a co-chair of the group during her failed marriage to Hunter Biden, who attended at least one fundraiser for the group. In 2019, it was reported that Kathleen was working full-time for the DC Volunteer Lawyers Project, which counted CNN's Jake Tapper as its gala guest. Joe Biden attended at least three fundraisers for the group as Vice President in 2013, 2014, and 2015, after the bathroom incident occurred. Hunter Biden and Kathleen divorced after Hunter's Ashley Madison account, which he tried to blame on Russian imposters, was traced to Georgetown University during the period he was teaching there.
A Mother Speaks Out
Victoria Rose is a retired Marine and expert on homeschooling who accompanied her son Jefferson to her friend's custody hearing at a courthouse in Washington, D.C. There, her son had a bathroom run-in with an employee from the DC Volunteer Lawyers Project named James Marion Broadstone. Multiple members of Victoria's group who were present that day confirmed the following story in its entirety.
"At that time, I was pretty naive. My son at that time really enjoyed fashion, and he had a gorgeous head of hair. And so, as we were there, we were walking around the courthouse investigating it. We came and sat down," Victoria said. "We were waiting to go into the courtroom. Broadstone spoke to Jeff and said, "I like the cut of your jib." And then he started talking with Jefferson, and then in a little bit Jefferson made the comment and said I need to go to the bathroom. I did not notice Broadstone go in there. As soon as Broadstone went in there, my son walked out. He said he felt very uncomfortable. Broadstone called me over to him and said, I have gatherings at my home somewhere near Annapolis, and he said I mentor young men like your son, and here is my card and here is where he can come to my house. I held onto that card. Jefferson never did get to speak."
"He was not allowed to testify, the whole thing was rigged. We went out to eat…and immediately Jefferson said mom that guy was such a creep. Everybody else had picked up on it. He said mom he was propositioning me, he liked the cut of my jib and he liked the way I look," Victoria said. "Everybody at the table agreed that Broadstone was trying to pick him up, because he had 'helped' other teenagers in the past. Later I learned because he had been functioning for the DC Volunteer Lawyers Project inviting young men to his house, for some time."
"Parents in that system when you're looking for solutions you are grasping. When you have a professional reach out to you and say they can help. In his case, I think he was a predator. We made a report of some sort, and they let him kind of go away without taking care of it, or actually reporting it, or making sure he couldn't get to other kids, and I think he left the area. It wasn't handled in a way to expose what had happened to people or other families who might have thought he was genuine because of his credential with the DC Volunteer Lawyers Project," Victoria said.
"I remember him saying that he mentored young boys that he met in the courthouse, I do remember asking, what was his point? Jefferson did not make a scene of it, he just explained at lunch, yeah that creepy guy followed me into the bathroom. He was looking at me up and down and commenting on my hair and commenting on my clothes. He himself described that he had had a lot of boys out to his place," Victoria said. "Broadstone definitely said 'boys'…It felt a little bit like he was trying to leverage the whole situation with the power that he with his position could stand in the way of trying to get help…He was creepy. It was a shocking thing to find out, especially about people who present themselves as trying to help people. They are finding people who are desperate for answers and when all their resources have run out, which is the worst thing to do to people," Victoria said.
Victoria said that she spoke with son Jefferson about participating in this report, but that he said he did not want to be involved in a political article. Victoria noted that her son feared for his job if the story got out.
Reached by phone, Jefferson confirmed that Broadstone said he liked "the cut of your jib," but added, "My memory of that particular day is uneventful. I remember being complimented by a stranger and my mom making more of it than it was." Multiple witnesses recall Jefferson having a much more concerned reaction at the time.
The incident even sparked a series of emails from an editor at the Washington Examiner to DC Volunteer Lawyers Project management, which led to Broadstone's quiet dismissal from his job. The former editor, Barbara Hollingsworth, provided NATIONAL FILE with the email chain. The Examiner never ran a story on the allegations. This reporter has reached out to all parties involved including Broadstone.
THIS IS THE CARD BROADSTONE GAVE TO JEFFERSON WHEN HE INVITED THE TEEN TO HIS HOUSE IN MARYLAND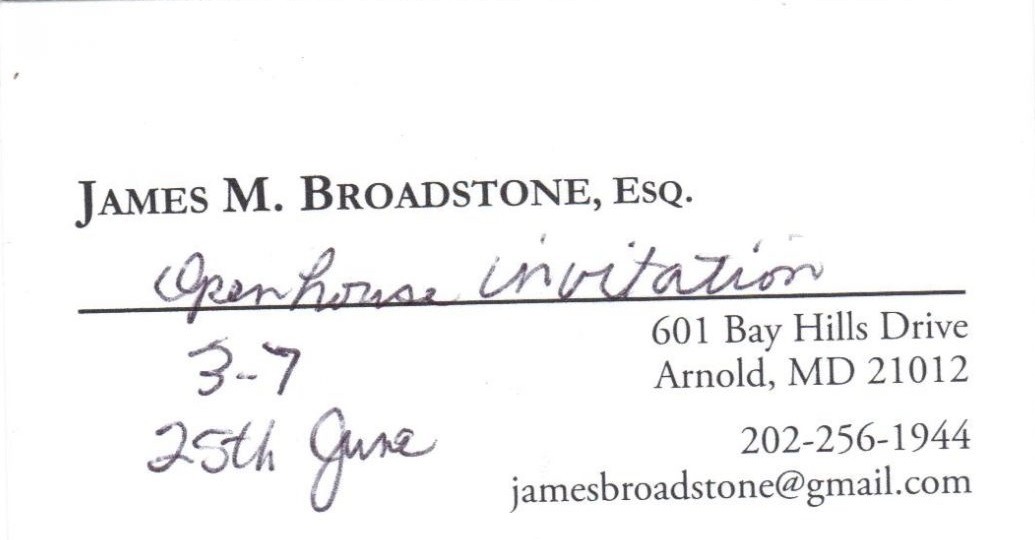 A Witness Confirms The Story
Here is a Witness Statement Provided To NATIONAL FILE:
"There is a group called the DC Volunteer Lawyers Project, which Kathleen Biden runs. They are supposedly volunteer attorneys but they hang out all over the courthouses.
They were appointed in my case — if you have a child in a custody battle, sometimes they appoint a "legal guardian," which is really just somebody who milks you for all the money you have. It's a big court scam and they do it for the elderly as well, so they can seize people's property and money.
In June 2011, my ex-husband wanted to take homeschooling away from me, so we were having a hearing at DC Superior Court and James Marion Broadstone was one of the appointees for my child in the divorce. These people from the Volunteer Lawyers Project were just unbelievable.
My friend Victoria's teenage son Jefferson was going to testify because he was homeschooled. While we were waiting outside of the court, James Marion Broadstone kept talking to Jefferson, who I think was 19 years old at the time, sort of flirting with him. The next thing we know, he followed Jefferson into the men's room.
Broadstone said Jefferson was very good-looking and he could help him make good money from his looks, and he liked the "cut of his jib."
He invited him to a party at his house in Annapolis and then uninvited him after he was fired. I think he was discussing being a prostitute.
Jefferson came out and told his mother Victoria what had happened. Then he went into the court to testify.
My friend Victoria was very upset. Jefferson was very upset. And we reported it to the company, the DC Volunteer Lawyers Project, who are not volunteers. They are hiding millions of dollars in their IRS 990 forms and pretending to be volunteers.
We told Jenny Brody, who kept coming in and out of the case, and then Olivia C. Baker who was the other GAL on the case, and she wasn't even a practicing attorney. They just didn't care, they're a sleazy group.
Here is a list of people who were notified of the incident:
Jenny Brody, founder of the DC Volunteer Lawyers Project and 2015 "Washingtonian of the Year"
Olivia C. Baker
Judge Jeanette Clark
Victoria Rose and Jefferson Rose
Dr. Harry Wachs and his wife Ruth
My former lawyer who is a real scumbag"
Witness statement ends
DC Volunteer Lawyers Quietly Dismissed Broadstone
NATIONAL FILE has obtained an email that DC Volunteer Lawyers Project co-executive director Jenny Brody sent to then-Washington Examiner editor Barbara Hollingsworth, who inquired about the incident with Broadstone:
"Dear Ms. Hollingsworth,
"I'm writing to follow up on our conversation yesterday morning concerning James Broadstone, an attorney serving as a pro bono (volunteer) Guardian Ad Litem for a child who is the subject of a contested custody case in DC Superior Court.
I have spoken with Mr. Broadstone as well as with another attorney who is co-Guardian Ad Litem and was with Mr. Broadstone in court on the day in question. (It is the policy of the DCVLP to always assign two attorneys to every case.) It is my understanding that Mr. Broadstone had several conversations with Victoria Rose, a witness for, and employee of, the mother in the case, and with Ms. Rose's son, a recent high school graduate. My understanding is that Mr. Broadstone, Ms. Rose, and her son had discussions of a social nature, including about Ms. Rose's son's college plans. At the end of the hearing, Mr. Broadstone invited both Ms. Rose and her son to a social event he is planning.
It is the view of the DC Volunteer Lawyers Project (DCVLP) that, while Mr. Broadstone's conduct was not a violation of any ethical rule, he nonetheless showed poor judgment as a GAL for proposing social contacts with a witness. For this reason, we have accepted Mr. Broadstone's offer to resign as Guardian Ad Litem in this case, and will be filing appropriate documents to inform the court and parties of this fact. In addition, I note that Mr. Broadstone is not currently serving, and will not serve, as a volunteer on any other DCVLP cases. We are disappointed in this lapse in judgment, since, in the past, Mr. Broadstone has achieved excellent results on behalf of domestic violence survivors in other cases he has handled with our organization.
If you have any further questions about the incident concerning Mr. Broadstone, or about the DCVLP, please do not hesitate to contact me. You also may wish to review our website (www.dcvlp.org) to get a larger picture of our organization and its mission, which is to provide free legal services to low income clients in family law cases. The overwhelming majority of parties in family law cases in DC Superior Court lack legal representation, even though these cases affect important family relationships. The DCVLP recruits and trains volunteer attorneys to represent these clients. Our largest area of practice is representing domestic violence survivors in cases to obtain protection orders , and, in some cases, to obtain custody of their children. Our volunteers also serve as Guardians Ad Litem for children who are the subject of disputed custody cases. Our volunteer attorneys receive no payment for their services. Their work has helped to ensure the safety and stability of over three hundred women and children. In some cases, our volunteers have protected women and children who were in danger of serious injury or even death. We hold our attorneys to the highest standards of excellence, and I believe that the results of our work show that they achieve this standard.
One final point. We are very puzzled that Ms. Rose chose to contact a newspaper reporter to express her concerns in this case, rather than contacting the DCVLP directly. I note that Ms. Rose is employed by a party in this case. I also note that it is a violation of the Rules of Professional Responsibility for an attorney to make, or cause anyone else to make, statements to the media which may influence an ongoing case.
Thank you for bring this situation to our attention. Again, if you have any further questions, please call me…Yours truly, Jenny Brody…"
Joe Biden Was Heavily Involved With His Daughter-In-Law's Group
In May 2013, Joe Biden spoke at a fundraiser for the DC Volunteer Lawyers Project, which was notable due to the fact that Biden infamously rambled about rape, the movie "Deliverance," and how rape victims "don't want to get raped again by the system."
"You'll often hear men say, why don't they just leave? I ask them, how many of them have seen the movie 'Deliverance'? And every man will raise his hand. And I'll say, what's one scene you remember in 'Deliverance'? And every man here knows exactly the scene I'm thinking of. After those guys tied that one guy to the tree and raped him, men raped him in the film, why didn't that guy go to the sheriff?," Biden said in his remarks. "Why wouldn't you go the sheriff? The reason why is, they're ashamed, embarrassed. Why do you think who get raped, so many don't report it? They don't want to get raped again by the system."
In May 2014, Joe Biden appeared at another fundraiser for the DC Volunteer Lawyers Project.
In 2015, Joe Biden spoke at his daughter-in-law Kathleen's DC Volunteer Lawyers Project at a fundraising reception that Hunter Biden also attended. Photos from the event show both Joe Biden and Hunter Biden in attendance: