Last Updated on February 8, 2021
On Monday, Donald Trump's lawyers dropped a hydrogen fusion bomb on the idea of Congress impeaching a former official, such as former President Donald trump. The day before the Senate's trial of Trump, new lawyers released Trump's February 8 Trial Memorandum (aka "trial brief").
The House of Representatives voted on Articles of Impeachment. Trump's lawyers then responded to the Articles with President Trump's 13-page "Answer" agreeing with or disputing the various allegations in the Articles on February 2, 2021.
Also on February 2, 2021, the Democrat House Impeachment Managers released their 80-page trial brief.  Today, Monday, February 8, 2021, Trump's lawyers filed their own 75-page trial brief.
There is plenty to interest everyone in a 75 page trial brief. It summarizes all the context and background. It challenges the lack of any evidence offered by the Democrats., only opinions and newspaper articles.
The brief challenges the legal meaning of "insurrection" as unrelated to what happened on January 6.   Insurrection means an attempt to over-throw a government and replace it with a new government, the brief proves from legal authorities, not a protest expressing dissatisfaction. Not even a temporary interruption of a government body to try to change a decision qualifies as anything like an insurrection. (Remember the months of protests that disrupted the building of the Keystone XL pipeline.)
The brief accuses the Democrats of ripping President Trump's words out of context and misrepresenting what Trump said.  Trump's brief chronicles in detail how Trump did not incite anyone because those people were already preparing to breach the Capitol starting weeks earlier.
The brief touches on the well-established legal doctrine that one is not responsible for the independent intervening actions of third parties. For example, if I roll a bowling ball down a hill and it hits a house, I am responsible because the bowling ball has no intelligence, will, or movement of its own. But if I say "Hey, isn't that the guy who stole your bicycle? We should call the police," and then the victim runs after the thief and beats him up, there is an intervening third-party cause. Humans think and decide for themselves, which breaks the chain of causation in the law.
However, everyone in politics or law has been debating whether the Senate can constitutionally hold a trial on impeachment after a public official has already left office. The Constitution says too little, as is typical.  Therefore, we are left looking for clues.
But President Trump's new lawyers, Bruce L. Castor, Jr., David Schoen, and Michael T. van der Veen, just nuked that debate on pages 15 to 17 of their trial brief.  Whereas everyone has been searching for elusive clues within the very few words in the Constitution, Trump's lawyers slammed "Bill of Attainder" on the table.
The Constitution absolutely prohibits a "Bill of Attainder" — no wiggle room. President Trump's trial brief proves from legal authorities that the impeachment (trial of impeachment) of a private citizen is a prohibited "Bill of Attainder."
First, many of these details demonstrate a complete and sharp rejection of the British style of impeachment.  The British Parliament did these things. The United States firmly rejected these practices.  That's why impeachment from England cannot guide us in the U.S.A. The Prime Minister is chosen by Parliament and subject to removal on a moment's notice. The U.S.A. created three equally-strong, independent branches.  Parliament could try private citizens for any high crimes. The framers of the U.S. Constitution went out of their way to slam the door on what the Parliament did in England.
The trial brief explains on page 15 that the Bill of Attainder clause:
"prohibits Congress from enacting 'a law that legislatively determines guilt and inflicts punishment upon an identifiable individual without provision of the protections of a judicial trial.'37   Simply put, '[a] bill of attainder is a legislative act which inflicts punishment without a judicial trial.'38  'The distinguishing characteristic of a bill of attainder is the substitution of legislative determination of guilt and legislative imposition of punishment for judicial finding and sentence. 39"
President Trump's lawyers found what the entire political and legal worlds missed. The Constitution absolutely prohibits punishment of a private citizen by Congress, rather than by the Judiciary.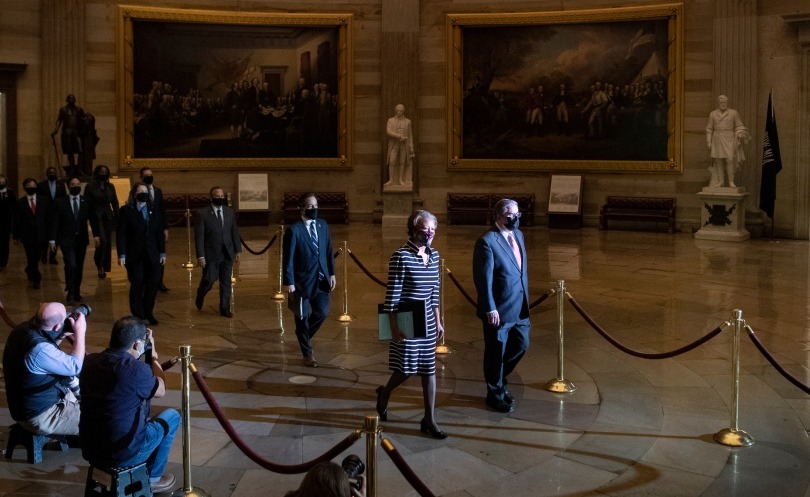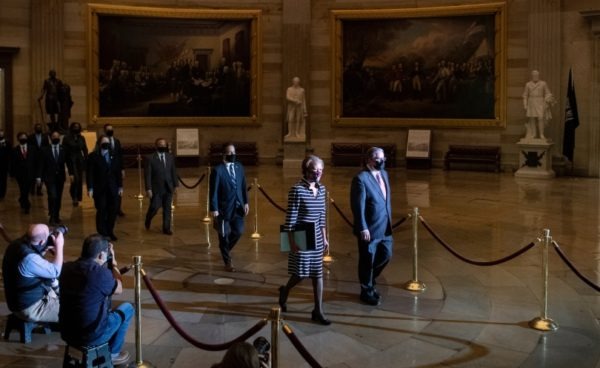 Therefore, impeachment of a former public official is not constitutional. What the Democrats are doing in the Senate Tuesday and what they did on January 13 in the House is a Bill of Attainder. You can't do that. A bow and "we are not worthy" to Trump's recently-appointed attorneys.
"When the Senate undertakes an impeachment trial of a private citizen, it is acting as a judge and jury rather than a legislative body. And this is exactly the type of situation that the Bill of Attainder [clause] was meant to preclude. It is clear that disqualification from holding future office is a kind of punishment that is subject to the constitutional inhibition against the passage of bills of attainder, under which general designation bills of pains and penalties are included; in Cummings, Ex parte Garland, and Brown, the Supreme Court thrice struck down provisions that precluded support of the South or support of Communism from holding certain jobs as being in violation of this prohibition.44 Thus the impeachment of a private citizen in order to disqualify them from holding office is an unconstitutional act constituting a Bill of Attainder."
Curiously, the brief also argues that the Democrats are trying to redefine "President" to include "former President." But that cannot be. Would the Democrats accept a former President nominating judges to fill court vacancies, or issuing pardons, or declaring war? Clearly "President" does not include "former President."
Now, it is true that the Senate has held a couple of impeachment trials of former civil officials.  But that does not change the Constitution. The 1876 impeachment of President Grant's Secretary of War Belknap was defeated because 22 of the Senators did not believe the impeachment of a former official was valid. No former civil official was ever convicted.
The brief also quotes from famous Supreme Court Justice Joseph Story, in his influential three volume treatise Commentaries on the Constitution of the United States and Professor Alan Dershowitz to show in detail, legally, why a former official cannot be impeached.
The brief delightfully quotes from Columbia Law professor Philip Bobbitt:
"by this logic a president could be disqualified from holding office without being removed, an obvious absurdity."
The brief also quotes from Alexander Hamilton:
"Of this kind is the doctrine of disqualification, disfranchisement, and banishment by acts of the legislature. The dangerous consequences of this power are manifest. If the legislature can disfranchise any number of citizens at pleasure by general descriptions, it may soon confine all the votes to a small number of partisans, and establish an aristocracy or an oligarchy; if it may banish at discretion all those whom particular circumstances render obnoxious, without hearing or trial, no man can be safe, nor know when he may be the innocent victim of a prevailing faction. The name of liberty applied to such a government would be a mockery of common sense.85"
Finally, Democrats are distraught that a civil official could escape punishment by resigning. That fever in Washington, D.C. is a falsehood.  The Constitution explicitly says that even an impeached and removed official remains subject to criminal prosecution after leaving office, but by the Article III courts, not by Congress. This unfortunately is the real danger facing Donald Trump.
Juries in D.C. will be drawn from the voter rolls, where 95% of D.C. voters voted for Joe Biden.  Until conservatives can get 250,000 conservatives (without regard to race of course) to move to Washington, D.C, the 341,000 D.C. voters will not be a friendly place if Trump is prosecuted.
C-Span expects the trial to start 1:00 PM EST on Tuesday, February 9, 2021.  People can watch live or whenever convenient "on demand" on C-Span's special website page.