Last Updated on July 26, 2021
New York City-based investment banking giant Morgan Stanley is excluding white males from its college sophomore summer internship program, marking yet another case of systemic anti-white racism in the age of all-powerful global finance.
Morgan Stanley provided a job description for its "2022 Investment Banking Sophomore Summer Analyst Program," in which the firm clearly states: "Morgan Stanley prides itself on fostering an environment that promotes diverse talents and perspectives. One way we demonstrate our commitment to diversity is through the Sophomore Summer Program. This program is an integral part of our diversity recruiting efforts helping to attract Black, Hispanic, Native American, Female and/or LGBTQ college sophomores."

A message circulated by Wall Street insiders on social media appears to show Morgan Stanley outright rejecting a straight white male. The message states: "Hi Nicholas — Thanks for reaching out! All Morgan Stanley Sophomore Summer Programs are an integral part of our diversity recruiting efforts to attract Black, Hispanic, Native American, Female and/or LGBTQ+ college sophomores. For that reason, all applicants that do not identify under the criteria listed above are unfortunately ineligible for the program. Please let me know of any questions! Thanks, Olivia." Morgan Stanley's campus recruiter is named Olivia Schember.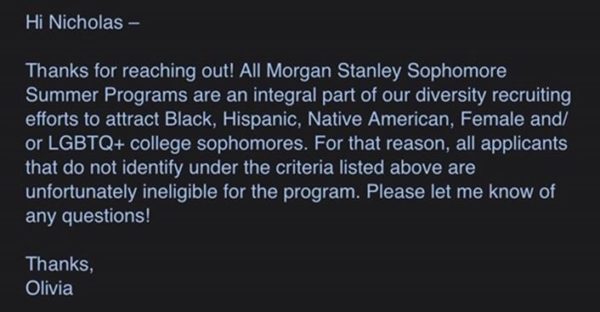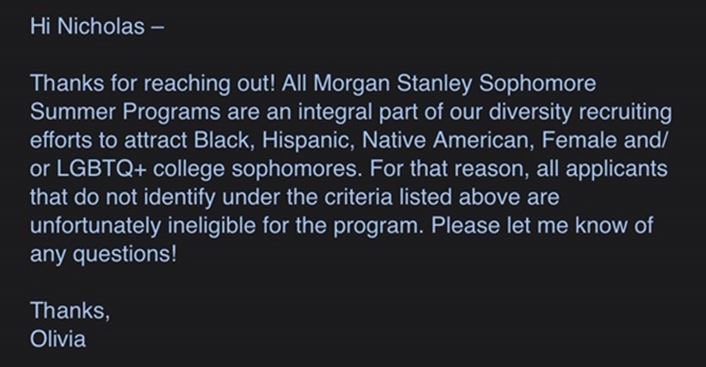 Anti-white racism on Wall Street is becoming more prevalent. Goldman Sachs recently mandated non-white male diversity on corporate boards as a prerequisite for Goldman taking companies public. Shortly after globalist neocon hedge fund Republican donor Paul Singer's firm bought Barnes and Noble, the company's Fifth Avenue store recreated classic book covers so as to portray literary characters as black people for Black History Month. Barnes and Noble cancelled the experiment amid "literary blackface" criticism from the left.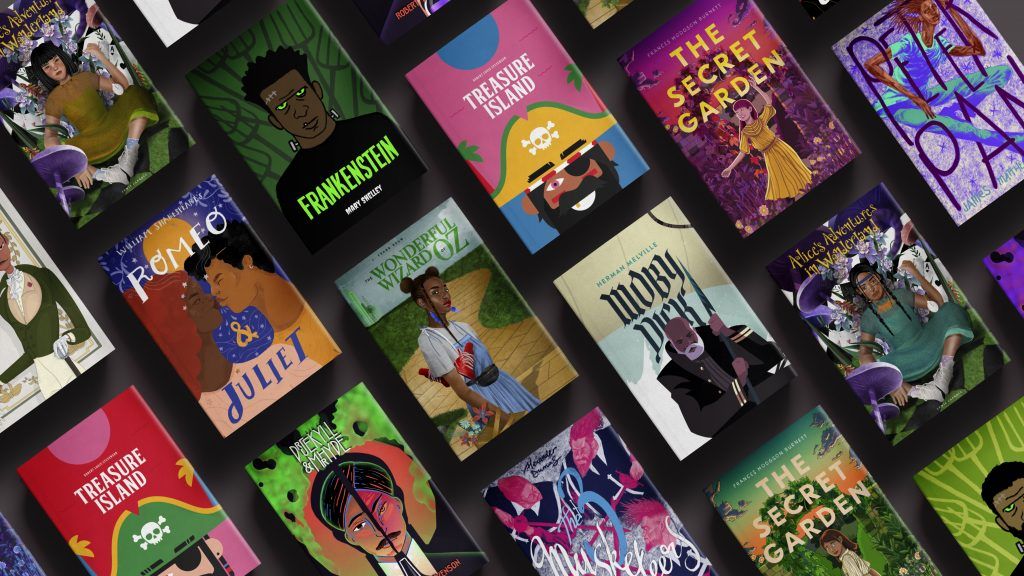 In academia, anti-white racism is all-consuming. Pennsylvania State University is absurdly standing behind a professor named Sam Richards who humiliated a white male student in a lecture on supposed white privilege. Meanwhile, Hollywood entertainment is a constant anti-white propaganda session:
This is what entertainment is now. pic.twitter.com/XvcgyEMOTR

— I,Hypocrite (@lporiginalg) June 22, 2021
What impact is anti-white propaganda having in our society as Western nations descend into frenzied Anarcho-Tyranny?
Police Say Gunman Who Shot 5 in 2 States Was Targeting "White Males"

The 20 hour shooting spree was motivated by a desire to shoot "military looking white males"

The media remains silent on this story.https://t.co/xAPiPndxkq

— Keith Ainsworth (@AinsworthKeith) June 16, 2021
Obvious anti-white bias and humiliation rituals extend into the judicial realm. As NATIONAL FILE reported: Patriot grandma from Indiana Anna Morgan-Lloyd, 49, received the first criminal sentence stemming from the January 6 pro-election integrity protest at the U.S. Capitol in Washington, D.C., where police allowed protesters into the building. To ease her sentencing, Morgan-Lloyd wrote a little movie report on the Holocaust drama Schindler's List and the anti-racism film Just Mercy and submitted it to the presiding judge on her lawyer's instructions. Welcome to the progressive criminal justice system in modern America!
Anna Morgan-Lloyd submitted a guilty plea on the misdemeanor charge of "parading, demonstrating, or picketing in a Capitol building," and she was sentenced to 120 hours of community service, three years probation and a $500 fine. Judge Royce C. Lamberth, a district court judge in Washington, D.C., stated that "I don't want to create the impression that probation is the automatic outcome here, because it's not going to be," referring to Capitol protester cases.
Anna Morgan-Lloyd's lawyer instructed her to watch the movies Schindler's List and Just Mercy and basically write a little assignment about what she learned and submit it as a letter to Judge Lamberth. The grandmother wrote, "I've learned that even though we live in a wonderful country, things still need to improve. People of all colors should feel as safe as I do to walk down the street."
Here is America-loving granny Anna Morgan-Lloyd peacefully protesting for election integrity in the U.S. Capitol.