Last Updated on September 15, 2022
The Burnsville, Minnesota public school district where "school spirit hijabs" are being offered to elementary students has produced multiple Islamic terrorists, including an ISIS member who was killed in combat in the Middle East. Located just 15 miles south of downtown Minneapolis, suburban Burnsville has absorbed thousands of Somali Islamic migrants, who now exert their religious influence over the local public school district.
As National File recently reported, William Byrne Elementary School in Burnsville, Minnesota is offering "school spirit hijabs" to its young students, under the guise of the school's "Somali cultural liaison" and in conjunction with its parent-teacher organization. The Sharia-compliant head garb for kids is available in the school's online "spirit store" and is going on sale at various school events for $6. They come in two colors and feature the school's bulldog mascot.
Notably, the hijabs are $4 cheaper than any other spirit item.
National File attempted to make contact with William Byrne Elementary School's principal, Jon Bonneville, but received no response. National File had hoped to learn whether the school would begin offering "school spirit crucifixes" or "school spirit yarmulkes" to students not adhering to the Christian and Jewish faiths and asked principal Bonneville if the hijab sales meant the school was endorsing Sharia law.
After learning of the school spirit hijab program, National File took a deeper look into Burnsville's local school system, which is officially known as Burnsville-Eagan-Savage School District 191, and found deeply disturbing ties to Islamic terrorism.
Burnsville appears to be part of a larger web of terror issues fanning out from Minneapolis, where the import of record levels of Islamic migrants culminated in the 2018 election of far-left Democrat Congresswoman Ilhan Omar, herself a migrant of Somali origin who has dismissed the 9/11 attacks as being no big deal.
A 2013 article in Minnesota's left-wing Star Tribune newspaper celebrated Burnsville's rapid transformation from an All-American town to an "immigrant suburb" with a "huge Somali population." 
"Burnsville is among the top-10 destinations" for Somali migrants in Minnesota, The Star Tribune reported.
Two years after that report, Minnesota Public Radio News published a lengthy profile on a trio of Muslim Burnsville teenagers who set out to join ISIS. All of them are of Somali migrant backgrounds and all of them attended Burnsville High School.
According to the MPR report and DOJ press releases, on March 9, 2014, 18-year-old former Burnsville High School student Hanad Mohallim boarded a flight from Minnesota to Turkey, where he set out to join ISIS at the Syrian border, and was successful.
Alarmingly, after making his way to the ISIS terror organization, Mohallim was able to keep in touch with his family in the United States and informed them that he was "serving" as a "border guard" on behalf of ISIS. Some months later, his family reported that he'd been killed in combat.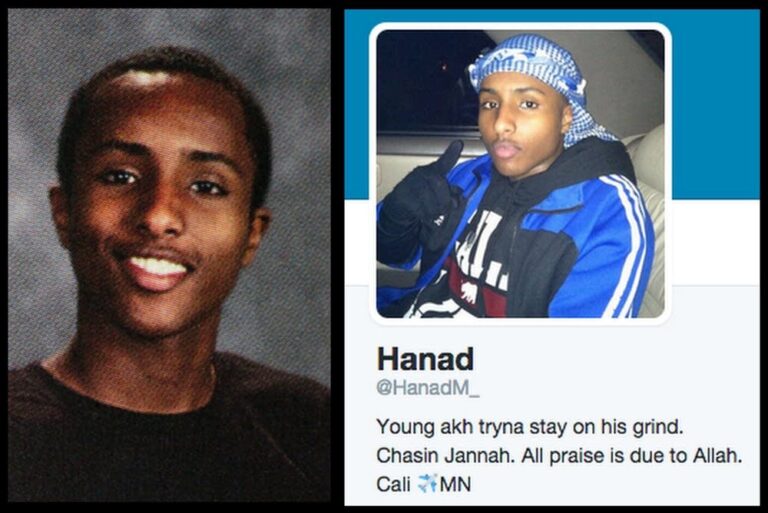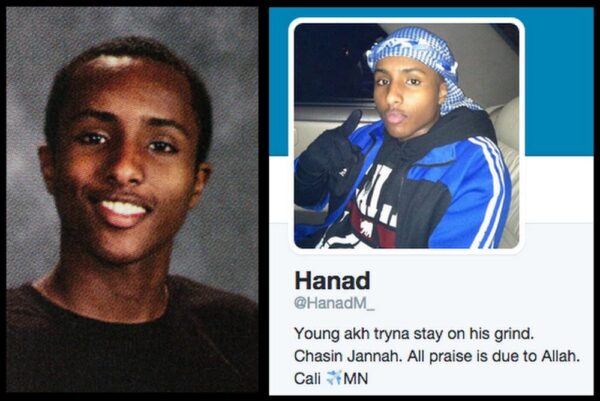 Hoping to take a similar path to ISIS in the Middle East were two of Mohallim's former Burnsville High classmates, Abdullahi Yusuf and Hamza Ahmed, who he'd started attending Islamic religious services with, but those two never boarded their planes. Instead, they were arrested by federal agents who charged them with conspiring to assist a foreign terrorist organization. 
While Hamza Ahmed was convicted and received a 15-year prison sentence, Abdullahi Yusuf, though also convicted of his terrorist crimes, was the beneficiary of a left-wing "de-radicalization" program, much like those controversially employed by Justin Trudeau of Canada. After spending roughly just 2-years behind bars, Yusuf was turned loose.
Home to such a burgeoning migrant population that 15% of Burnsville's 8,000 public school students report speaking Somali at home, youthful Islamic radicals and school-sponsored Sharia are symptomatic of a deeper problem plaguing the suburban town and the Minneapolis metro region as a whole.
Connected to the Burnsville High terrorists was a young Minneapolis man, also of Somali origin, named Abdi Mohamud Nur. Like Mohallim, Nur made it to Syria in 2014, where he joined ISIS on the battlefield. His ultimate fate is unclear, but he remained active on social media for quite some time following his arrival in the Middle Eastern combat zone.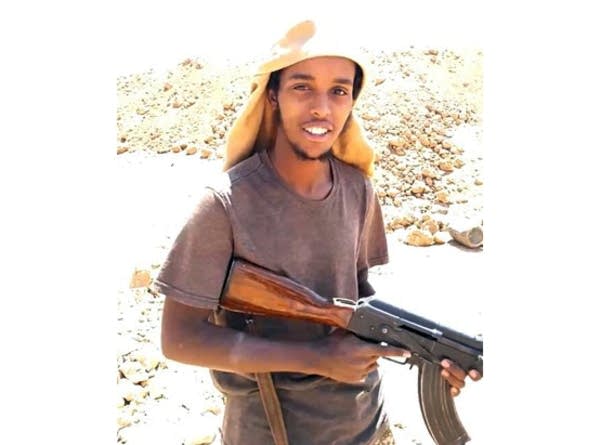 In social media communications published by the DOJ following their charging of Nur in absentia, the terrorist boasted that "the brothers from mpls [Minneapolis] are well connected" to Allah and jihad.
All told, several dozens of Muslim men of Somali and other migrant backgrounds have been convicted of terrorism in Minnesota or traced to foreign battlefields where they're fighting on behalf of Islamic terror outfits.
In 2016, at least 9 Muslim men residing in the immediate Minneapolis area, including in Burnsville, were charged and later convicted of conspiring and attempting to provide material support to ISIS. Included in the case were several other related terror charges that were dished out on a defendant-to-defendant basis. At sentencing, they received decades behind bars.
Burnsville also has the distinction of being the burial place of America's first suicide bomber, Shirwa Ahmed, a migrant to Minnesota who in 2008, at 27 years old, returned to his homeland and "blew himself up in northern Somalia," reportedly in conjunction with the Al-Shabab terror network. 
Burnsville is far from the only community and school district in Minnesota to be transformed by the state's historically unprecedented influx of Islamic migrants. Just recently, Faribault Public Schools, just a 40-minute drive from Burnsville, announced that they'd no longer be serving pork in their cafeterias, to accommodate the district's Muslim students.