Last Updated on February 17, 2022
Chaz Neal, a prominent BLM activist in Minnesota who has been promoted by the media, was arrested earlier this month after failing to register as a child sex offender.
First broken by Red Voice Media, we now know that Neal, a prominent Black Lives Matter activist, 44, was arrested on April 9 in Hennepin County over a complaint issued in 2018 stating that he had failed to register as a sex offender when making his apartment in Preston his primary address. The warrant executed earlier this month was granted by a Fillmore County judge, where he is currently in custody. Neal has been convicted three times for failing to register as a sex offender.
According to court records, Neal was convicted in 1998 of one count of "Criminal Sexual Conduct In The Third Degree." To be found guilty of such a charge, the person accused must have "engaged in sexual penetration," when one of the listed circumstances, such as when "the complainant is at least 13 but less than 16 years of age and the actor is more than 24 months older than the complainant," or "the actor uses force or coercion to complete the penetration," and a number of other offenses.
On his Facebook page, "Chaz Neal for Human Rights Commission," he admits he is a "registered sex offender," but claims not to be a "child molestor [sic] or a pedophile." It is true that the charge he was convicted of includes other sexual offenses, however, given that along with prison time, Neal was also ordered not to have any contact with children under 18, or possess or use pornography, it seems rather unlikely that he was convicted under any of the other offenses under the crime, such as claiming that "the penetration is for a bona fide medical purpose."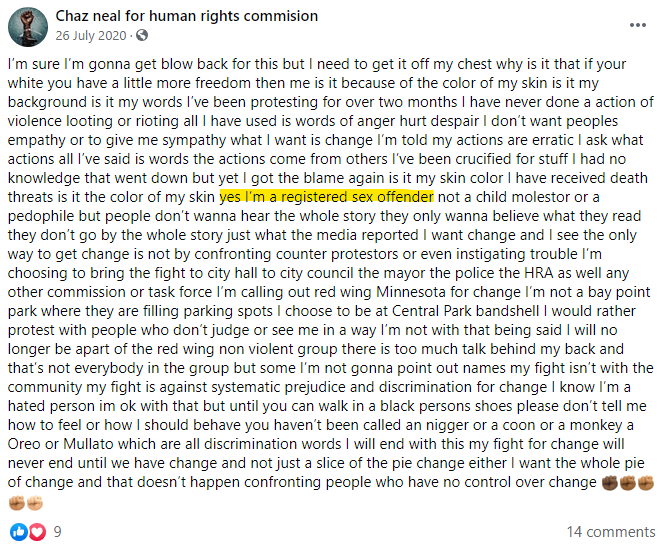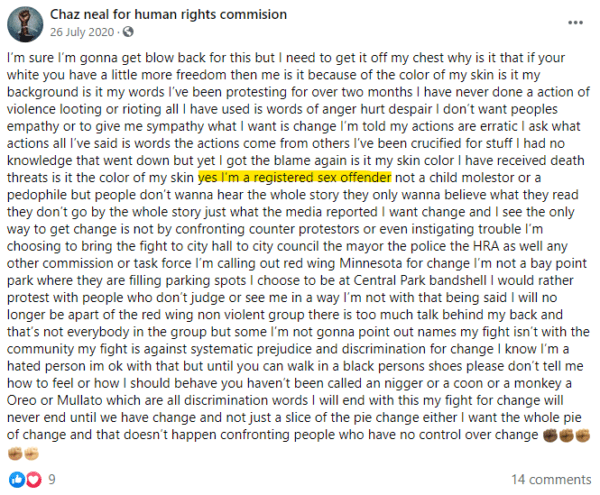 Despite being a registered child sex offender, Neal has received national media attention as a darling of the BLM movement in Minnesota. Neal has received flattering coverage from multiple media outlets, including The Guardian, Vice, Yahoo News, Axios, the Minnesota Post, and USA Today, where he is portrayed as a brave community activist protesting outside the courthouse where Derek Chauvin is currently on trial for the alleged murder of George Floyd.
Neal spends most of his time as a "community activist" for BLM attacking local Minnesota police leaders, accusing them of racism, and has made multiple appearances at Pine Island City Council meetings demanding that they establish a "human rights commission" to investigate alleged racism. A recent campaign of Neal has been to get the police chief of Red Wing, where he currently lives, fired, claiming that Chief Roger Pohlman is a "hate-monger."
Being a child sex offender isn't the only crime that Neal has on his rap sheet. His other criminal convictions include damage to property, theft, domestic assault in the 5th degree, and financial card fraud. He regularly boasts about his arrests on social media, claiming that the police just simply like to "keep violating [the] first amendment rights" of BLM protestors.
This me yesterday morning I was arrested and let go after about a hour I was silently sitting in the street with my sign for justice and peaceful protest but Minneapolis police have other plans and want to keep violating our first amendment rights https://t.co/vgxjqFdrM1

— Chaz Neal (@ChazNeal2) March 10, 2021
Stew Peters, the host of the "Patriotically Correct" radio show from Red Voice Media, who reported on Neal's arrest, suggested that with recent crackdowns by Big Tech on stories that are unfavourable to BLM, the story of Neal's arrest may also be swept under the rug. "If they don't want you to know about $3 million in real estate purchases by a BLM co-founder, I bet they don't want you to know this!" Peters said.
You can watch video of Neal's arrest from Red Voice Media below, presented by Red Voice Media: