Last Updated on December 8, 2022
A high-ranking member of the U.S. military flagged a New Jersey mother to local law enforcement and vowed an "investigation" after she shared a Facebook post objecting to posters outlining different sexual preferences in an elementary school. Lt. Colonel Christopher Schilling bizarrely cited "safety concerns" and referred to the concerned parents as "extremists." The Lieutenant Colonel even went so far as to speak for the military in vowing a joint investigation with local law enforcement.
Angela Reading, a mother and member of the Northern Burlington Board of Education, alerted a local Facebook group about a number of posters hanging at the entrance to her 7-year-old daughter's elementary school. The posters outlined different types of sexuality and genders, including "polysexual" identity.
The posters were reportedly part of an assignment to create a "safe space" for all students to"feel good and accepted." Kids as young as 9 years old allegedly participated in creating the posters, according to the Chaos and Control Substack.
"I welcome respectful debate if you read my entire post. Also, the below statements are made in my capacity as a private citizen and mother," Reading prefaced her Facebook post, which contained no threats or anything close to resembling violent rhetoric.
"My 7 YO daughter, while reading posters at the school's main entrance, asked me what "polysexual" means. To say the least, I was livid," Reading wrote. She went on to question why young students were being asked to complete assignments on sexuality, pointing out that such material is not required under state guidelines.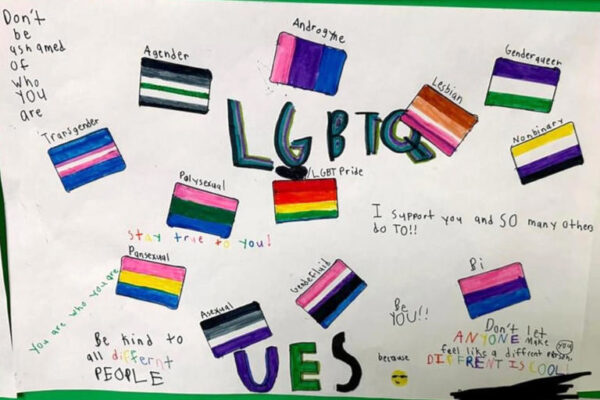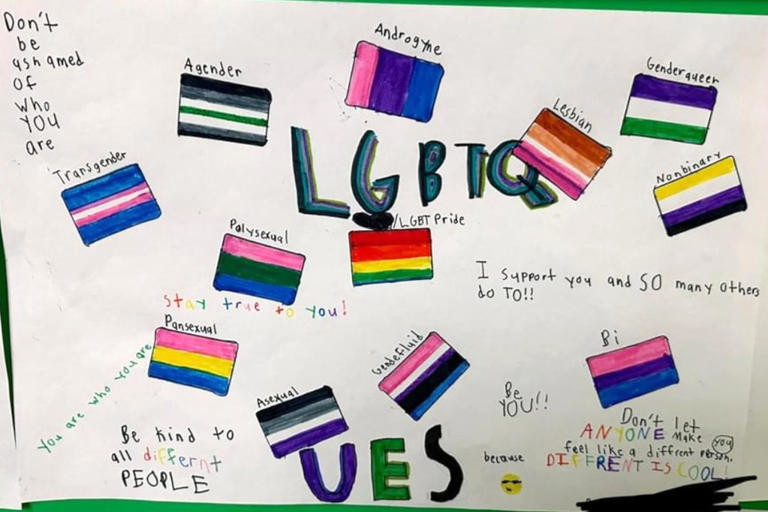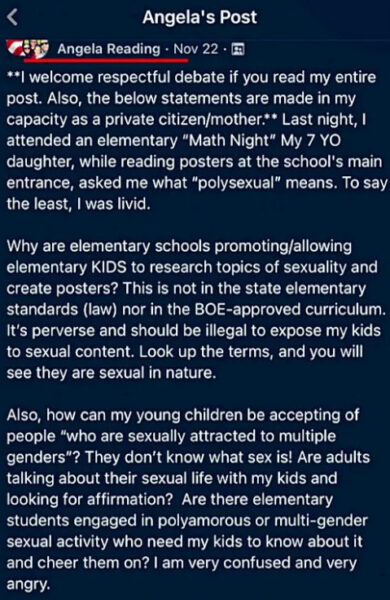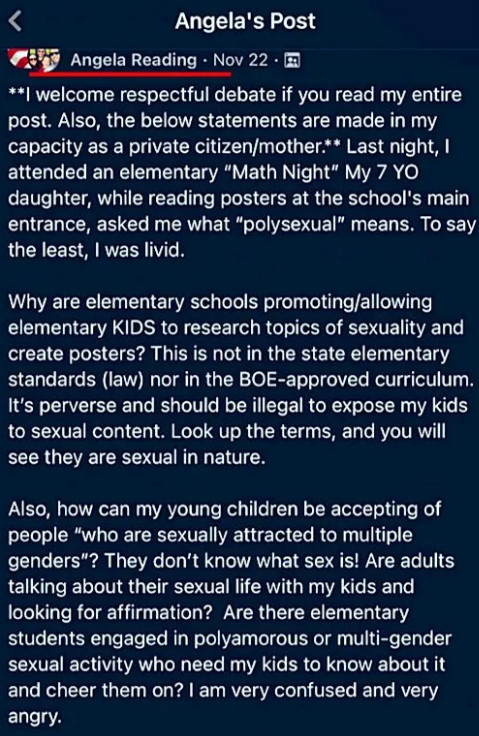 In response to Reading's comments, Lieutenant Colonel Christopher Schilling baselessly stated that the post had caused "safety concerns" for a number of families and vowed to "investigate."
"The current situation involving Mrs. Reading's actions has caused safety concerns for many families," Schilling wrote in a Facebook post, according to Chaos and Control. "The Joint Base leadership takes this issue very seriously and from the beginning have had the Security Forces working with multiple state and local law enforcement agencies to monitor the situation to ensure the continued safety of the entire community."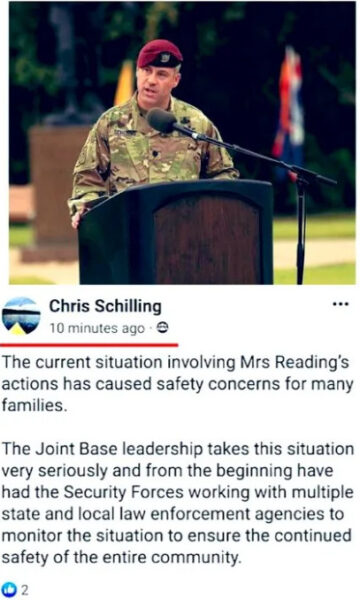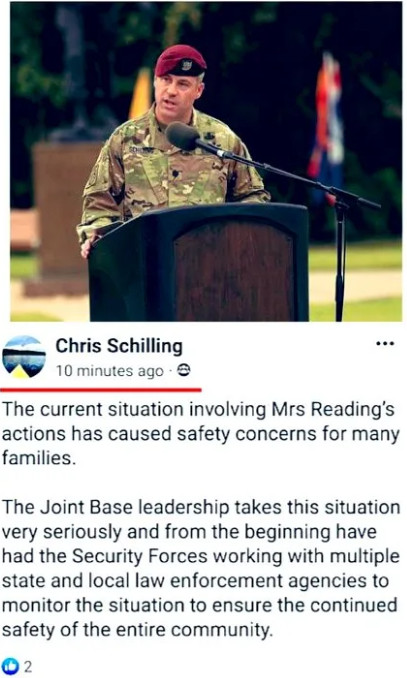 "I was more than surprised. I was scared," Reading said in an interview on Tucker Carlson Tonight Wednesday. "I actually pulled my kids from school the day I found out. It was mind-boggling and I was worried for them when the US military comes after you for simply raising concern about a public poster that is widely available for all to see."
Reading told Carlson that her post was "really moderate."
"It essentially said I didn't think my 7-year-old was age-appropriate to be exposed to words such as polysexual and pansexual," Reading told Carlson. "I said that all people are deserving of love and respect. My post was very explicit about that. Still, it prompted this response and it's really scary that in this country we can't have a right to speak and raise concerns about our public education system."
Disturbing Story About Woke Military Trying To Silence Concerned Mother

Tucker Carlson: "So the military responded to a mom in an elementary school complaining about the sexualization of her own child? That warranted a military response under Joe Biden?" pic.twitter.com/cPNof01TOc

— The Columbia Bugle 🇺🇸 (@ColumbiaBugle) December 8, 2022
Community members and parents who, like Reading, objected to the posters being displayed to young children, defended Reading and called for Schilling to resign. "Ms. Angela Reading, NB district board member, is being attacked for bringing this very inappropriate poster to the attention of the community," one Facebook user wrote in her defense.
Schilling replied to that post, which was screenshotted and documented by Chaos and Control. "That shows how well she fooled you with her lies," the lieutenant colonel wrote in reply. "Her daughter is in second grade and that poster was in a school that only has 4th-6th grades. The police have received no threats to her or her family, another lie."
Lieutenant Colonel Schilling seemingly revealed that he had some level of coordination with law enforcement regarding an "investigation" of the post. The administrator of the Facebook group told her that North Hanover Police Chief Robert Duff reached out urging her to remove it, Reading said.
A community member named Jason Stamp later shared a petition that detailed the smear campaign against Reading. Schilling replied to that post with a petition to stop "extremism," Chaos and Control reported.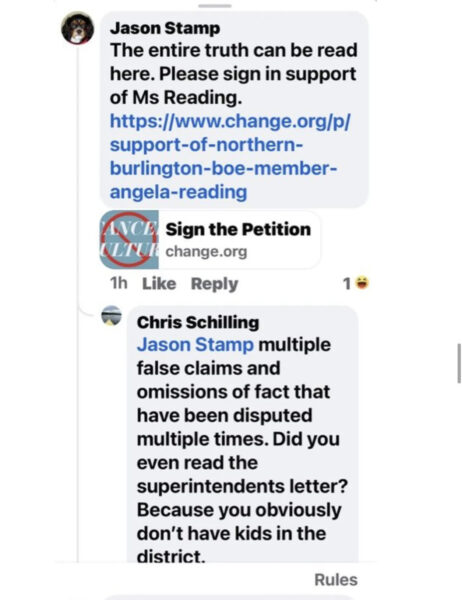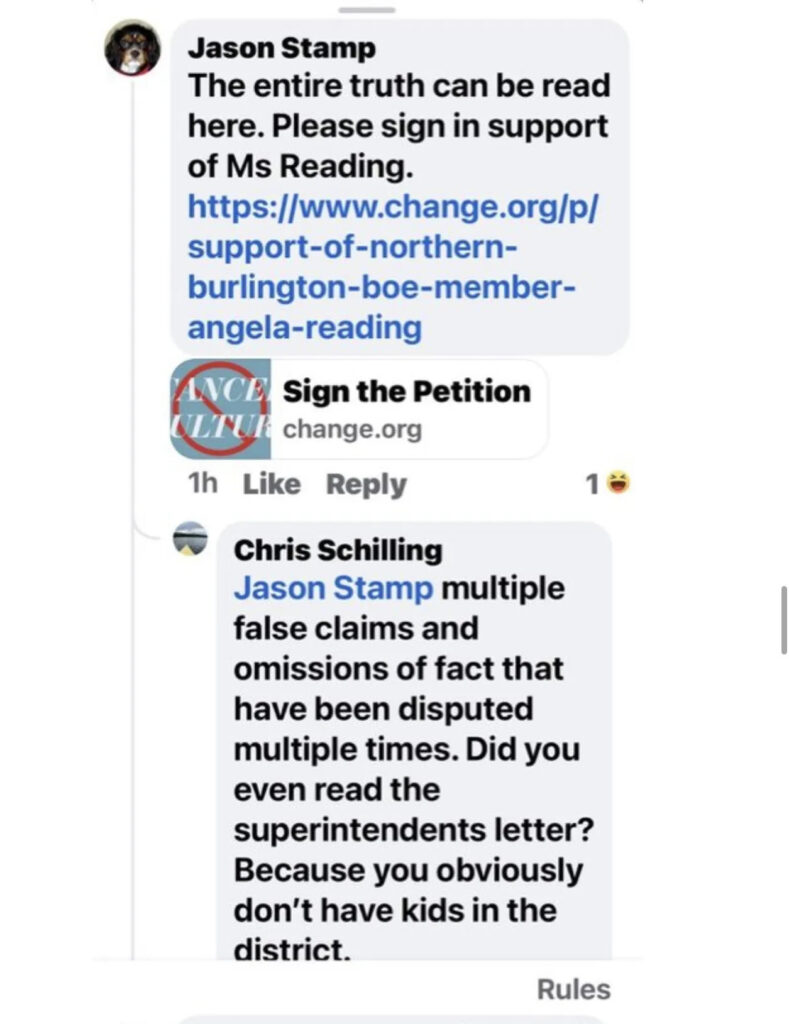 After releasing official "joint investigation information" and repeatedly attacking Reading, Schilling changed his Facebook name to "Chris Topher" and has deleted his LinkedIn account.