Last Updated on April 11, 2021
MyPillow tycoon and ardent Trump supporter Mike Lindell recently announced the release of his own social media platform, FrankSpeech.com, which is reported to be launching this week.
Originally revealing the name of the website on Steve Bannon's podcast in March, Lindell then said the launch was only weeks way. A week ago, Lindell confirmed that the launch of FrankSpeech.com is on schedule with posts written on Gab and Parler – a site that has received bad publicity due to referring its users to the FBI with regard to the mostly peaceful Capitol Hill protests on January 6, then appointing an interim CEO who supports a convention of states that could allow George Soros affiliated leftist organizations to rewrite the U.S. Constitution – and received overwhelming support.
"Coming next week….a social media platform like no other," Lindell wrote on Gab, where he has an exceedingly popular account. The post amassed over 6,000 likes and nearly 2,000 reposts.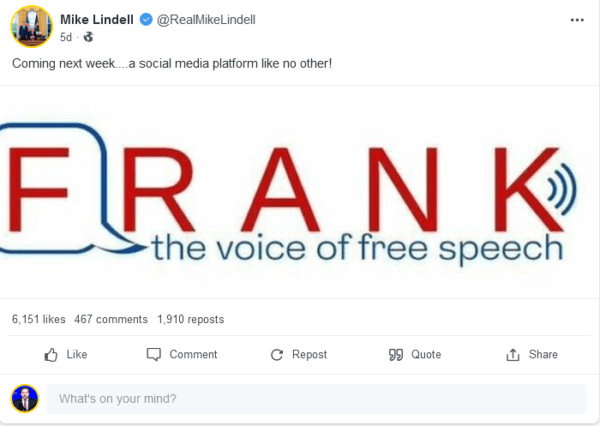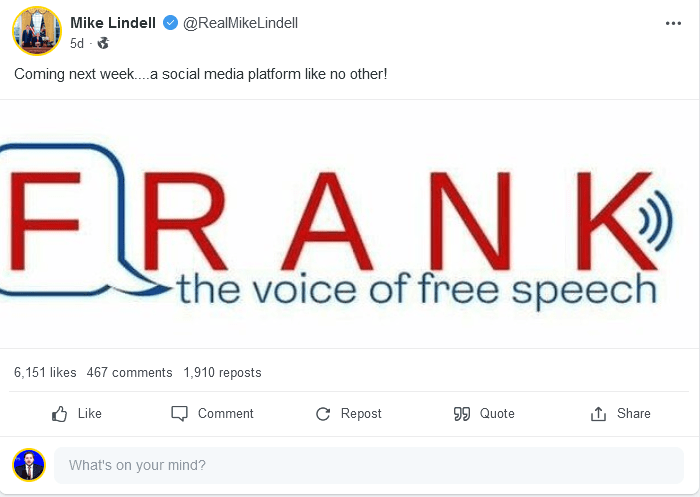 "My new social media platform "FRANK" is coming out next week," Lindell wrote on Parler. The post has been seen on Parler over 124,000 times, and received over 2,500 upvotes. At present, FrankSpeech.com still directs users to a landing page that offers users insight into the site's goals:
Free speech is one of the hallmarks of our Constitutional Republic, as enshrined in the Bill of Rights. It is no coincidence that nations that have free speech also have a free enterprise system and freedom of religion. Inversely, nations that deny free speech tread upon the free enterprise system and freedom of religion. Americans want to remain free. Americans are craving news and information that is not filtered through the radical worldview of today's liberal media intelligentsia, or deep state actors. Frank, the voice of free speech, will be the platform for Americans who want to defend life, liberty, and all the freedoms that have marked America as the longest running Constitutional Republic in the history of the world. On this platform you will find a home where you can post videos, livestream television, distribute news and information, and find community and fellowship with likeminded Americans. Frank will be a home for major influencers, to micro influencers, to average Americans wanting to share in the constitutional right of freedom of speech and freedom of expression. We hope you will join our community and let freedom ring.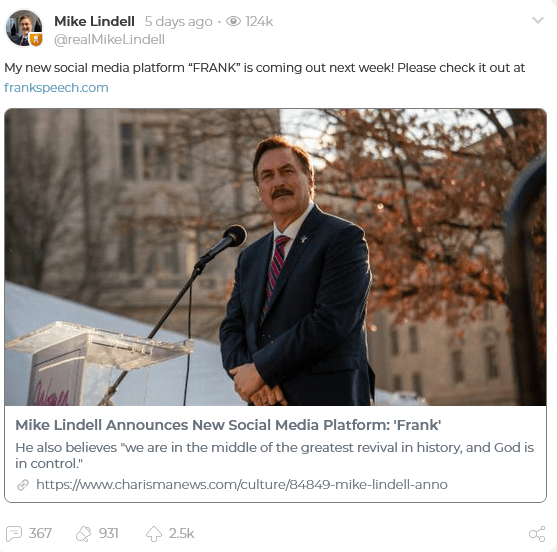 In a recent appearance on Steve Bannon's podcast, Lindell revealed that he is purchasing his own servers – which he says are capable of holding a billion users – to be certain the site cannot be cancelled by those who disagree with the statements of the users. Earlier this year, Parler was taken offline for over a month after Amazon, which provided hosting to the Mercer-owned website, reneged on their contract. Gab, which followed a similar strategy to Lindell's, stayed online, and had to rapidly expand its server count and capacity to manage the influx of new users.
Lindell first unveiled his plan to create his own social media platform on Charlie Kirk's podcast last month, as National File reported. "'You won't need these places. So it will be where everything can be told, because we've got to get our voices back.' Lindell added that the website will be pro-free speech, adding, 'People will be able to talk and not walk on eggshells.'"