Last Updated on December 9, 2022
Dallas Cowboys player Micah Parsons instantly groveled to the alphabet mafia and left-wing outrage mob that set upon him for momentarily questioning Joe Biden's decision to trade the "merchant of death" for WNBA player Brittney Griner, in a US-Russia prisoner swap that excluded a Marine Corps veteran who still remains in a Russian prison.
"Wait nah!! We left a marine?!! Hell nah," tweeted Dallas Cowboys defensive player Micah Parsons, after news broke that the Griner deal would exclude retired US Marine Paul Whelan, who is approaching his 4th year in Russian custody.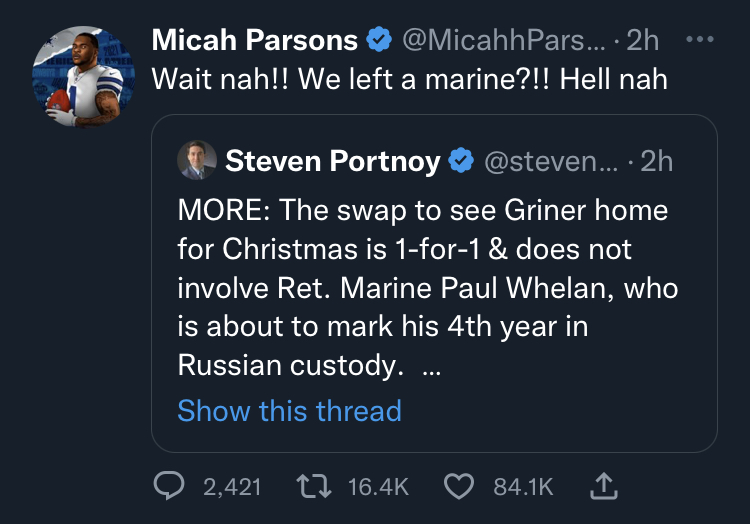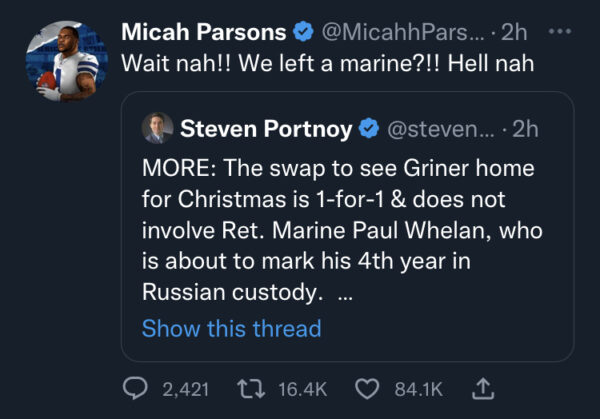 In another tweet, Parsons quoted from "President Biden's" @POTUS Twitter account, which posted a Biden-Harris photo-op with Brittney Griner's lesbian partner, with a caption declaring that "she is safe. She is on a plane. She is on her way home."
"We still not voting for you!" Micah Parsons wrote in a quote tweet of the Biden post, before deleting his response as he groveled to a left-wing outrage mob, posting several explanations as he tried to skirt criticism for questioning a Democrat president and his trading of an international terrorist for a lesbian basketball player in jail for smoking pot.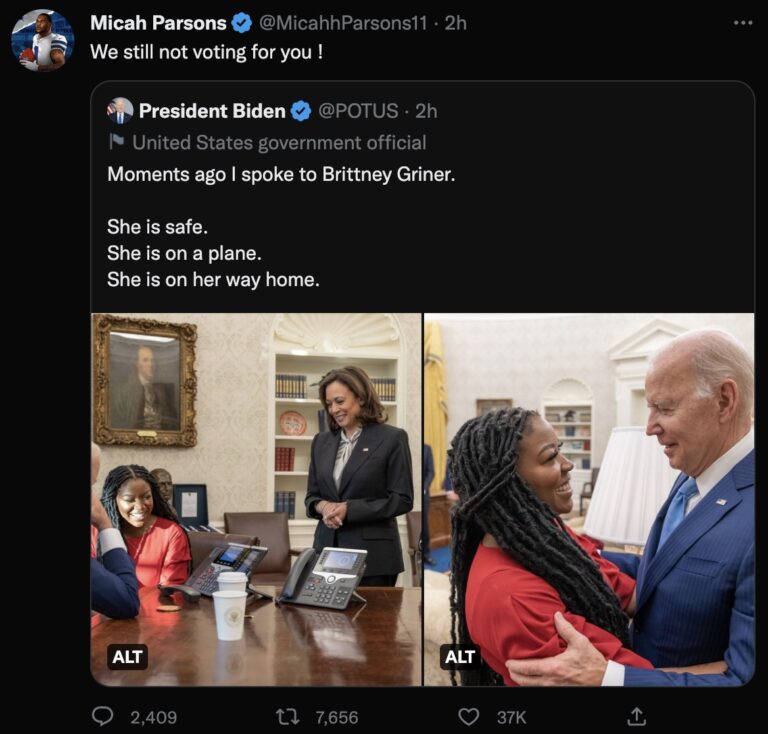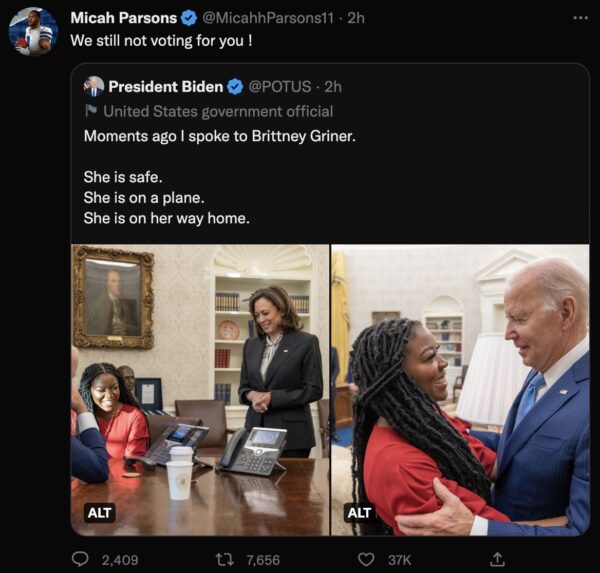 "My last tweet was no shot at Brittney Griner," Parsons wrote as his backpedaling began. "I'm just super happy she's back home as she should be. I just have family who have served and it's crazy to me the President wouldn't bring him home too," he went on, before aiding a disclaimer to declare to he "is the furthest thing from a Trump supporter."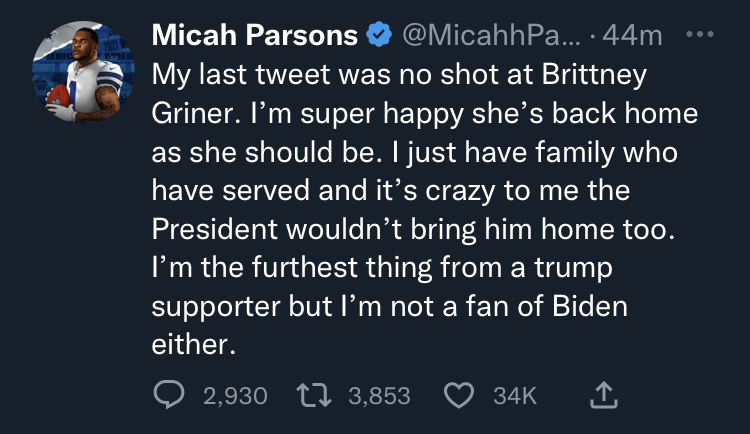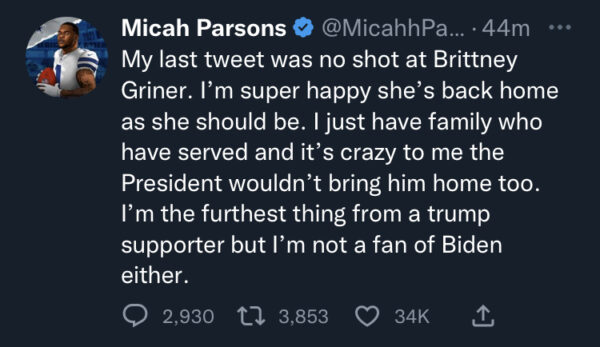 "Just spoke to some people that I respect and trust," Parsons went on to tweet, after apparently receiving instructions from his ideological overlords.
"I should have been more educated on the topic and not tweeted out of emotion for my family and other who have served. For that I apologize."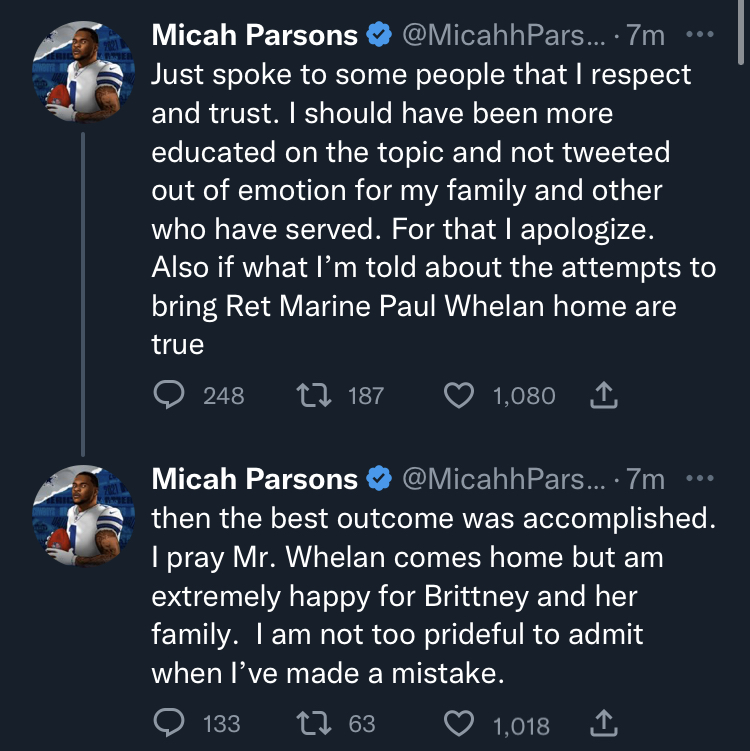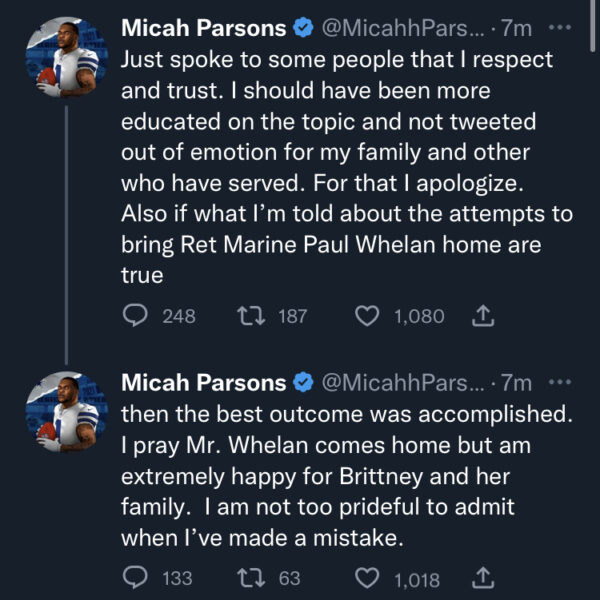 Though the apology may have appeased those signing his NFL paycheck and the left-wing media, Micah Parsons was widely mocked online for folding to pressure over a tweet.
Corporate media outlets ran victory laps around Micah Parsons and his self-censored Twitter account, with the Forth Worth Star-Telegram reporting that Parsons had learned a "lesson."