Last Updated on September 11, 2022
NYPD gun confiscators posed for pictures after seizing toy guns from the streets of New York City, as real violent crime continues to skyrocket in the deep blue metropolis. The gun grabbers were widely mocked after the 72nd Precinct posted the photos to Facebook, as social media users pointed out the bright orange tips and see-through plastic magazines the toy guns were outfitted with.
In a post made recently to the city's 72nd Precinct's Facebook page, NYPD gun cops who patrol the streets of Brooklyn posed for pictures as they celebrated the seizure of "multiple air rifles," which are also known as toys. In addition to the orange-tipped, plastic toy guns, officers managed to scrounge up a single loaded handgun to pose with for the photo.
"Your midnight shift team, Officer Cheeme, Officer Rashevskiy, Lieutenant Schack along with our midnight shift officers removed a loaded gun & multiple air rifles from the streets of Sunset Park, Brooklyn" the post from the 72nd Precinct reads. "Great teamwork by everyone involved."
Facebook users from New York City and around the country descended on the post to mock the efforts of NYPD's gun confiscators, and Facebook "laugh reacts" outnumber the "likes" the post received by thousands.
"Your wives' boyfriends must be so proud," one user commented below the photograph.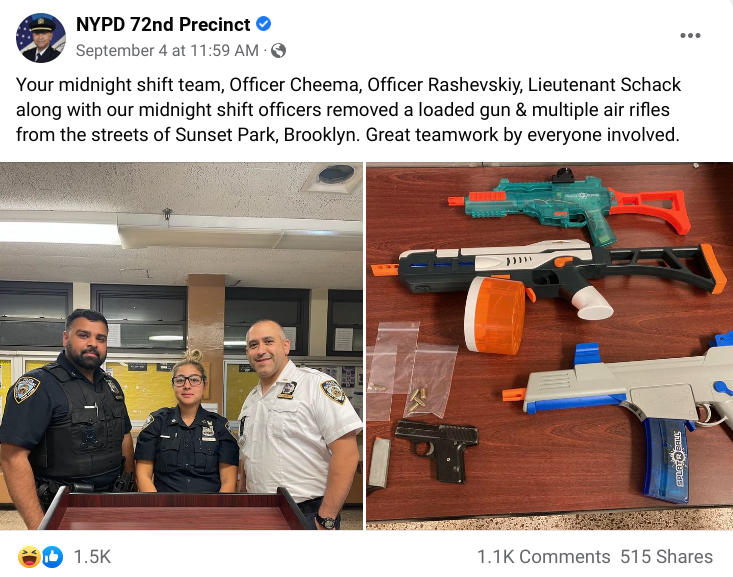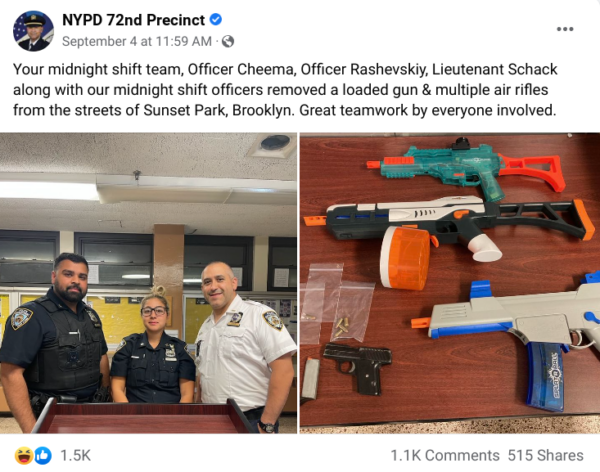 While the NYPD is seizing toy guns, crime is skyrocketing all over America's biggest city, long a hub for third-world migrants and others at odds with mainstream American culture and behaviors.
The city's massive spike in crime has been directly attributed to the left-wing policies of its Democrat government, even by Democrats within that very government, who have sought to shift blame towards their Democrat predecessors and colleagues.
According to NYPD crime stats, the city experienced a spike in nearly every single criminal category over the summer of 2022, continuing on with a trend experienced in recent years, as no bail, no punishment policies have put criminals above the law-abiding citizens of New York City. As of the final week of August, the rate of violent crime across all categories is up more than 35% in the city from 2021, when it had already eclipsed record highs.
The city's law-abiding population, which has long been disarmed and is increasingly living under siege, had received some relief early this year when the Supreme Court struck down New York City's anti-2A laws that went out of their way to stop citizens from obtaining carry permits.
After the ruling, the city rolled out a new set of equally draconian guidelines blatantly designed to stop citizens from obtaining carry permits. Under the new rules, citizens must now present police with their entire social media account history from the last three years and conduct an in-person interview among other things before receiving a license to carry their own gun.
Though New York makes the average citizen jump through endless hoops to carry a gun, amazingly, the city has long abandoned its stop-and-frisk policing tactics under the guise of far-left Democrats, effectively giving criminals a license to carry at all times.