Last Updated on July 13, 2021
The Republican National Committee (RNC) and its chairwoman, Ronna McDaniel, have been embroiled in controversy over emails sent by Chief Counsel Justin Riemer, the RNC's top lawyer, referring to President Trump's fight for election integrity after the 2020 election as a "joke". The RNC initially denied Riemer sent the emails, only to be confronted by former Trump lawyer Jenna Ellis, who provided proof that Riemer sent the email and that McDaniel knew about it. Giuliani confronted Riemer, and ordered him to resign or be fired, then called McDaniel to ensure the personnel change would happen. McDaniel agreed initially, and later changed her mind. Riemer still works as the Chief Counsel for the RNC today.
National File has extensively researched Riemer, who was hired as the RNC's top lawyer in 2019, during McDaniel's tenure. We learned that Riemer has worked for John McCain, a mysterious lobbying firm, a website tied to anti-Trump billionaire Mark Cuban, and seemingly believes the Arizona Audit was unnecessary.
According to his LinkedIn, Riemer began his career in politics while working for Sen. John McCain during his 2008 run for President. Riemer worked as a lawyer for McCain from September of 2007, before the campaign, until January of 2009. On his LinkedIn, he writes that he was responsible for "approval on all publicly released communications from campaign, including policy statements, press releases, fundraising solicitations, and television, radio, and internet advertisements."
Riemer then worked for a website called "Democracy.com" and claims he "Engaged in business development, compliance work, and government relations for a nonpartisan social networking platform." As of 2021, this website now redirects to Mark Cuban's personal blog. It is unclear if Cuban owned Democracy.com when Riemer worked for the website, however, it should be noted that Cuban has been a vocal opponent of President Donald Trump, and offered to run as Hillary Clinton's vice presidential candidate in 2016. (READ MORE: Jenna Ellis Provides PROOF Ronna McDaniel, RNC Knew About Anti-Trump Chief Counsel Justin Riemer, Did Nothing)
Later, Riemer worked as a lobbyist for JJR Consulting, LLC for over a year. Notably, he began his public work history as a "Government Relations Intern" for the mysterious DCI Group, a lobbying firm that features the United Nations flag on its website. After leaving JJR Consulting, Riemer was hired as the Deputy Chief Counsel of the RNC in 2015. He held this position for over a year before being hired to work in Betsy DeVos's Department of Education as both Special Counsel and Deputy General Counsel for Postsecondary education. Finally, he was hired back by the RNC, ostensibly at McDaniel's direction, to be the organization's Chief Counsel.
Riemer is somewhat active on LinkedIn, and uses its social networking features regularly. After the civil unrest that occurred on January 6, 2021, he liked the status of a man named Michael Brickman, who said he was "incredibly proud" of his boss, Betsy DeVos, for her decision to leave her role as Education Secretary in the Trump administration to protest the events of January 6.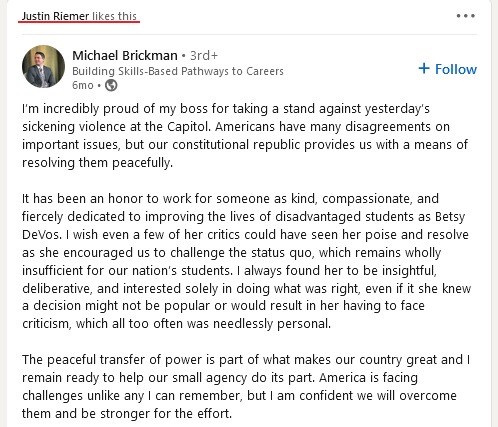 "The peaceful transfer of power is part of what makes our country great and I remain ready to help our small agency do its part," wrote Brickman in the LinkedIn status liked by Riemer. "Americans have many disagreements on important issues, but our constitutional republic provides us with a means of resolving them peacefully." (READ MORE: Trump Lawyer Jenna Ellis Leaves Party After RNC Chair Blocks Her, Goes Dark On Allegations She Ditched Trump In 2020)
Riemer also frequently shares articles he writes for various websites on his LinkedIn account. In one of these articles, Riemer argues against the Democrat Party's decision to ask the Supreme Court to revoke Arizona's ability to require voters to vote in the correct precinct, and ban ballot harvesting. While his article is generally beyond reproach for most Republicans, Riemer concludes with a statement that seems to indicate he believes the 2020 election was fair and the Arizona Audit was unnecessary: "Finally, let's not forget that Arizona, like many other states, shattered turnout records in the 2020 general election," wrote Riemer, apparently disregarding credible reports of widespread voter fraud in the state.
Interestingly, in October of 2020, Riemer appeared to argue against the legal theory championed by President Trump, Jenna Ellis, and Rudy Giuliani after the 2020 election, specifically, that state legislatures could decertify their elections and send a separate slate of electors if they believe the election was not fair. Speaking to Politico, Riemer said, "This would be incredibly unlikely," and added, "We believe a recount or election contest would dispose of those issues."