Last Updated on January 4, 2023
GOP establishment leader Kevin McCarthy is threatening an "endless war" with conservatives over his failure to be elected Speaker of the House, as he begins negotiations with Democrats in a desperate effort to win the gavel while keeping Nancy Pelosi's left-wing House Rules intact.
Freedom Caucus Rep. Matt Gaetz, a staunch opponent of McCarthy who's among those legislators leading the charge against his speakership campaign, revealed the establishment leaders' threat in a tweet he posted just before the fourth speakership vote, in which McCarthy failed once more to reach the 218 votes he needs.
"McCarthy is losing it," Gaetz wrote in the tweet. "He texted one of my colleagues who didn't vote for him: 'I am ready to fund an endless war.'"
"I'm assuming this is in *addition* to Ukraine," Gaetz added.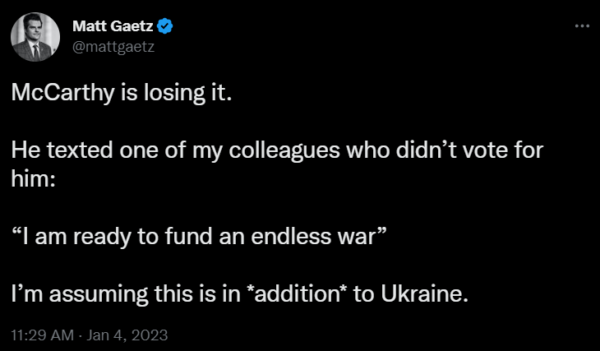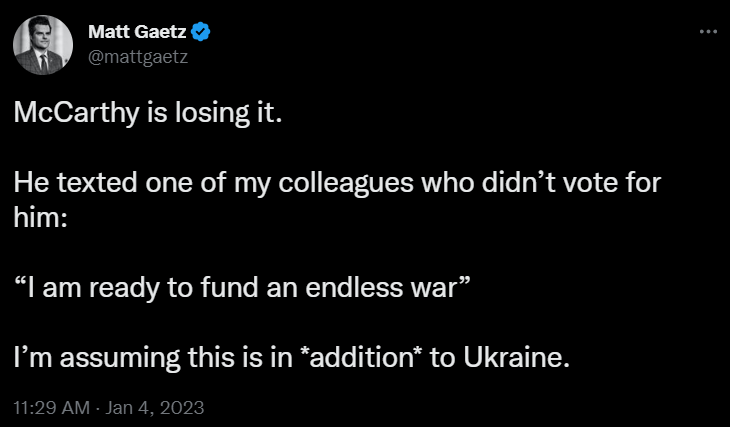 During the fourth speakership vote, Rep. Chip Roy nominated Florida Rep. Byron Donalds for Speaker of the House.
Donalds, a more recent defection from the McCarthy voting bloc, joined his Freedom Caucus colleagues in voting for Rep. Jim Jordan during Tuesday's third and final vote of the day, before appearing on Fox News and blowing the whistle on McCarthy's refusal to get rid of Nancy Pelosi's left-wing House Rules as he explained his dissent from the GOP establishment leader.
On Wednesday, another Rep, Victoria Spartz, became the latest defection from Team McCarthy, voting "present" and taking the total number of representatives opposed to McCarthy's speakership campaign to 21.
Spartz was seen chatting with Freedom Caucus members on a C-SPAN video feed.
Reportedly, and according to rumors swirling around Capitol Hill, McCarthy and the GOP establishment are preparing to negotiate a deal with Democrats to make McCarthy or a "consensus candidate" the next Speaker of the House.
One way to reach his goal would be by manipulating the voting process.
Under this plan, Democrat members of Congress would refuse to vote, to lower the threshold McCarthy must reach in order to be named speaker.